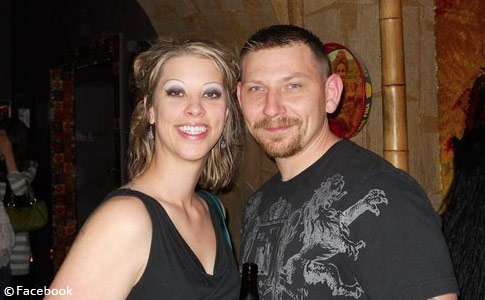 Darla Napora, 32-years old, and her unborn child were killed by her beloved pit bull.
Victim Bled to Death
UPDATE 08/15/11: According to a preliminary investigation by the San Mateo County coroner's office, Darla Napora died of blood loss and shock. Her husband Greg returned home at noon that day and found her unconscious with the couple's male pit bull, Gunner, standing over her body. Dog bite experts concluded that Gunner was the sole attacker. Presuming that a DNA test is not required for the female pit bull, Tazi, she will be returned home soon.
Comment Threads
Over the weekend, comment threads at the Mercury News, SFGate.com and a handful of other websites began spiraling downward. Pit bull advocates started spreading a rumor that Darla fell from a ladder and the dog was "trying to wake her up." This is true despite clearly communicated information by the Pacifica Police Department and major news publications that Darla and her unborn child were killed by her pet pit bull. One comment, left Friday, is notable:

Many citizens and dog owners might not appreciate its full meaning. Pit bull owners, however, do. The comment in part reflects the great amount of due diligence required to keep a pit bull from attacking another dog or person (crate-and-rotate routine). The comment sadly sums up Darla's death and offers insight into the lunacy of the Pit Nutter mindset. Pit bull owners accept the disturbing reality of this comment, whereas normal dog owners would never accept it.
A Class of His Own
Having researched several hundred fatal dog maulings, DogsBite has seen some of the most disingenuous statements imaginable from pit bull owners after a fatal attack. But Greg Napora's comments to the Mercury News on Friday -- just 24 hours after Darla's grisly death -- places Napora in a class of his own. The only thing he failed to add, where pit bull owner Wally Roberts did not, is: "I met with a priest. He told me to feel the pain but not the guilt."
A day after the family's pit bull fatally attacked his pregnant wife, Greg Napora said Friday he doesn't blame the dog. He even plans to bury his spouse, Darla, with their pet's cremated remains in her casket.

"They are the most loving animals I have ever had in my life. Whatever happened right now was not the breed's fault," said Napora, who found his wife dead when he returned to the couple's Pacifica home from his construction job with plans to take her to lunch Thursday. "It was just a freak accident." (Joshua Melvin and Lisa Fernandez, Mercury News)
What About Gunner?
Craven Desires blog offers compelling commentary about Gunner and how little the public knows about the dog. In paragraph three, the writer states: "If it were a person who killed this woman, by now we would know everything about them, even where they went to kindergarten. Reporters would be interviewing the murderer's parents and family. But because its a dog, the authorities are just sitting around, hoping to find out if the dog had rabies or a brain tumor."
08/13/11: Woman to be Buried with Dog's Ashes
Friends of DogsBite have been talking behind the scenes about where Greg Napora lies on the Pit Nutter scale. A piece from the Mercury News brings vivid clarification: "Greg Napora said Friday he doesn't blame the dog. He even plans to bury his spouse, Darla, with their pet's cremated remains in her casket." Napora added that the attack that killed his wife and unborn child is "not the breed's fault" and that it was a "freak accident."
According to Napora and Darla's mother, Sandy Robinson, Darla was an avid supporter of Bad Rap (Bay Area Doglovers Responsible About Pit Bulls). The group is best known for being a recipient of nearly a dozen Michael Vick dogs. Their website offers resources to help owners be more responsible and uses adorable titles such as: "Pit Bulls can be Butt Heads!" On the Tips for Being a Responsible Dog Owner, Bad Rap lists altering your dog as number two.
Both Napora and Robison are eager to get the surviving pit bull, Tazi, back home. We imagine Tazi will also be present at Darla's funeral.
08/11/11: Pet Pit Bull Kills Pregnant Woman
Pacifica, CA - A pregnant woman1 was killed Thursday by a family pit bull inside her Pacifica home. The victim, 32-year old Darla Napora, was discovered by her husband when he returned home from work about noon. Greg Napora told police that he arrived home to find "one of the couple's two pit bulls" standing over his wife's body. He got the dog into the backyard before police arrived, according to Capt. Dave Bertini of Pacifica Police Department.
Attempts to revive Darla were unsuccessful. She was pronounced dead at the scene, along with her unborn child. While the investigation was still underway, the 2-year old, unaltered male pit bull got loose from the backyard -- police fired three shots at the dog killing it. The husband withstanding, this is the end of the Napora family who likely believed that if they raised their pit bulls properly, the dogs would serve as perfect Nanny dogs for their coming new child.
To help prevent horrific maulings by pit bulls, San Francisco enacted a mandatory pit bull sterilization law in 2005. Pacifica may soon follow suit as have other California municipalities.
Recent Californians Killed by Pit Bulls
View the DogsBite.org Google Map:
California Fatal Pit Bull Maulings
.
1
Does this count as one fatal dog mauling or two?
Related articles:
08/11/13: Father of Pregnant Pacifica Woman Killed by Her Pet Pit Bull Writes Letter