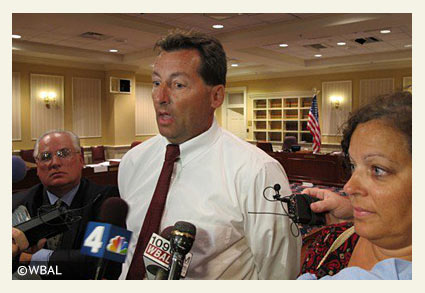 Anthony Solesky testifying before the Pit Bull Task Force in June 2012.
Court Ruling Stands
UPDATE 08/15/12: Just after midnight last night, a coup occurred in the Maryland General Assembly. The Senate rejected the corrupted House version of the strict liability bill that would fail to address over 50% of all Maryland dog bite victims by limiting strict liability to only those bitten by loose dogs (victims in off-property attacks). Senate President Mike Miller told reporters changes to the House bill were unacceptable. DogsBite.org applauds Senate members!
The Tracey v. Solesky ruling continues to stand.
08/13/12: House Corrupts Bill
As expected, the House has corrupted the strict liability bill passed by the Senate on Friday. SB 2 has been so debased -- the House version limits strict liability only to dogs running at large and other unknown amendments -- that Maryland legislators might run out of time to iron out differences, according to Sen. Brian Frosh. Such a stalemate would keep the Tracey Court ruling on the books until the next legislative session, which begins in January 2013.
08/10/12: Senate Passes Bill
On Friday afternoon, the Senate passed SB 2, a strict liability bill that greatly reins in the Maryland Court of Appeals ruling in Tracey v. Solesky, but at least abolishes the longstanding One Free Bite rule in the State of Maryland. The bill also ignores the "bankruptcy loophole" often used by renters to escape liability after a dog mauling that the Tracey Court addressed in its April ruling by extending liability out to landlords in the narrow instances of a "pit bull" mauling.
SB 2 was expected to pass the Senate, though it is unclear how it will fair in the House. Competing House bills include a mockery strict liability law, introduced by Del. Benjamin Kramer, and two identical bills, again one by Kramer, that rolls back the entire Tracey Court ruling and reinstitutes the arcane One Free Bite rule that existed prior to the Court's decision. Listening to the House hearing today did not provide much insight into how the House might vote on Monday.
House Hearing - Judiciary Committee
08/10/12 - On Friday, the House Judiciary Committee will be hearing four bills introduced to undo the Court's ruling in Tracey v. Solesky (SB 2 is cross-filed as one of them). HB lr3527 filed by Del. Benjamin Kramer -- who has no compassion for dog bite victims -- is a strict liability law that pertains only when very serious injury and death occurs and if the injury did not occur due to the victim's "contributory negligence." Thus, this bill is a mockery of a strict liability law.
The other two bills, HB lr3535 also introduced by Del. Kramer, and HB lr3556 introduced by Del. Michael Smigiel, both seek to fully repeal the Tracey Court ruling by returning to the Maryland One Free Bite common law prior to the Court's decision. Neither Delegate wishes to see Maryland join 35 other U.S. states with a modern strict liability dog bite statute that provides dog bite victims an honest chance to attain civil remedy after being bitten or seriously mauled by a dog.
3–1901. In a civil action for damages caused by a dog bite, the common law that applied on January 1, 2012, to a civil action for damages caused by a dog bite shall be retained.
SECTION 2. That, subject to Section 3 of this Act, it is the intent of the General Assembly that this Act abrogate the holding by the Court of Appeals in Tracey v. Solesky, No. 53, September Term 2011.
Anthony Solesky, his wife Irene Solesky and attorney Kevin Dunne, who represents the Solesky family, will be speaking at the House hearing tomorrow. DogsBite.org expects this hearing to be much more argumentative than today's Senate Judiciary Proceedings hearing. DogsBite.org will be live tweeting tomorrow's event starting at 1:30 pm EST @Supportthecourt. If you are listening live and want a thought tweeted, please send it to: [email protected].
Senate Hearing - Judicial Proceedings Committee
08/09/12 - Anthony Solesky will be testifying today before the Senate Judicial Proceedings Committee. The hearing begins at 1pm EST. Join us @Supportthecourt as we live tweet this event. The hearing pertains to a strict liability bill (SB 2) introduced by Senate Pit Bull Task Force members. The bill rips away key portions of the high court's ruling in Tracey v. Solesky, but does eliminate One Free Bite in Maryland. A House hearing is scheduled for Friday at 1:30 pm EST.
Learn more at the DogsBite.org Maryland dog bite victim advocacy web page.
Related articles:
06/18/12: Maryland Pit Bull Task Force Forum Live Tweeting June 19th @Supportthecourt
06/08/12: DogsBite.org Launches Maryland Dog Bite Victim Advocacy Web Page...
04/30/12: Maryland Court of Appeals Holds Pit Bull Owners and Landlords Accountable
01/16/12: Pit Bull Attack Victims May Have New Hope to Recover from Landlords
11/02/11: Letter of Gratitude to Founder Colleen Lynn from Parents of Mauling Victim
03/10/10: Dangerous By Default: Extreme Breeds by Anthony Solesky

Photo: WBAL.com