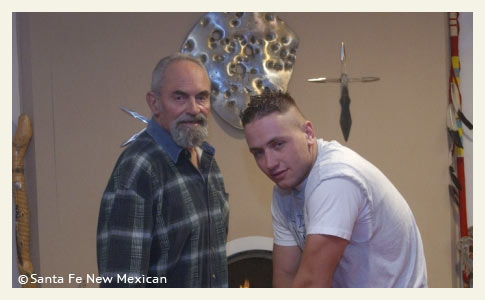 Clifford Wright seen with his son Gavin in a November 27, 2002 photo.
Dog Euthanized
UPDATE 05/08/12: In the continuing saga of Gavin Wright, who initially hoped to spare family the pit bull after it brutally killed his father, allowed authorities to euthanize the dog today. On Monday, KOB.com released parts of the 911 call that offers more insight into Gavin. "Don't make me (expletive) repeat myself again ... My dog got a hold of him somehow," he said. It is possible that yesterday's airing of the segment inspired Gavin to allow for the humane euthanasia of the dog.
05/04/12: Death by Dog Confirmed
On Thursday, the state Office of the Medical Investigator released an initial cause of death that found that 74-year old Clifford Wright died as a result of a dog attack, not of any other health issues. According to the Santa Fe Police Department, Wright also had a history of dog attack reports at his home. In 2005, police responded to Wright's home after reports he was bitten by a different family pit bull. In 2011, police responded to his home after reports of a loose pit bull.
Several hours after the initial KOB.com news article was posted, a video was added that included more information. The victim's son, former Santa Fe High football player Gavin Wright, who made the 911 call, lived with his father along with four dogs, three of which were pit bulls. Gavin reportedly does not believe that the family pit bull, named Achilles, struck down his father in a life ending mauling, despite the Santa Fe Police Department confirming that the animal did.1
05/02/12: Pit Bull Suspected in Death
Santa Fe, NM - In a developing story, Santa Fe police are investigating the death of a 74-year old man. Clifford Wright was discovered by his 27-year old son, Gavin Wright, dead in the front yard on Wednesday. Police responded to an emergency medical call from the son, who said "his father had been attacked by an animal at their house." According to a longtime neighbor, the unaltered male pit bull belonged to the son and was a recent addition to the family's household.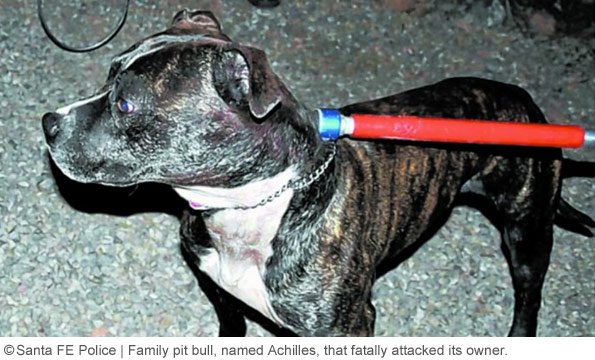 1
The victim's family, his son(s), are not willingly surrendering the dog to be euthanized, forcing authorities to ask a judge for this permission.
Related articles:
12/08/11: 2011 Dog Bite Fatality: White County Man Mauled to Death by Pet Pit Bull
12/07/11: 2011 Dog Bite Fatality: Woman Dies Following Attack by Pet Pit Bull Last Month
09/02/11: 2011 Dog Bite Fatality: Philadelphia Woman Killed by Husband's Pit Bulls
08/23/11: 2011 Dog Bite Fatality: Tucson Man Succumbs to Injuries After Attack by Pet Pit Bull
08/15/11: 2011 Dog Bite Fatality: Pregnant Pacifica Woman Killed by Family Pit Bull