Thursday, June 16, 2011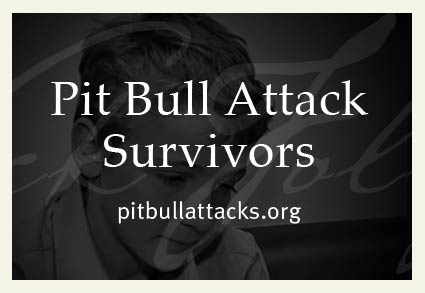 Pitbullattacks.org
DogsBite.org - Last week we launched a new website that over time will share stories of pit bull attack victims who not only survived, but became leaders. The story of Dominic Solesky and his family is part one in a series of five. We encourage readers to view
the father's account
of the April 28, 2007 mauling. The Solesky family continues to seek civil damages in court. Recently, the Court of Special Appeals of Maryland
weighed in favorably on their case
.
The Maryland Defense Council reviewed the ruling (See:
Circumstantial Evidence of Landlord's Knowledge of Dangerous Dogs is Enough
). The review provides a brief history of the case and explains the high court's recent ruling, which helps clarify the conditions of when a Maryland landlord can be held liable after knowingly leasing a property to a pit bull owner. Unsurprisingly, the claims against the pit bull owner were discharged in bankruptcy.
Solesky v. Tracey


No. 2207 (Md. App. 2011)
by Kevin M. Cox, Associate
Semmes, Bowen & Semmes (www.semmes.com)
This appeal to the Court of Special Appeals of Maryland challenged the grant of a motion for judgment in favor of the defendant landlord in a case in which the parents of a young boy sought damages for injuries inflicted by a pit bull owned by the landlord's tenants. The pit bull escaped from a pen that was located in the backyard of the subject property and seriously injured the 10-year-old boy. The boy's parents, ("the Soleskys"), filed a Complaint against the dog's owners and the landlord, seeking money damages in the Circuit Court for Baltimore County.
--snip--
In sum, the Court of Special Appeals held that the Soleskys' evidence was sufficient to survive a motion for judgment. Accordingly, the court vacated the trial court's entry of judgment in favor of the landlord, and remanded for further proceedings.
See:
Article in full
Related articles:
01/31/11:
Parent of Mauling Victim Responds to North Carolina Pit Bull Fatality
05/17/10:
Dominic Solesky Featured in National Dog Bite Prevention Week Video
03/10/10:
Dangerous By Default: Extreme Breeds by Anthony Solesky
Labels: Announcement, Anthony Solesky, Dangerous by Default, Dominic Solesky, Pit Bull Attack Survivor, Tracey v Solesky

Please donate to support our work
DogsBite.org is a 501(c)(3) tax-exempt public charity organization. Learn more »
posted by
|
permalink
|
4 comments
|

email
|

blog rss
|

comment rss

4 comments:

craven desires | 6/17/2011 12:24 AM | Flag
holy cow. i am awe of your hard work and dedication to this cause.

snack sized dog | 6/17/2011 1:20 PM | Flag
I am too.

I did not know the extent to which you were harrassed - I'm sure I still don't - when you began this blog, and still are.

It is insane the lengths to which people have gone to protect lies about fighting dogs, and attack a victim.

You have done so much to speak for victims and to broadcast the truth!

Thank you!

Digger | 6/17/2011 11:58 PM | Flag
Also, this along with some of your other blogs have been linked in my most prominent blog. Hopefully more people will see them!

Keep up with the good work!

vintage | 6/29/2011 3:16 AM | Flag
The Maryland Court of Appeals has already been down this road in 1998 where a landlord paid out $7.5 Million dollars when a tenant's Pit Bull killed a visiting chid:

Matthews v. Amberwood Assocs. Ltd. Partnership, Inc., _ A. 2d -, No. 74, Sept. Term,1997,1998 WL 713452 (Md. Oct. 7,1998).

The Maryland Court of Appeals held a landlord owes a duty to a tenant's social guests who, while in the tenant's apartment, are injured or killed by the tenant's pit bull, if (1) the landlord knew of the dog's presence and was aware of its dangerousness, (2) the dog's presence violated the lease, and (3) the landlord could have taken steps to abate the danger.


http://findarticles.com/p/articles/mi_qa3898/is_199902/ai_n8834605/

Note to landlords...when you rent to Pit Owners, be prepared to be the Adult Supervision in the situation and have good insurance. They will leave you holding the bag!