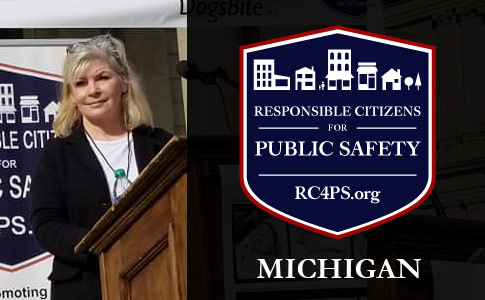 Ann Marie Rogers of Responsible Citizens for Public Safety shares her background in animal welfare, animal control and public safety advocacy in our series: Perspectives of Advocates.
---
My Background
As I have always had a passion for animals, particularly dogs, I volunteered at a local humane society as a teenager and later worked at the Michigan Humane Society in various capacities -- adoption counselor, wildlife specialist, animal behaviorist, evaluator and veterinary technician -- while attending the University of Michigan. I continued there after graduation for some time. I loved the experience and education I received at MHS. Part of good "adoption counseling" was to list the correct breed/mix and discuss breed traits to ensure a good match for the dog and the family who may take them home. It was gratifying to find our wonderful shelter dogs an equally wonderful home. We educated people about animal welfare and preached responsibility and spay/neuter. We felt good making a positive difference in the lives of pets and people.
As a shelter evaluator, it was my job to temperament test the dogs and determine if they were suitable to be adopted into a new home. If a dog passed a temperament test, that was not a guarantee that it would never bite, but it gave us a pretty good indication. If a dog failed a temperament test by displaying aggression to people or other animals, they were humanely euthanized. I did that too. It was my job to decide which animals went up for adoption and which did not and to humanely euthanize those that did not. I did not have any moral objection to euthanasia as I knew the process was humane and in the best interest of the dog and the public. As shelter workers, we saw our share of cruelty cases and knew that there are far worse things for an animal than being put to sleep in the arms of a caring animal lover.
At that time in my area of suburban Detroit, pit bulls were not a popular pet. We did not see many of them turned into our Rochester shelter, but the few that did come in were automatically euthanized. It was the shelter policy at all three branches of Michigan Humane Society. The employees at the shelter understood the policy and the reasons behind it. We knew that pit bulls were bred specifically to kill other dogs and were used in dogfighting. We opposed dogfighting as animal cruelty and any abuse toward pit bulls or any animal, but pit bulls were too dangerous and unpredictable to place for adoption due to their genetics. We knew that you cannot train away inherent genetic aggression. The Detroit MHS cruelty investigators called their genetic propensity for unpredictable aggression "clicking on". We were dedicated to sending good family pets into the community for a win-win for our shelter dogs. We knew that dogs of any breed that had a propensity to bite people or those that were aggressive toward other animals should not be placed for adoption. We knew we could not "save them all" nor should we.
With my MHS education/experience, I later founded No Place Like Home Rescue of Michigan and have operated my nonprofit rescue for over 25 years. I practice the same criteria that was used at Michigan Humane when I worked there. NPLH has placed many wonderful dogs and cats into good homes over the years, and I am proud of this work. We do not place pit bulls, but we do have an outreach program through which we come in contact with a great deal of pit bulls and their owners. I can say from firsthand experience they are wildly overbred and abused. Pit bulls that were given up to NPLH by their owners were taken to a shelter or veterinary office for humane euthanasia. Through the years, my knowledge that pit bulls are unpredictably aggressive was reinforced on a daily basis as we came across animal victims of pit bull attacks and their bereaved owners.
I worked full time as an animal control officer under a police department and again saw animal victims of pit bull attacks. I have enforced state and local Dangerous Dog laws and Animal Cruelty statutes. Through my vast experience in the animal welfare field for over 30 years, and having witnessed and experienced pit bull attacks, it is my opinion that pit bulls do not make safe pets and that breed safety laws that regulate the ownership of pit bulls are essential to enhance public safety and reduce animal cruelty.
No Kill Advances In Michigan And Pit Bull Adoptions Trend
Over the last 10 years or so in Michigan, the "No Kill" philosophy has advanced in animal shelters and rescues and pit bulls are trending as "safe family pets". Even the large, private, Michigan Humane Society where I gained my foundation in animal behavior had done a 180 degree turn and began adopting pit bulls to the public, despite its prior conviction and policy held for over 40 years. Publicly funded animal control agencies are now sending pit bulls into the community too, which endangers public safety. The animal control agency in my county has knowingly sent many dangerous dogs into the community despite their mission statement to "protect public safety". This is irresponsible.
While it sounds on the surface like a kind idea, "no kill" is actually cruel and it endangers public safety. It is a grand, deceptive marketing scheme that preys on ignorant, kind-hearted members of the public that want to adopt a shelter pet. Through "No Kill" policies, dangerous dogs are promoted as safe, bite histories are hidden, breeds are mislabeled, behavioral issues are masked with drugs and flowery descriptions and geriatric animals with illness are passed off as healthy, middle-aged pets. The movement is based in deception and greed ... It's wrong on multiple levels.
I became painfully aware of this trend through my rescue work. In 2016, a shelter in Detroit, operated by a friend, that still prioritizes public safety was under attack for having a "high kill rate". Protesters came to the shelter with nasty signs and harassed customers. The protesters also ran a social media campaign condemning this shelter. Their goal was to shut the shelter down by drying up their donations and frightening them into closing. The shelter was experiencing "Cancel Culture" before the term was widely known. This shelter is in a particularly poor area of Detroit and subsequently the majority of animals that they take in are pit bulls, very ill animals, or aggressive animals, which are unadopatable. The privately funded shelter has every right to operate as they see fit and as they have for over 80 years. I publicly defended this shelter and its policies and publicly advocated for breed safety laws. I soon found myself and my organization under fire by the "No Kill" pit bull advocate protesters, and they tried to cancel me too.
I received literally thousands of vile, obscene death threats, bomb threats, threats of rape and violence and other hate mail via social media, telephone and email. I contacted the local sheriff, the Michigan State Police and the FBI. Some of the threats came from people I knew through rescue work! Other rescue groups began to send threats and incite violence toward me through social media posts. It has been relentless for years and continues to a lesser degree still today. It was shocking and exhausting to field thousands of vile threats on a daily basis. I began to do research in hopes of finding help for my shelter friends and myself and found DogsBite.org and breed safety advocates. I read all the research posted on the site and was astounded to find how many people had been killed by dogs, particularly pit bulls. I always knew pit bulls were dangerous and were bred to kill other dogs, which is bad enough, but I was shocked at the number of people who are severely disfigured, dismembered, disabled or dead because someone else chose a pit bull as a pet! Prior to that point, I had heard of one little child, Xavier Strickland, who was killed by four pit bulls in Detroit in 2015. Despite my knowledge of the danger pit bulls present to other animals, I thought those pit bulls must have been starved to kill and eat a human being. Now I know that starvation is not a prerequisite for a pit bull to kill and consume a human being and that a pit bull kills someone every 10 days. Now I know that pit bulls are the #1 canine killer of people, pets and livestock and that they kill more than all other dog breeds combined. It is a stunning revelation, especially since pit bulls are commonly seen in every neighborhood.
Between discovering much information on DogsBite.org about the frequency and severity of attacks by pit bulls on people and beloved pets, along with the continued threats of harm I received from pit bull advocates, my resolve to stand up to bullies while protecting the public was strengthened. My new advocate friends came in like the Cavalry and did battle for me using their wit, facts and data, dispelling myths on social media. I will always be grateful for their swift action during a time when I was under extreme attack. At that moment I became a public safety advocate against dog attacks. I wanted to help keep people and pets from experiencing a devastating pit bull attack. I wanted to promote breed specific legislation in an effort to save lives.
In the same year, Michigan pit bull advocates were promoting a preemption bill that would remove the authority of local units of government from enacting or enforcing breed specific legislation because it "discriminates" against pit bulls, which they claim is a "misunderstood" breed. "Make Michigan Next" was their slogan in the hopes to inflict bloodsport dogs on the populace. That violent people like violent dogs has been proven in psychological studies.
Evolution To Responsible Citizens for Public Safety, RC4PS.org
Knowledge is power. I used mine to begin Responsible Citizens for Public Safety (RC4PS.org) to advocate for public safety. I joined with DogsBite.org, NationalPitBullVictimAwareness.org, DaxtonsFriends.com, DogBiteLaw.com and Animals24-7.org to help spread the truth.
I became friends with victims of pit bull attacks and their families. I know their stories, the depth of their grief and the extent of their PTSD after losing their loved ones or their own body parts through a brutal dog attack. I grieve with them. I advocate for them. This is my passion and my purpose.
Responsible Citizens for Public Safety promotes breed safety laws (BSL) which enhance public safety and reduce animal cruelty. We write letters on behalf of victims to legislators in cities across the USA and Canada. We offer presentations of facts and data for boards and commissions to consider.
We combat Michigan preemption laws, which would strip the authority of local units of government from protecting their residents against pit bull attacks by giving public testimony before House and Senate Committees. To date, we have been successful in stopping BSL preemption bills during three legislative cycles. We will continue to fight against the disinformation promoted by sponsors of these preemption bills.
We have presented facts and data to Generals, Senators, State Representatives, City Council Members, Township Trustees, Doctors, Health Care workers, Attorneys, Parents and other organizations as well as the general public about the significant threat that pit bulls and their promoters present to public safety.
RC4PS.org has created brochures with relevant facts and data about dangerous dog attacks that are available to download on the site that we use to educate the public.
We held a beautiful Tribute to Victims of pit bull attacks on the steps of the Michigan Capitol Building in October 2019 for National Pit Bull VICTIM Awareness Day, which attracted the media and impacted legislators.
RC4PS.org hosted a Zoom conference in 2020 featuring Colleen Lynn of DogsBite.org and Mia Johnson of National Pit Bull Victim Awareness to discuss the status of BSL in the US at the local, state and federal level as well as resources for victims of dog attacks, which can be viewed on our YouTube channel.
We believe in local control. We believe that communities should have the right to make decisions affecting their citizens, particularly in issues of safety.
The mission of Responsible Citizens for Public Safety is to SAVE LIVES by promoting canine awareness and educating people about the significant threat to public safety presented by the trend to keep pit bull dogs as family pets. We expose the propaganda being promoted by humane organizations. We equip BSL activists. We engage legislators and encourage them to promote public safety through legislating Breed Safety Laws for the state of Michigan and we work toward BSL in every state in the USA. We continue to work toward strong BSL by presenting hard facts and data that PROVE that pit bulls should never be promoted as safe family pets.
We welcome those who wish to join us in our mission and make it yours.
Related articles:
12/04/20: Perspectives of Advocates: We've Heard It All Before! by The Old Timer
11/27/20: Perspectives of Advocates: Pit Bull Lobby and Tobacco Institute by Lucy Muir
11/17/20: Perspectives of Advocates: My Take on Pit Bulls by Carol Miller