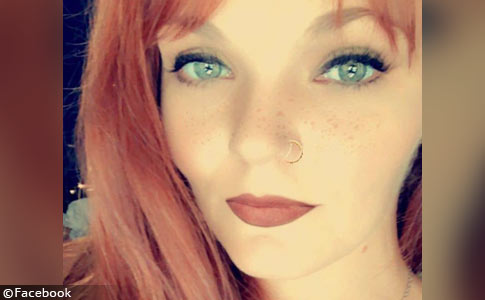 Morgan Crayton, 31-years old, died Monday after being attacked by her pit bull.
Pit Bull Kills Owner
Hampton, VA - A 31-year old woman has died after suffering life-threatening injuries inflicted by her own pit bull a day earlier. On Sunday at approximately 5:13 pm, emergency medical responders were dispatched to a home in the 100 block of Powhatan Parkway. Arriving officers discovered an injured female, who had been attacked by her own dog. "The victim was transported to a local hospital with life-threatening injuries," states a release issued by the Hampton Police Department.
On Monday, police identified the victim as 31-year old Morgan Crayton.
The preliminary investigation revealed that Crayton was in her backyard with multiple dogs when the attack occurred. The dog also attacked a 68-year old woman who tried to help Crayton. Her injuries were not life-threatening. "The attacking canine, a 92-pound pit bull, has been removed from the home and is now in the custody of Hampton Animal Control," states the news release. A different family dog had bitten Crayton one day earlier, but the injuries were minor, officials said.
Crayton's Facebook page shows a champagne-colored large male pit bull named "Chopper," likely an XL pit bull designer breed. Crayton also referred to Chopper as her daughter's "protector." Chopper injured himself in July, requiring ACL surgery, according to comments on a July 14 post. For a while at least, the dog used a wheelchair for stabilization purposes. A dog that appears to be a black Labrador is also pictured in the home. No other living dogs were located on her page.
In 2018, a female champagne XL pit bull named "Layla" savaged a little girl's face in Omaha leaving doctors and nurses "shaken" by her injuries. Layla was the offspring of a mating by ManMade Kennels. In 2017, an XXL pit bull was involved in the fatal mauling of Cecille Short in Oklahoma City. In 2014, marking the debut of these types of dogs, a massive male champagne XL pit bull from BMT Kennels killed 4-year old Mia DeRouen. Police called that dog a "monster."
According to a neighbor, Crayton and her partner had owned Chopper for nine months. Hampton police estimated the dog was about two years old. On July 22, about a week after Chopper injured himself, Crayton checked into the Riverside Regional Medical Center for a nasty dog bite injury to one of her arms. The biter is only referred to as a "he," as Crayton explains that she is "about to get stitches." In haunting foreshadowing, a friend says in response, "I'm glad it wasn't worse."
Owner-Directed Fatal Attacks
Crayton's death marks the sixth owner-directed attack, where the dog killed its owner, so far in 2019. Pit bulls have been involved in half of these fatalities. Other breeds include a pair of boxers killing their owner, Nancy Burgess-Dismuke, in South Carolina; a pair of coonhounds killing their owner, Arlene Renna, in New York, and a pair of dobermans killing their owner, Elaine Richman, in Texas. Women, ages 31 to 67, made up 83% (5 of 6) of victims in these owner-directed attacks.
Police clarified Monday there was a total of five dogs in the home Sunday. Four remain after hauling away the 92-pound attacker. That dog will be euthanized after a 10-day quarantine.

View the DogsBite.org Google Map:
Virginia Fatal Pit Bull Maulings
.
Related articles:
02/02/18: 2017 Dog Bite Fatality: 22-Year Old Woman Dies in 'Grisly Mauling' by Her Pit Bulls...
11/17/17: 2017 Dog Bite Fatality: Adopted Out Pit Bull Kills Elderly Woman in Virginia Beach
---
Baseline reporting requirements:
Law enforcement departments across the United States should release consistent "baseline" information to the media and the public after each fatal dog mauling,
including these items
.