Pit Bull Owner Acquitted of Second-Degree Manslaughter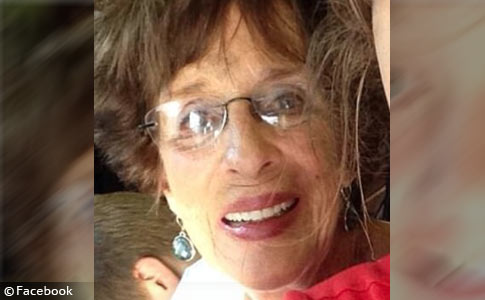 Cecille Short, 82-years old, and her small dog were savagely killed by two pit bulls.
Dog Owner Acquitted
UPDATE 11/06/21: Last week, the criminal trial began for a man whose two loose pit bulls savagely killed Cecille Short and her dog back in 2017. Antwon Burks faced a second-degree manslaughter charge. Leading up to her death, neighbors had complained about the dogs escaping from Burk's backyard. Prosecutors showed the jury pictures of a damaged fence with a large hole that was partially barricaded by a "recycling bin" and "cooler" weighted down by rocks.
In closing arguments, the prosecutor told jurors that Burks paid $8,000 to an Alabama breeder for the two dogs, but couldn't muster up a dime to fix the fence properly. Despite the jerry-rigged fence, the jury acquitted Burks after more than seven hours of deliberation. "We are heartbroken for the family of Cecille Short," District Attorney David Prater said. This has been a horrific and preventable tragedy to that family. We don't understand the verdict of the jury but we respect it."
During the trial, the defense called the dogs' breeder to the stand. Krystina Shumate of Iron Throne Kennels cried during her testimony as a defense witness. "I was absolutely devastated. I couldn't believe it. This isn't something that my dogs do. This isn't something that my dogs do." However, in 2016, she boasted on the Iron Throne website about "Leatherface" being bred to "Terrorist Threat's biggest daughter" and Leatherface's father being named "Chainsaw."
Krystina and her partner, Adam, consistently call their dogs "monsters" and "super freaks." They bill the Huntsville-based kennel as producing the "world's most extreme XL pit bulls." The male attacking dog, "Ice Cube," is seen at 4-months old on their Instagram page. Posthumously, one commenter wrote, "This should be illegal if Vick went to prison for dog fights. This should be illegal for breeding of dogs imagine if that bitch got loose," referring to a ferocious photo of "Cowboy."
---
05/10/17: Owner Charged with Manslaughter
On Wednesday, the owner of two dogs that brutally killed an 82-year old woman and her dog in April was charged with second-degree manslaughter. Antwon Demetris Burks, 31, is accused of keeping "mischievous dogs" that he allowed to roam, which resulted in the mauling death of Cecille Short. A news chopper captured the grisly aftermath of the scene. Emergency medical crews said the attack was so gruesome that the victim was nearly decapitated by the dogs.
If convicted of second-degree manslaughter in connection to the dog mauling death of Cecille Short, Burks faces up to four years in prison.
The attack occurred on April 6 in the 11600 block of Windmill Road, a neighborhood in northwest Oklahoma City. Witnesses told investigators the two pit bulls were dragging Short "by the head and neck area, causing her death," reports The Oklahoman. First responders were initially unable to help the victim. Police officers later fired on both dogs, killing one, and rammed the other with a police cruiser. The surviving pit bull was taken into custody to be held as evidence in the case.
After the attack, police taped off an area around Burks' residence at 11624 Kings Circle, about a block away from the attack scene. Investigators found an extensive hole in the fencing where the two large dogs escaped. They described it as "old damage," reports The Oklahoman, and that it appeared someone had tried to cover it up with boards, a recycling container and an ice chest. Prosecutors said Burks' actions led to Short being attacked and killed by his two loose dogs.
---
04/07/17: Mauling Victim Identified
Late yesterday, a photograph of the two dogs was released showing a pit bull and an XXL pit bull, a designer breed, also known as an American bully. In 2014, a similar dog killed a little girl in Louisiana. Of the two major kennel clubs, only the United Kennel Club (UKC) recognizes the American bully and it only began doing so in 2013. Also, any "UKC registered American Pit Bull Terriers are eligible to transfer to the American Bully," states the UKC breed transfer form.
We call it a designer breed because that is what it is. The dogs usually come with a "designer" price tag too -- the point of a designer breed.1
Headlines, as of late last night and today, are reflecting this confusion. No one is quite sure what to call the large white and brown dog with heavily exaggerated features. Yet if one does a Google Search for "XXL Pit Bulls," one will recognize this dog breed immediately. The American bullies work in two different directions, extreme exaggerations in the weight, size and features of a traditional pit bull, as well as the pocket pit bull, which is an extremely squat version of the breed.
Earlier today, The Oklahoman interviewed Jon Gary, the Superintendent of Animal Welfare for Oklahoma City, about the two dogs and their previous history.

"[The female gray dog] suffered two gunshot wounds, as well as abrasions. We were told that she was also hit by a police car … She's a large pit bull, probably 80 or 90 pounds, so she's very large. Um, pit bull-type dog," he said.

When asked by a reporter the size of the other dog, Gary responded, "It was also a pit bull-type dog and it was also a very large dog, over a hundred pounds."

When asked by a reporter, "Did you say that there have been calls for service regarding these two dogs?" Gary responded, "We have. At this point in time, I can't tell you the exact number. I have my staff currently doing research on any history there may be," he said.
Mauling Victim Identified
This morning, police identified the mauling victim as 82-year old Cecille Short. The owner of the two dogs was out of town at the time of the fatal attack. Reporter Bill Miston of News Channel 4 tweeted earlier that police are seeking surveillance cameras, Officer "Knight stressing that there isn't much to go on." Miston also tweeted that the surviving dog -- that was both rammed by a cruiser and shot by police -- was the smaller pit bull. The dog is currently being held as evidence.
Last August, nine months after a pack of pit bulls killed a man in Oklahoma City, authorities filed second-degree manslaughter charges against the dog's owner. Those dogs escaped though a hole in their owner's fence and viciously attacked 60-year old Edgar Brown. The severe bite injuries led to multiple complications, amputations and eventually to his death less than two weeks later. The dogs that killed Short and her dog also escaped through a hole in their owner's fence.
---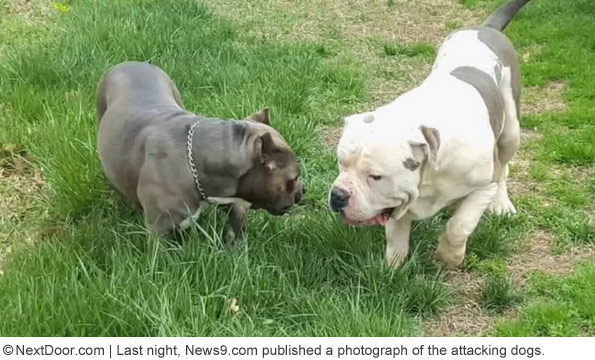 ---
04/06/17: Woman and Dog Killed
Oklahoma City, OK - A woman and her dog were both killed by two pit bulls while walking in a northwest Oklahoma City neighborhood Thursday afternoon. First responders were called to the attack scene in the 11600 block of Windmill Road. One of the attacking dogs was shot and killed by police. The other pit bull was rammed by a police vehicle, but survived. Police have confirmed that both attacking dogs were pit bulls. Below, Master Sgt. Gary Knight describes the narrative.
"Sadly a woman was out walking her dog earlier today when she was attacked -- her an her dog were attacked by two large dogs, one of which was a pit bull. I don't know the breed of the other dog. During this attack, the woman's dog and the woman, sadly, were both killed. They were both mauled to death by the two dogs. When officers arrived, they tried to get to the woman to render aid to her. They were not able to get to her at first because of the dogs. They had to shoot one of the dogs and the second dog was actually hit by a police car and taken into custody. It was still alive and was transported to animal welfare to be treated." - Master Sgt. Gary Knight, Oklahoma City Police Department
Clear Public Safety Threat
Jurisdictions across the U.S. ban or regulate pit bulls specifically to stop this type of attack: an off-property attack by a pit bull that ends in severe injury or death. A woman and her dog were walking down a suburban neighborhood street when two pit bulls launched a violent attack, killing them both. Neither the woman nor her dog could defend themselves against the animals. Officers had to shoot one pit bull to death and ram the other with a police cruiser to end the attack.
"Emergency crews say the attack was so gruesome that the victim was nearly decapitated." - Matthew Nuttle, News 9, April 6, 2017
Neighbor Tim Pool spoke to the heart of the issue. "My gosh, this is right down the street from where we live, and every one of these attacks is always where somebody lives," he told News Channel 4. "I walk these streets almost every morning with my dog and, many times, my dog's been attacked by other people's dogs, and I've cautioned them: Don't do that, they have to be controlled. Many receive it well. Others don't seem to understand what I'm talking about," he said.2
Other neighbors told Fox 25 that at least one of the pit bulls has attacked other local dogs before. Last October, one neighbor even circulated a letter warning others of an attack and calling the two dogs "2 vicious animals." Jerry Bowerman has lived in the area for 36 years. He told The Oklahoman -- referring to the home surrounded by crime scene tape on Kings Circle -- that two pit bulls reside in that household, a gray female pit bull and a "huge" white male pit bull, he said.
Surreal Late Evening Update
Late in the evening, News 9 published their final report, which included images of the attack scene and the two pit bulls. One the dogs is an XXL pit bull, a designer pit bull breed. In 2014, a similar dog devoured a little girl in Houma, Louisiana. The dog was initially shot three times by police officers. Unfazed by the trio of bullets, officers fired 10 more rounds into the hulking dog before killing it. It is clear now why early reports of the Oklahoma attack simply called it a "large dog."
The News 9 report shows images of the hole in the fence that police believe the dogs escaped through, as well as the letter circulated by a neighbor about the dogs in October. Neighbors heard about the attack through Urgent Alerts on the NextDoor App. The victim, who has still not been named, was a senior citizen walking a small dog. The owner of the two pit bulls -- referred to as a he -- was out of town at the time of the attack. Police say more information will be released Friday.
View the DogsBite.org Google State Map:
Oklahoma Fatal Pit Bull Attacks
.
---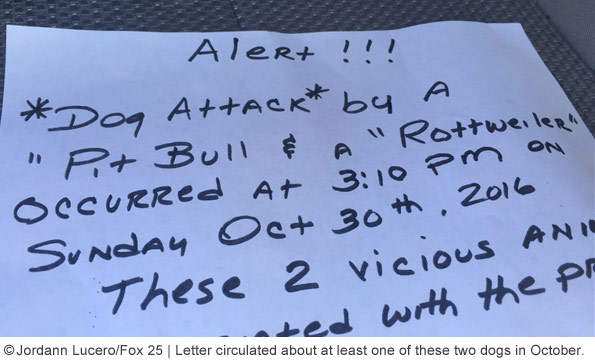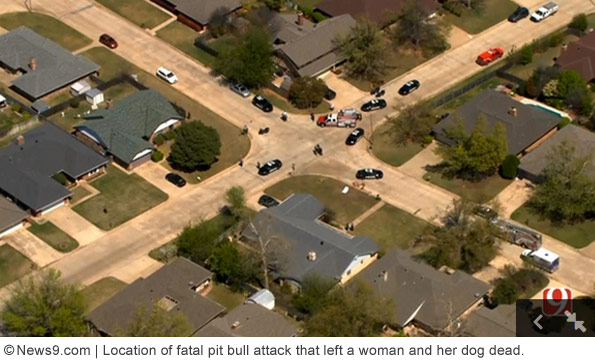 ⚠️ OKCPD &

@OKCFD

are working a vicious animal attack involving two pit bulls near 8500 Willow Creek Blvd. (1 of 3)

— Oklahoma City Police (@OKCPD) April 6, 2017
1
Some readers will disagree with Pool's statement, "Many receive it well." Pool appears to be a very nice man and may be perceived as a "gentle grandfather" to many dog owners. When the rest of the public tells an owner to leash his dog, it is most often met with foul language or sarcasm and the continuation of leaving their dog unleashed.
2
Some of these dogs are so exaggerated it is revolting. As one comnenter puts it, these are "mutant freak dogs."
Related articles: 
02/28/17: 2017 Dog Bite Fatality: Man Dies After Vicious Attack by Two Pit Bulls in Lincoln...
01/19/17: 2017 Dog Bite Fatality: Pit Bulls Kill Child, Critically Injure Another, on Way to School...
08/04/16: 2015 Dog Bite Fatality: Oklahoma Man Dies After Vicious Attack by Five Pit Bulls
04/11/14: 2014 Dog Bite Fatality: Family Pit Bull Kills 4-Year Old Girl in Houma, Louisiana
---
Baseline reporting requirements:
Law enforcement departments across the United States should release consistent "baseline" information to the media and the public after each fatal dog mauling,
including these items
.