Pit Bull Owner Arrested and Charged after the Attack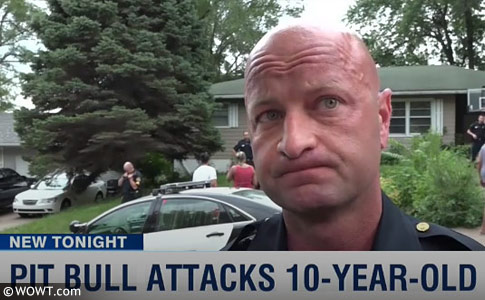 Omaha Police Lt. Jake Ritonya speaking to WOWT News on Friday, July 27.
Severe Facial Attack
Omaha, NE - On Friday about 6:00 pm, Omaha police responded to a home in the 4700 block of Laurel Avenue after a report that a child was being attacked by a family pit bull. The 9-year old girl suffered severe facial injuries in the attack. As police carried the girl from the home, the pit bull continued to try to attack her. The fire department had a catch pole they used to detain the pit bull, a large 2-year old female named "Layla" that was reportedly in heat at the time of the attack.
"This one was rather difficult to see her in the hospital. I haven't seen anything quite like that in my career." - Omaha Police Lieutenant Jake Ritonya
There were three pit bulls in the home -- a multi-pit bull household. Reports Friday stated the attack erupted when the child went to "pick up a knocked over trashcan." As the dog savaged the child's face, one of her siblings ran to a neighbor who called 911. The young girl was rushed to Nebraska Medical Center in critical condition. At least three children lived in the home. On Saturday, the Omaha World-Herald reported that the owner of the pit bull was arrested.
"There were three pit bulls running around. It was kind of a crazy, chaotic scene," Lt. Jake Ritonya said. Initial reports also stated the victim suffered skull fractures. We located the pit bull owner late Friday, but were unable to confirm this until today. An updated report from the World-Herald (though still time stamped for the 28th) confirmed the dog's owner is Jerrica Jackson, 24, who is also a resident of the home. On July 25, Jackson posted a breeding advertisement of her pit bull.
A police report identified the victim as Kahliyah Lloyd. Her condition has been upgraded from critical to serious condition. Kahliyah's mother is listed on the police report as Shamiah Campos, who also lives at the Laurel Avenue residence with her children. The arrest charges for Jerrica Jackson includes: suspicion of harboring a dangerous animal, failing to have an animal license and two counts of lack of vaccinations and failing to have dangerous animal liability insurance.
In 2008, the City of Omaha passed a breed-specific ordinance that requires multiple fighting breeds to carry $100,00 in liability insurance.
By Tuesday, Jackson had locked down her Facebook page. But over the weekend, we captured screenshots. Jackson's plan early on was to breed Layla (the offspring of King Leonidus X Lexi).1
Just two days before the brutal attack, Jackson was advertising upcoming puppies starting at $1,500 with KaneO, an exaggerated, gargoyle Bully type owned by LaStephan Brown Sr. who likely also has failed to license, vaccinate and insure the multiple pit bull dogs in his home.
Beautiful Face Destroyed by a Pit Bull
We get so tired of beautiful young faces being destroyed by these dogs. Especially when the pit bull "suddenly" unleashes explosive, unprovoked aggression at the age of two -- when the dog reaches sexual maturity and the most common time for these devastating attacks. This "tiring" is amplified by backyard pit bull "designer" breeders producing XL, XXL pit bulls for cash, all while these owners thumb their noses at local ordinances and unwanted pit bulls fill up city shelters.
The World-Herald reports that Lt. Jake Ritonya, who was on scene Friday and at the emergency room, said that doctors and nurses appeared to be shaken by the extent of the girl's bite injuries, which were apparently confined to one side of her face and scalp. "The looks on their faces said it all," Ritonya said. The Nebraska Humane Society seized all three pit bulls in the Laurel Avenue home. The attacker, and "planned breeding" pit bull Layla, is expected to be euthanized.
Jackson's mother, Jessica, said the attack was "totally out of character" for Layla, ignoring the reality of a 2-year old pit bull in heat. She said that Kahliyah "looks better than I expected" and is "going to have some scars." She added that, "we're looking forward to her getting healed and being the smart, beautiful girl she's always been." It's unknown what the fate is for the other two pit bulls. Possibly when Kahliyah is released from the hospital, they will greet her in her home.
---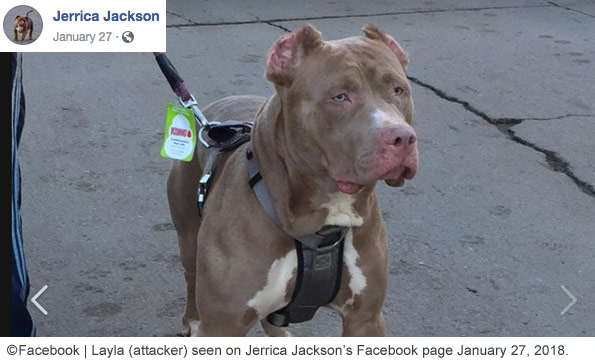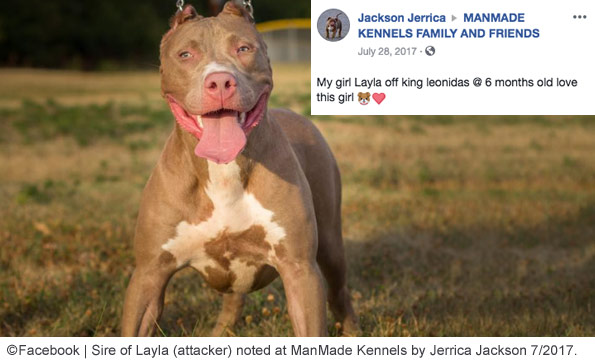 ---
The pit bull "Layla" that savaged the little girl's face is the offspring of ManMade Kennel's King Leonidus and Lexi from a late 2016 litter. ManMade Kennels claims they create "Pit Bulls Made for Families" on their  corporate website. They also claim: "Our dogs are temperament bred for families, we DO NOT breed HA (Human Aggressive) dogs AT ALL" (emphasis by ManMade). If that were true, they would no longer breed King Leonidus or Lexi, who produced a child mauler.
---
1
Jackson misspells the sire's name multiple times as does BullyPedia.
Related articles:
10/10/16: Level 1 Trauma Dog Bite Studies in All Regions Report Pit Bulls Highest Prevalence
06/24/15: Anchorage Pit Bull Attack: The Mechanics of a "Classic" Unprovoked Pit Bull Attack
03/26/14: 2014 Dog Bite Fatality: Family Pit Bull Kills 4-Year Old Girl in Houma, Louisiana