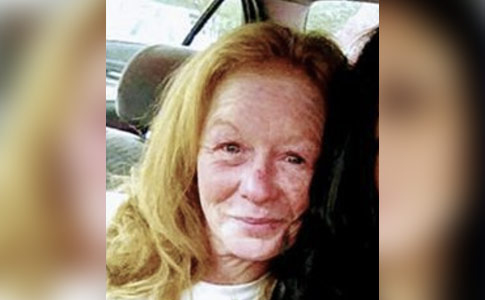 Nancy Cherryl Burgess-Dismuke, 52, died of "extremely severe" dog bite injuries.
Clarifications
UPDATE 02/28/19: Katora Strickland, the dog mauling victim's niece, goes by Strickland Linda on Facebook. When Fox Carolina interviewed Strickland after Nancy Burgess-Dismuke's horrific mauling death, they flashed a photo showing two pit bulls and a chihuahua lying on and near a bed. The interview also stated that Burgess-Dismuke had seven dogs in her household. But these particular two pit bulls and a chihuahua belong to Strickland. She states this in comments here.
"This is her bed with my dogs laid up with her daily so keep what u may think happen to yourself," [sic] Strickland states. It's unclear if the two lived in the same household. Strickland also clarifies the previous aggression. "This one boxer had been aggressive towards my aunt and attacked her at least 5 times she still wouldn't put dog down or get rid of him he was jealous of other dogs an only god knows why this happened an if pay more attention the kennels where separated." [sic].
According to Strickland, at least one of the boxers involved in the "horror film" mauling had attacked Burgess-Dismuke five times in the past. She refused to put the dog down and continued to play wrestling games with it. News reports state that after the two neighbors got the dogs off her -- by that time, one arm was totally bitten off and the other was "barely hanging on by a piece of meat" -- Burgess-Dismuke, essentially without arms, "threw her body over the fence" to flee.
Whiteside grabbed a blunt ax while roommate William Long grabbed a drive shaft beside a vehicle. They both began beating the dogs to free Burgess- Dismuke.

When they finally got the dogs off of her, and finally got them to go, she threw her body over the fence," Greer said. "She didn't jump; she threw her body like you never seen before. They were eating her." - Greenville Online, February 22, 2019
02/24/19: Previous Aggression
Fox Carolina interviewed Katora Strickland, the dog mauling victim's niece. On February 21, Nancy Burgess-Dismuke, 52, died after a wrestling game with her two boxer-mix dogs turned into a violent attack. "This is not the first time a dog had attacked her," Strickland said. "She still loved the dog and did not want it to be put down." It's unclear if the previous attack involved either of the attackers. There were five other dogs in her household, and at one time, at least two pit bulls.
In 2018, four people were brutally killed by their own dog(s), which had attacked them in the past, but the owner did not want the dog put down.
Denzel Whiteside, a neighbor who came to Burgess-Dismuke's aid, states, "The other dogs were just standing there watching the whole thing. They would jump in and help every now and then. But the two dogs, they were doing so much damage -- it was unreal." Whiteside also said the boxer-mixes had been aggressive in the past. "I knew this day was going to come. I've lived out here for a couple of months and every day it was something with those dogs," Whiteside said.
Neighbors Whiteside and Amber Greer also told the Greenville Times, "They never trusted Burgess-Dismuke's boxer-mixes and did not believe they were well trained." They would not allow their own small dog to be outside of their mobile home whenever they saw the two boxer-mixes outside. Authorities euthanized both dogs involved in the attack Friday. It is unknown if either were rescue dogs. It is also unknown if the two boxer-mixes lived predominantly in the outdoor pen.
Dispatch Logs
Noticing the discrepancies in the media reports -- police were called to the scene at 1:00 pm or 3:00 pm -- we reviewed the Greenville County Sheriff audio dispatch logs. The call came in just after 1:00 pm. At this early stage, the attackers are described as pit bulls. "What are the details on that? Are the dogs attacking each other or is the neighbor being attacked their own dog?" Dispatch responds, "The neighbor is being attacked by their own dogs. She says it a pit bull."
---
02/22/19: Dogs Brutally Kill Owner
Greenville, SC – A Greenville woman is dead after being violently attacked by her own two dogs. Nancy Cherryl Burgess-Dismuke, 52, of Yale Street, died about 10:03 pm Thursday. Nine hours earlier, she suffered multiple "extremely severe" dog bite injuries in the front yard of her home, Senior Deputy Coroner Kent Dill said. The dog bite injuries to her upper extremities resulted in a large volume of blood loss, Dill said. Burgess-Dismuke was the owner of both dogs, Dill said.
Two male neighbors heard her cries for help and came to her aid. They found one dog latched onto each of her arms and dragging her body back into her home. "It went from looking like they were really playing to them really eating her alive," said Amber Greer, who first called 911. Neighbor Denzel Whiteside said Burgess-Dismuke would often play wrestle with her dogs. This time, however, the wrestling turned into violent aggression with both dogs mauling her arms.
"She was screaming bloody murder," Greer said. She repeatedly screamed, "Help! Somebody help me. They're attacking me."
The preliminary investigation shows Burgess-Dismuke was wresting with her dogs outside, Greenville County Sheriff's spokesman Lt. Ryan Flood said. A neighbor saw the attack and called 911 about 1:00 pm. Both dogs, described as "boxer-mixes," were confiscated by Greenville County Animal Control and are being held in quarantine. WYFF states in their video report, "We are told we will get a look at the dogs that latched onto their owner, eventually killing her."
Images of a blunt axe and a makeshift dog pen conjure up scenes from a horror film as neighbors William Long and Whiteside describe the attack to Greenville News. "Seeing a person's bones as the dog attacks -- it really gets into your head," Long said. Whiteside, who is a very well-built male, said that not even he could handle the dogs by myself. By the time the dogs let her go, "she was already missing a whole arm," Whiteside said. "Her other hand was already missing" too, he said.
"I heard her screaming. They were already splitting her in half. One dog was on one arm. The other dog was on the other arm." - Denzel Whiteside
Despite being beaten with a blunt axe and a drive shaft, Long and Whiteside said the dogs "never let go," until the police arrived. "I hit him with it a couple of times, he didn't move," Whiteside said. "He never felt it." He finally got one good swing and that dog let go. Whiteside described the attack as "the longest 10 minutes of my life." Arriving deputies applied tourniquets to Burgess-Dismuke's remaining arm. She was transported to Greenville Memorial Hospital where she later died.
FoxCarolina also has two interviews with Burgess-Dismuke's shaken neighbors huddling under umbrellas. Long described her as a very nice neighbor. "If she could give you help, she would."
Related articles:
10/15/18: 2018 Dog Bite Fatality: Woman Dies After Being Mauled by Family Pit Bull in D.C.
09/27/18: 2018 Dog Bite Fatality: Pit Bull Adopted Two Weeks Earlier Kills Woman in Maryland
09/20/18: 2018 Dog Bite Fatality: Pit Bull Kills Owner in Baker City Who Tried to Stop a Fight...
08/27/18: 2018 Dog Bite Fatality: West Price Hill Woman Killed by Her Pit Bull; Police Call...