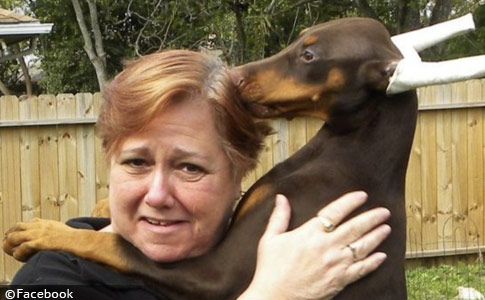 Elaine Richman, 66-years old, was discovered dead with multiple dog bite injuries.
Woman Found Dead
Houston, TX - A woman was discovered dead with multiple dog bites at her home last week, police said. On Friday, around 8:00 am, police performed a welfare check at a home in the 12800 block of Susanna Lane. They discovered 66-year old Elaine Richman dead in her backyard with dog bites on her face, arms and hands. Two adult Doberman pinschers were located inside the home, police said. The Houston Fire Department pronounced the woman dead at the scene.
"Her dogs were like her children," her brother Bruce told media outlets. "She spent so many years showing dobermans. They were her life."
Witnesses told police they had not seen Richman at her dog training classes for the last two days. According to a preliminary autopsy report by the Harris County Institute of Forensic Sciences, Richman died of "sharp force injuries." The manner of death was ruled accidental. A male and female Doberman, 2 and 4-years old, were confiscated and are being held at BARC, the shelter and adoption center for the city of Houston. The final cause of death remains pending.
The Houston Chronicle reports that Richman had been involved in the Doberman Pinscher Club of Houston and was accused of stealing from the organization. Between Nov. 10, 2011, and May 31, 2012, Richman embezzled $23,250 from the club while she was its treasurer, reports The Chronicle. She was also accused of falsifying financial statements, inflating the amounts of funds available to the club. She was given probation for eight years, set to end in November 2020.
The Chronicle also referred to CDC dog bite fatality data, which is now 20 years old. During the 20-year CDC study period from 1979 to 1998, Doberman pinschers were involved 3.8% of human fatalities (9 of 238 deaths). A modern data set, examining the 13-year period of 2005 through 2017, shows that Dobermans were involved in only 1.4% of human fatalities (6 of 433 deaths). Despite their function as a protection breed, Dobermans are seldom involved in fatalities.
Rare Area of Fatal Dog Maulings

Show dogs and "protection" trained dogs rarely appear in fatal dog maulings. When they do, rottweilers perpetrate the most fatalities, including the deaths of 7-year old Logan Meyer of Wisconsin, 3-month old Dixie Jennings of North Carolina and 3-year old Vanessa Husman of Iowa. In 2011, Donna Conrad, 71, was killed by her Hungarian-imported protection trained Doberman. In 2009, Barbara Chambers, 59, died after being attacked by her Great dane "champion" show dog.
Related articles:
11/02/16: 2016 Dog Bite Fatality: New Dog Kills 4-Year Old Child, Injures Mother in Michigan
11/19/14: 2014 Dog Bite Fatality: 7-Year Old Boy Killed by Trained Protection Dog in Wisconsin
---
Baseline reporting requirements:
Law enforcement departments across the United States should release consistent "baseline" information to the media and the public after each fatal dog mauling,
including these items
.