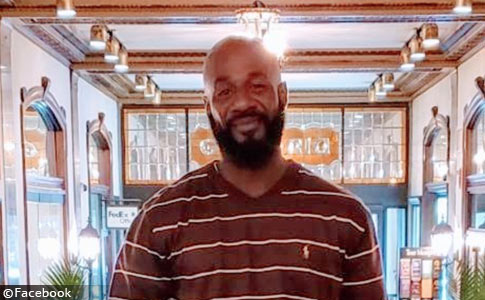 Mario Moore, 40, was killed by a pack of dogs early Thursday morning in Memphis.
Authorities Were Warned
UPDATE 07/23/19: On Friday, Nikita Fullilove described how four large dogs attacked her on Wednesday, the day before possibly the same roaming pack of dogs killed 40-year old Mario Moore. Fullilove pointed out the home where she believes the owner lives. "The owner, she know her dogs attack people," Fullilove told Local Memphis. This week another resident, Sherry Pruitt, said loose dogs attacked her while she was walking in the same neighborhood back in May.
Pruitt said she emailed Memphis Animal Services (MAS) about the dogs three weeks ago. "I just feel it's negligent, because I did my part and that's why. I knew that those animals were going to kill someone," she said. However, Pruitt did not reply to a follow up question from MAS, so her complaint could not be investigated. MAS released two photographs of the dogs involved in the fatal attack, a mixed breed, similar to the one seen in the Fullilove segment, and a pit bull-mix.
So far, MAS has captured 12 dogs in the area, though four are not suspected to be involved in the fatal attack. MAS continues to patrol the area and has traps set. It is unknown if Facebook commenter, Sharonica Palton, will speak to the media. After the dogs killed Moore early Thursday, she claimed the dogs had attacked 10 people within the last two months "and more before then." Palton also claimed that multiple people had called the pound, but nothing was ever done.
Fatal Pack Attacks and Men
From January 2005 to present, canines have killed 499 Americans. Only 1.6% (8) of these fatalities involved a pack of 4 or more dogs killing a man between the ages of 30 to 49 years old. Combined, pit bulls and American bulldogs were involved in at least 88% of these deaths. The 2009 death of Gordon Lykins, 48, who was killed by 11 dogs, including unknown breeds, is the only death under these criteria where pit bull-type dogs were not documented in news reports.
Moore's sister, Makisha Moore said her brother moved to Memphis a year ago. She said it was unimaginable that his life would end in a violent dog attack. "It's unreal. I would've never imagine something like that happening to anyone, let alone my brother," she said. Mario also had children, who now have no father, she said. She wished that no one would ever have to suffer this way. "I wouldn't want anyone else to have to suffer the way he did on that street by himself," she said.
---
07/20/19: Pack of Dogs Kill Man
Memphis, TN - Late Friday, it was reported that a 40-year old man was killed by a pack of dogs near the intersection of Belle Haven and Meadowbrook in Memphis. The vicious attack occurred Thursday about 2:00 am. He was transported in critical condition to Regional Medical Center, where he later died. A family member identified the victim as Mario Moore. His death by a "pack of dogs" comes two weeks after a 45-year old man died a similar death in Lake Placid, Florida.
Kevin Woods was driving nearby when he saw a pack of dogs that he thought were fighting. Then he realized they were attacking a person. "I seen about seven, eight dogs," Woods said. "I thought they were fighting with each other. Then I seen legs rolling around and I said, they're jumping on a dude." Woods started honking his horn and dogs backed off him. Arriving police found "multiple aggressive dogs" across the street. Memphis Animal Services took custody of five dogs.
In October 2018, eight years after 71-year old William Parker was killed by two pit bulls near downtown Memphis (about 9 miles away), a lawsuit victory was announced for his family. The court awarded Gardenia Parker's family $2.5 million dollars. The Parkers sued the apartment's management, Epstein Enterprises, and the owner, Longview Heights Partners, who knew or should have known these same pit bulls had attacked or threatened other people too.
Earlier this year, there was a string of fatal pack attacks, all involving female victims, ages 50-years and older. The January mauling deaths of Dianne Reves, 70, in Grenada County, Mississippi and Lana Bergman, also 70, near Joshua Tree, California. In February, Angela Johnson, 54, died of injuries sustained by a pack of pit bulls in mid December. Also in February, Bessie "Jill" Peterson, 88, was killed by a pack of loose dogs in rural Pall Mall, Tennessee.
On February 27, one day after Peterson's death, Johnnie Garner, 88, was killed by a pack of pit bulls in Lubbock, Texas. Despite all of these dogs having owners guilty of their "pack of dogs" being at large and killing a person, only Garner's death resulted in criminal charges. Just two days before Courtney White's six pit bulls killed Garner, he tried to turn them over to Lubbock Animal Services, but was told he needed to "make an appointment." The earliest time slot was March 1.
Packs of dogs killing people is typically a problem in developing countries, primarily India, where there is little governmental control of the massive stray dog population, estimated to be 30 million, and it is illegal to cull dogs. Technically, our definition of a pack of dogs is four or more dogs. When three dogs are included in this category, and the attack was inflicted off the owner's property, nearly 30% (8 of 28) of fatal dog attacks in the U.S. this year involve this preventable scenario.
When a "Pack of Dogs" Kill
Everyone knows, including the courts, that a "pack of dogs" at large can be dangerous. Every single fatal attack involving this scenario, when the owner of the dogs is known, should result in felony criminal charges. The legal standard of having to prove that the owner "knew or should have known" of the dogs' vicious propensities (due to a previous attack) should be abolished in "pack attack" cases. It is adequate that the "pack of dogs" was at large and killed a person.
(2/2) Multiple aggressive dogs were located across the street. Officers were advised that those dogs were responsible for the attack.
The victim was xported critical to ROH where he later died from his injuries.
M.A.S. recovered 5 dogs. This is an ongoing investigation.

— Memphis Police Dept (@MEM_PoliceDept) July 19, 2019
View the DogsBite.org Google Map:
Tennessee Fatal Pit Bull Maulings
.
Related articles:
07/05/19: 2019 Dog Bite Fatality: Man Killed by a Pack of Dogs in the Highway Park Community
04/24/19: 2019 Dog Bite Fatality: Elderly Woman Mauled by Pack of Dogs in Pickett County Dies
11/21/18: 2010 Dog Bite Fatality: Pit Bulls Kill Man, Injure Four Others in Memphis
---
Baseline reporting requirements:
Law enforcement departments across the United States should release consistent "baseline" information to the media and the public after each fatal dog mauling,
including these items
.