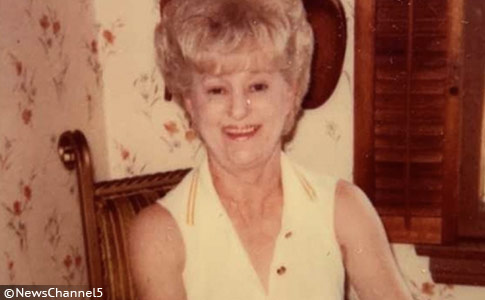 Bessie "Jill" Peterson, 88, died Tuesday after being mauled by a pack of dogs.
Sister Shares Story
UPDATE 02/28/19: Bessie "Jill" Peterson's sister, Nina Brown, shared the horrific details of her sister's mauling death with News Channel 5. On Tuesday, Jill went out to the back of her home to clear a drainage ditch after recent heavy rains. A pack of six German shepherds came up behind her and viciously attacked her. "They dragged her down the yard and all of her clothes were off, her shoes, everything. They tore all of her hair out, the casket can't be open," Brown said.
"Whatever she (the owner) gets, it won't be enough," Brown said. "She knew the dogs were dangerous and did nothing about it." - Nina Brown
Brown, who is 85, witnessed part of the attack. She tried to intervene, but three of the dogs charged her. "They started after me and I had to call 911," Brown said. Peterson was airlifted to Vanderbilt University Medical Center where she later died. The dogs belong to a neighbor who lives behind her home. Over the years, prior incidents by these dogs had been reported to authorities. District Attorney Bryant Dunaway said the dog's owner could face homicide charges.
---
02/27/19: Pack of Dogs Kill Woman
Pall Mall, TN - An elderly woman is dead after being attacked by a pack of dogs, Pickett County Sheriff Dana Dowdy said today. The attack occurred Tuesday about 5:00 pm. Deputies responded to a 911 call at 161 Evans Lane. Bessie Jill Peterson, 88, was airlifted from the scene to Vanderbilt Medical Center where she later died. Police believe six dogs inflicted the mauling and are alleged to belong to a neighbor. The 13th Judicial District Attorney's Office is aiding in the investigation.
Pickett County is the least populated county in Tennessee with just over 5,000 estimated people. Peterson only had one residential neighbor, according to Pickett County property records. The two other nearby properties are classified as agricultural. Limited information is being released by the sheriff at this time. No description of the dogs has been made public. In early February, in another small town along the Tennessee and Kentucky border, a family pit bull fatally mauled a baby boy.
Past Tennessee Fatalities
The most recent news from Tennessee is a $2.5 million dollar verdict awarded to a family after two pit bulls killed William Parker in 2010. For seven years, his daughter and her mother fought a legal battle against the apartment complex where the pit bulls were kept. They sued management, Epstein Enterprises, and the property owner, Longview Heights Partners, saying they knew or should have known of the dogs' vicious propensities. The dogs had attacked people before.
Our records show there have been at least 11 fatal dog maulings in Tennessee since 2005. Nearly half of these deaths occurred over the 2-year period of 2005 to 2006. In February 2017, two English mastiffs killed a 5-year old boy in Clarksville, another northern Tennessee city. In November 2015, Anthony Riggs, 57-years old, was brutally killed by a rottweiler he had adopted just hours earlier from Jackson-Madison County Rabies Control -- the county animal shelter.
Related articles:
11/21/18: 2010 Dog Bite Fatality: Pit Bulls Kill Man, Injure Four Others in Memphis
02/17/17: 2017 Dog Bite Fatality: Family Mastiffs Kill 5-Year Old Boy in Clarksville, Tennessee
11/18/15: 2015 Dog Bite Fatality: Newly Adopted Rottweiler Kills Owner in Madison County
---
Baseline reporting requirements:
Law enforcement departments across the United States should release consistent "baseline" information to the media and the public after each fatal dog mauling,
including these items
.