The Vicious Attack Occurred in December in Riverside County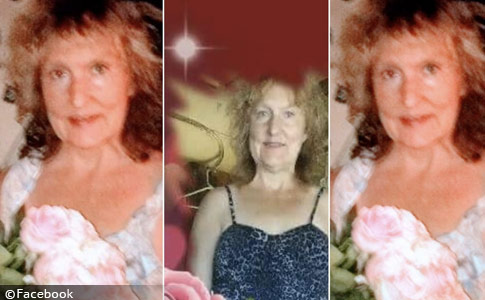 Angela Johnson, 54, died after a violent pit bull mauling in Anza, California.

Mauling Victim Dies
UPDATE 02/18/19: A woman severely mauled by three pit bulls in December has passed away, according to announcements on Facebook by her family members. Angela Johnson, 54-years old, died on February 9, nearly two months after the vicious dog attack. On December 15, as Johnson was hanging laundry in the yard of her rural Anza home, three loose pit bulls violently attacked her. She was airlifted to a trauma center. Shortly thereafter, she was placed on life support.
Riverside County Animal Services confiscated the dogs, described as "pit bulls or pit bull mixes," and released identification images of them. The agency quickly sought a destruction order for the dogs and all three were euthanized on January 7. The owner of the pit bulls, Jesse Leon Miranda, 61, of Anza, was arrested on an outstanding felony warrant and booked into the Cois Byrd Detention Center following the attack. No additional arrests or citations have been announced.
---
12/19/18: Mauling Victim on Life Support
Anza, CA - A woman is on life support after a vicious attack by three pit bulls. The attack occurred Saturday in Anza, a rural community in Riverside County about 45 miles south of Palm Springs. According to a GoFundMe page created by her son, Tim Platt, Angela (Platt) Johnson remains on life support. "The dogs basically ate my mom alive, ripping out a main artery in her throat, causing a severe stroke to the left side of her brain, leaving her half brain dead," Platt states on the page.1
Platt now has to make the difficult decision of whether or not to leave his severely injured mother on life support or to allow doctors to remove her from the machines, reports Trevor Montgomery of the Riverside County News Source. Photographs on the GoFundMe page show Johnson heavily bandaged and connected to the machines that are keeping her alive. Family members are now in disagreement over how best to proceed and a competing GoFundMe page has been created.
Case Background
On December 15, a woman was savagely attacked by three pit bulls while hanging laundry in her yard in the rural community of Anza. The attack occurred in the 55000 block of Mitchell Road about 9:40 am, Riverside County Fire Department said. She suffered severe bite injuries and was airlifted to a trauma center. "All three [dogs] were pit bulls or pit bull mixes and there is a known owner," John Welsh, a spokesman for Riverside County Department of Animal Services said.
Due to the severity of the attack, Welsh said that Riverside County Animal Services will seek a destruction order. "This is another preventable attack on an innocent person and one we find very upsetting," Director Robert Miller said in a statement. "It's imperative that owners of these types of dogs do everything in their power to prevent such horrific attacks." Miller urged owners of dogs with "high prey drives" to secure their yards to protect neighboring people and their pets.
Deputies arrested the dogs' owner on an outstanding felony warrant for vehicle theft and possession of stolen property, reports Riverside County News Source. "Jail records indicate Jesse Leon Miranda, 61, of Anza, was subsequently booked into Cois Byrd Detention Center in Murrieta for his warrant. He remains in custody in lieu of $20,000 bail, and is scheduled to be seen at Southwest Justice Center in Murrieta, Dec. 19," News Source reported on December 15.
View the DogsBite.org Google Map:
California Fatal Pit Bull Maulings
.
1
Since we originally posted, the language on the GoFundMe has changed -- written by someone other than Platt. This is extremely tragic and heartbreaking. Both versions of the fund (pre today and the recent update) mention a secondary GoFundMe by a relative that we are not linking to. Our hearts go out to Angela and her family.
Related articles:
06/26/17: 2017 Dog Bite Fatality: Woman Brain Dead After Pit Bull Mauling Near Bozeman
09/10/15: 2015 Dog Bite Fatality: Pit Bulls Kill Man, Injure Woman in North Shore, California
10/15/14: 2014 Dog Bite Fatality: Neighbor's Pack of Pit Bulls Kill Modesto Man, Injure...