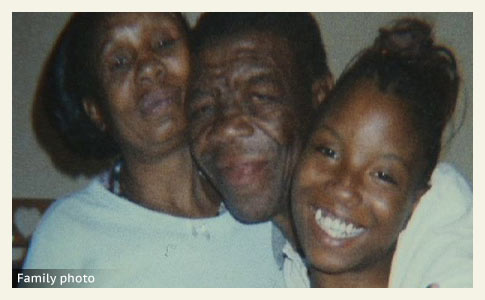 William Parker seen with family members before the deadly pit bull mauling.
Lawsuit Victory for Family
UPDATE 11/21/18: Eight years after the brutal pit bull mauling death of 71-year William Parker, his family finally has some justice. On Thanksgiving Eve 2018, we learned that a court ruled on October 31 that Gardenia Parker's family was awarded $2.5 million dollars. The Parkers sued the apartment's management, Epstein Enterprises, and the owner, Longview Heights Partners, who knew or should have known these same pit bulls had attacked or threatened other people too.
"We felt the apartment complex, with knowledge of those animals being on the premises, had full responsibility essentially to prevent the people in the neighborhood, the tenants and the residents of that apartment complex from being injured by a dangerous condition on the premises," Parker's attorney, Daryl Gray, told WREG afterward. "As a landlord you have a duty to keep people in the community safe, keep your tenants safe from a dangerous condition on your property," Gray said.
---
07/25/10: Tree of Hope Corridor
On Saturday, family and friends held a vigil for 71-year old William Parker who died Tuesday after being viciously attacked by two pit bulls. Neighbors lit candles, hung teddy bears and Tree of Hope signs on a tree near the scene of the fatal mauling. Gardenia said the half-block walk to the vigil was the most difficult of her life. She was the one that found her dying father. She said, "When I got there, the dogs had already tore both of his legs to pieces. No skin, just bones there."
Bessie Parker, William's grieving wife, prayed with her daughter during the vigil. "I can't see my husband," she said, "but I can feel him all around me." Neighborhood Watch President Georgia King got volunteers to clean up the area near the mauling to turn it into a Tree of Hope corridor. A family spokesperson said William Parker's visitation is next Friday at N.J. Ford Funeral Home from 4 p.m. to 7 pm. The funeral will be next Saturday at 11 am at Lake Grove Baptist Church.
07/23/10: Director Defends Police
Memphis Police Director Larry Godwin went on record today to talk about the department's dog policy. According to Godwin, officers followed protocol during the Sunday incident, thus alleviating the department from any liability that occurred Tuesday: The death of one person and the injury of four others. When officers arrived Sunday, the dogs had been contained. This combined with "non bite" injury did not warrant notifying the Memphis Animal Shelter or taking any further action.
Godwin says his officers got a call about the pit bulls roaming Manassas St. Sunday, "When the officers made the scene over there. The dogs were contained. They were legally on a chain."

The officers gave the owner a citation for not having proper paperwork for the pit bulls and arrested him on a sex offender violation.

His dogs stayed behind.

Godwin says the owner told officers his family would take care of the animals.

"Our policy is pretty much we don't confiscate dogs. If there are dogs running loose, animal shelter is notified. We look of course to the safety of the citizens," said Godwin. (WREG, News Channel 3)
Who Is Sherry Wooten?
A separate article, also published Friday, reveals more information about the woman charged. Wooten is the girlfriend of the dogs' owner's brother, Andre Humphrey, and is close to giving birth. According to police, Andre was supposed to take possession of the dogs after his brother was taken into custody. Andre claims that his brother did not own the dogs, but that his brother's "ex-girlfriend" did. He said it is she who should be charged, not Wooten or his brother.
It is important to pay attention to the finger pointing that is occurring. It is not unusual after a serious or fatal dog attack for owners to claim that they did not own the offending animals. Typical excuses include: the dogs were strays; the dogs were being "kept" by a relative or the dogs belonged to a boyfriend. This is another reason why "Punish the Deed" is misleading and impractical. If ownership of the dog cannot properly be established, there is no person to punish.
07/22/10: Woman Charged in Maulings
Sherry Wooten, 23-years old, has been charged in connection to the Memphis pit bull maulings that took the life of William Parker and sent four others to the hospital, seriously injuring two. According to police, Wooten, a friend of the dogs' owner, released the dogs from the apartment knowing they were vicious in nature. Wooten was charged Thursday with Reckless Homicide and four counts of Felony Reckless Endangerment. Wooten is scheduled to be in court Friday.
After the Sunday incident, a relative of the dog owner was supposed to take possession of the dogs. Apparently this did not occur. Now Wooten holds the blame for all five victims in Tuesday's attacks. The dogs' owner, Bernard Humphrey, who knew better than anyone else that his dogs were "vicious in nature," may hold no blame. Ironically, the safest place for Humphrey to be on Tuesday, July 20th was behind bars. Now a friend of his will take the rap for his multiple maulers.
07/22/10: Victim Says Woman "Watched"
On Wednesday, victim Kevin Stringfellow shed new light on the Memphis pit bull maulings. The attack on Stringfellow was a separate incident than the one involving Parker. He said the dogs attacked him about 30 minutes earlier and that a woman from the dog owner's apartment ignored his cries for help. He did not learn of Parker until he was at the hospital. Though left with 52 holes in his arm, Stringfellow considers himself lucky. He used an empty beer bottle to fend off the dogs.
Police Protocol Failure?
As events leading up to the fatal attack become somewhat clearer, questions of police protocol arise. On Sunday, the same two dogs chased Leroy French atop a car. His cries for help alerted neighbors who called police. When police arrived, they did not remove the dogs, but arrested the dogs' owner, Bernard Humphrey, who was in violation of the sex offender act. French was sent to the hospital with "non bite" injury; he slipped and banged his head when scrambling atop the car.1
In the same video, Humphrey's mother, Patrice, said that her son used to live with her. She said she called police at least three times in fear of his dogs. She eventually forced him and his dogs out of her home. Humphrey began renting an apartment in Parker's community shortly thereafter. Despite the incident with French, at least four vicious dog calls to the police and being a convicted felon, police left Humphrey's dogs at his home when they took him into custody Sunday night.
The question is, when an offender like Humphrey is taken into custody, whose dogs had a clear and ongoing track record with authorities, what should happen to these dogs? Who becomes responsible for the animals while the owner is in custody? Is it protocol to contact animal control to impound the dogs or to at least follow up in these cases? Or does the offender simply appoint a family member or friend (in this case his alleged girlfriend) to care for the dogs while in custody?
Though not widely known to the public, studies show that owners of vicious dogs are often deviants and criminals. Police are especially attuned to this. They understand more than anyone else what might lie behind the door when serving a warrant: a vicious dog. It seems hard to believe that a protocol would not exist, but in Tennessee, just about anything is possible when it comes to laws failing to govern dangerous dogs. This failure directly led to the death of Parker.
07/20/10 Victims' Family Blame Police
New information has been released about the Memphis pit bull maulings that killed one and injured four others. The victims' families are not just blaming the owner of the dogs, they are blaming the Memphis police. Eyewitness News reports that the dead victim's wife, Bessie Parker, and her neighbors called the police on Sunday about the very dogs that killed her husband and seriously injured several others after the pit bulls forced a resident to take refuge atop a car.
It was a Memphis Police officer that owned the two pit bulls that killed Betty Lou Stidham, a school teacher, in 1990 (see footnotes).
Before brutally attacking William Parker, the pit bulls attacked neighbor Kevin Stringfellow when he tried to come to the 71-year old man's rescue. "He got bit like 30 to 40 times," said his brother Darryl. "He got bit in the head, legs, arms, everywhere. Had to use a bottle to beat them off. He's probably going to need surgery. If I would have been out there, I would have shot the dogs, point blank," Darryl said. (A separate report said that Kevin also had a finger bitten off in the attack.)
Parker's daughter, Gardenia, was also injured in the attack. She suffered a broken elbow and puncture wounds to her legs and arms. It is unclear, as of late Tuesday night, if the Memphis Police Department ever contacted the Memphis Animal Shelter about the earlier complaints. Mayor A C Wharton's office denied Eyewitness News cameras access to the dogs and forbid the new shelter director, Matt Pepper, from explaining to reporters what happens next in the process.
07/20/10: Pit Bulls Kill One, Injure More
Memphis, TN - In a developing story, two pit bulls killed an elderly man, seriously injured his daughter and attacked emergency responders who were trying to help the victims. William Parker, 71, was rushed to the hospital where he was pronounced dead. His daughter suffered severe bite injuries and is currently hospitalized. Lt. Ray Pelletier and paramedic Ken Hartfield were taken to the hospital for bite injuries to the lower legs and abdomen; both have been released.
The City of Memphis2
The Commercial Appeal, Memphis's newspaper, is sympathetic to pit bulls.3 The "cause of death was uncertain," according to the Appeal. Back in January, Councilman Shea Flinn proposed a pit bull sterilization law due to the overwhelming number of pit bulls in the city's shelter. By March, the proposal had become a sterilization law for "all dogs," which dumbs down the original and hides the central issue that plagues nearly all U.S. city shelters: a pit bull overpopulation crisis.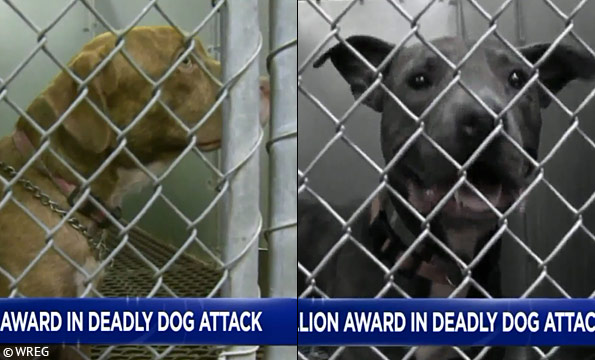 View the DogsBite.org Google Map:
Tennessee Fatal Pit Bull Maulings
.
1
"Non bite" injury often means that the incident goes undocumented against the dog, even in instances of death. Had French been bitten, police protocol certainly would have included contacting animal control (See: rabies prevention).
2
The City of Memphis has been painfully aware of the pit bull problem for at least 20 years. The 1990 fatal attack of Betty Lou Stidham is still posted in the People Magazine archive. The negligence of the city in Stidham's death ultimately cost them in civil court (See: full history). The gruesome 2007 attack of James Chapple Jr., which ended in his death, even dawned coverage from Reader's Digest.
3
In the 2007 Appeal's photographic essay, "Menace Unleashed," 33 photographs are shown, but only 5 (15%) depict pit bull victims and these are seen at the very end of the segment. The related video is even more biased. Reporter Cindy Wolff even encourages the public to adopt abused pit bulls -- dogs with a potentially highly unstable temperament. Wolff also pushes "nanny dog" and "Petey" stories promoted by pro-pit bull groups. The Appeal's video has no mention of pit bull victims.
Related articles:
02/06/10: Pet Pit Bull Unleashes Explosive Attack on Owner and Two Others in Hoboken
08/24/09: 2009 U.S. Shelter Data: Pit Bulls Account for 58% of Dogs Euthanized