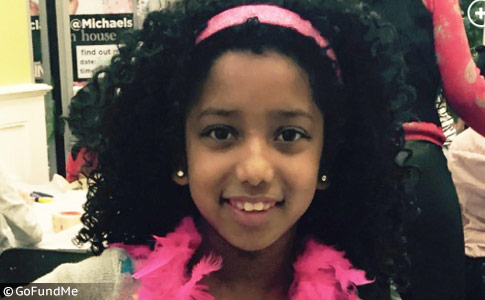 Amiyah Dunston, 9-years old, was savagely killed by a pit bull on Long Island.
Child Identified
UPDATE 11/09/15: Nassau County officials have identified the child who was stuck down by the powerful jaws of a pit bull on Sunday. Amiyah Dunston, 9-years old of Baldwin, was visiting a home on Holland Avenue and playing with two other girls outside when a pit bull suddenly executed the killing bite -- the dog latched onto her face and neck and shook her violently. The male pit bull belongs to Carlyle Arnold, who is a tenant on the second floor of the building.
Arnold's Facebook page indicates this pit bull was possibly being trained for bite work. The male pit bull, dubbed "The Beast" by Arnold, is also wearing a weighted collar, as seen on O'Brien's Canine Supply website that specializes in products for pit bull terriers. The organization notes on their home page that since 1984, they have enjoyed keeping some of the "best old family pit bull lines" which is code language for saying, keeping some of the "best old family fighting bloodlines."
Lastly, an update by the New York Post today reports that the dog is a 2-year old male pit bull named Kane. The Post also notes that Arnold is "engaged in a playful tug of war" in the Facebook photo, while wearing the weighted collar and clenching down on the ropes of a tug training toy. Whether Arnold was training for bite work or not, this same equipment is used for bite work training and certainly this activity is designed to strengthen the already powerful jaws of a pit bull.
Monday Evening Updates
The New York Post reports that Amiyah Dunston was visiting her biological father1 at 236 Holland Avenue when she was savagely killed by a pit bull its owner dubbed, "The Beast." Her mother, Mayra Castillo, was too anguished to speak to the media, but her finance, Brian Willis, who helped raise Amiyah, did make a statement. "Amiyah Kayla was a phenomenal little girl who has touched many lives with her presence, smiles and laughs. We thank you for all your support and prayers."
New information was also reported about Carlyle Arnold, the owner of the pit bull. Arnold, who is currently unemployed, has two open cases in Nassau County, a child endangerment case from 2014 and criminal possession of stolen property from October, according to court records. On Monday, he was arraigned on a new charge of criminal-contempt after being arrested Sunday for violating an order of protection involving his girlfriend, states the Post. His bail was set at $10,000.
The Nassau County District Attorney's Office and police are investigating whether to bring charges against Arnold in the mauling death, sources told the Post. CBS New York adds more details. Acting DA Madeline Singas told 1010 WINS, a radio station owned by CBS Radio, "We're looking to see if this dog did have violent propensities and what kind of dog ultimately it was and if it should have been left with children." DogsBite.org strongly encourages this criminal investigation.
11/08/14: Child Dies After Violent Attack
Elmont, New York - Nassau County authorities report that a 9-year old girl has died of her injuries after being attacked by a pit bull at 10:30am in a Long Island backyard. The child was visiting the home when the attack occurred, police said. She had been dropped off at 236 Holland Avenue to play with her friends and was in the backyard when the pit bull attacked her. A responding police officer shot and killed the dog. She was pronounced dead at Franklin Hospital around 1:45pm.
"I am not going to get into the details of what took place, but it was a violent attack." - Nassau County Detective Michael Bitsko
At the time of the attack, the victim was playing with two other children in the backyard when the male pit bull suddenly attacked her. A woman who lives on the ground floor of the home tried to pull the dog off the girl, but could not. The owner of the dog, Carlyle Arnold, 29, was a second-floor tenant of the building. He was arrested at the scene for an unrelated charge of violation of an order of protection. Police do not believe there is any criminality regarding the child's brutal death.
In many places in the U.S., there are no criminal penalties for the owners of pit bulls and other well-documented dangerous breeds after their dog savagely tears out a child's throat, killing him. Pit bulls, which have an unmatched track record of killing people for over a century, frankly have carte blanche to murder innocent American children -- the law says it's okay. It begs the question: How "civilized" of a modern culture do we live in? The child's identity has not yet been released.
Late Evening Updates
The ABC 7 update reports that when police officers arrived, the pit bull was still mauling the 9-year old girl. The dog then dropped the girl and charged one of the officers, who fired several shots into the animal killing it. The pit bull, weighing between 70 and 80lbs, was carted off in a black bag. Witnesses told ABC 7 that the dog latched onto her neck and head, and fiercely shook her. At least one of the two other children she had been playing with witnessed the horrific attack.
Officials do not believe the pit bull's owner, Carlyle Arnold, was home at the time of the fatal attack or if he could have stopped it even if he was.
The Associated Press picked up quotes from Newsday, the local paper that is behind a paywall. Anthony Tyron Jett, 53, who also lives at the house described the pit bull (as seen in the top right photo) as "gentle" and was shocked when he learned of the child's death. "He was a beast. But he was gentle," Jett said. "He was strong. He was a pit bull. Like any animal comes into the yard, a bird or squirrel or whatever, he would chase it, but he was very people friendly," Jett alleged.2
We hope police examine Arnold's "training program" for his pit bull he dubbed, "The Beast."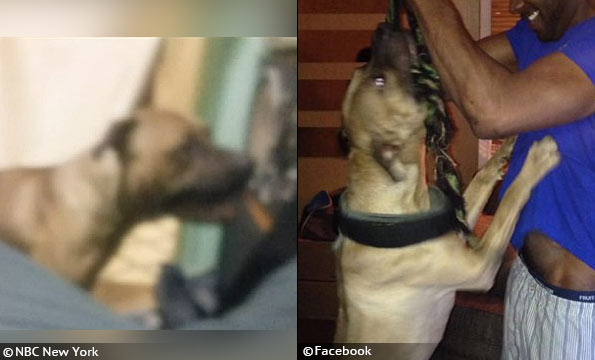 View the DogsBite.org Google State Map:
New York Fatal Pit Bull Attacks
.
1
Amiyah's biological father was later identified as Tramel Dunston, who had been staying at 236 Holland Avenue, and was friends with the dog's owner Carlyle Arnold. Anthony Tyron Jett, who made the bogus Beauty and the Beast claims, is also Arnold's uncle and lives at the home. All three obviously were quite familiar with "The Beast."
2
This individual is truly sickening. The lies perpetuated by Jett have taken the lives of hundreds of innocent people since the early 80s and the livelihoods of thousands more. We have all read Beauty and the Beast Jett -- it's a fairy tale. Jett's fantasy claim, "He was a beast. But he was gentle," helped cause the horrific death of this child.
Related articles:
11/12/15: Maul Talk Manual Term: "Defeated Prosecutor Syndrome" - DogsBite.org
10/29/15: 2015 Dog Bite Fatality: Visiting Child Killed by Two Pit Bulls in Orange County, Texas
06/24/15: The Mechanics of a "Classic" Unprovoked Pit Bull Attack - DogsBite,org
05/29/15: 2015 Dog Bite Fatality: 5-Year Old Boy Fatally Attacked by Pit Bull in Chicago
02/23/15: 2015 Dog Bite Fatality: Visiting Child Killed by Family Pit Bull in Pittsburgh Suburb
08/08/14: 2014 Dog Bite Fatality: Visiting Child Killed by Aunt's Pit Bulls in Fanning Springs...
07/29/14: 2014 Dog Bite Fatality: Visiting Child Killed by His Uncle's Two Pit Bulls...
05/08/14: 2014 Dog Bite Fatality: Visiting Child Killed by Pit Bulls Owned by Friends in Felton...
05/05/09: Alexandra Semyonova: Heritability of Behavior in the Abnormally Aggressive Dog