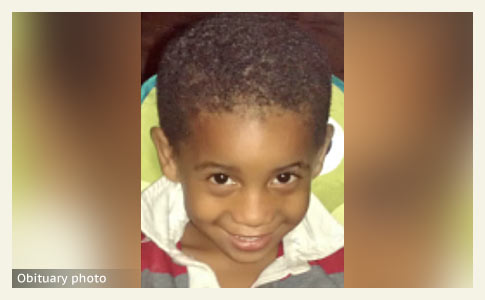 Family members mourn the loss of Kasii Haith, who was killed in a pit bull attack.
Family Mourns Death archived
UPDATE 05/08/14: Family member gathered at his mother's home in Camden to mourn the child's violent death. The child's maternal grandmother, Tara Haith Coates, said her daughter was visiting a longtime friend and had been outside with her son all day. She had gone inside for a brief trip to the bathroom when the attack occurred, according to Coates. She said her daughter needed 20 stitches from the bite injuries she received while trying to save her son.
"People have been saying awful things," she said. "All I want is respect. Just understand. She was a hell of a mother." - Tara Haith Coates
According to neighbors, the dogs' owners had recently moved into the neighborhood. Just one day before fatally attacking the boy and attacking his mother, the three pit bulls were seen running loose in the area. Gary Bodine, 60, said the dogs went onto the porch of his brother-in-law's home on Tuesday then crossed into the yard of another relative. Bodine's immediate concern was for his 4-year old niece, Addy, who fortunately was safe. He warned his relatives about these dogs.
Cause of Death, Multiple Dog Bites
A Dover Post article states that the Office of the Chief Medical Examiner ruled the manner of death as being multiple dog bites to the head and neck. The dogs' owner, whose name has not been released, voluntarily surrendered the three pit bulls to Delaware Animal Care and Control (DAC). The dogs were put down Thursday morning, according to DAC Chief Animal Control Officer Capt. Sherri Warburton (The DAC is in charge of animal control throughout the state).
A fourth dog at the attack scene, an 8-week old puppy, was not involved in the attack and remains with its owner, Warburton said. She then stated on the record again that possible inbreeding or territorial factors brought on by one of the female dog's pregnancy led to the attack, despite the boy knowing the dogs well and had already spent hours with them prior to the attack. Warburton summed up her theory by essentially stating that mothers should never go to the bathroom.
The Causal Factor Creep
Multiple millions of dog owning mothers go to the bathroom, make lunch and get dressed in their own bedroom everyday (this list is exhausting). These mothers are "normally" away from their children for brief periods everyday. These family dogs -- spayed and neutered or not, pregnant or not -- are not severely mauling or killing their children. The Causal Factor Creep is used to explain pit bull fatalities as an anticipated response by all dogs when a mother steps away for a moment.
The Delaware State Police continue to investigate. It is too soon to know how long the mother truly was away (the validity of the bathroom story). Because similar stories of a momentary "normal" absence of a mother come up unfailingly in fatal pit bull attacks, and are use by 1.) Animal control and animal welfare groups to displace blame from the pit bull breed and 2.) Pit bull advocates to start vicious rumors about these mothers, we felt it was important to address this issue now.
Do not forget that two grown men with PVC piping and a desperate, adrenalin enhanced mother could not get these pit bulls to stop attacking her son. Thus, a fatality ensued.
05/08/14: Mauling Victims Identified
Delaware State Police have released the names of the young boy killed by three pit bulls on Wednesday and his pregnant mother, who was injured trying to save her son. Kasii Haith, 4-years old, was pronounced dead on scene by first responders. His mother, Kyeisha Haith, 24-years old, was transported to Kent General Hospital for her injuries and is still being treated. Delaware Animal Care and Control confiscated all three pit bulls. None of the dogs were spay or neutered.
Now readers, we are going to have the broken record homespun "pit bull breeding operation" discussion again.
In possibly a "desperate" attempt to displace the blame from the number one killing dog breed, Capt. Sherri Warburton, the director of Delaware Animal Care and Control, chimed in. By doing so, Warburton sheds light on the common practice of many homespun pit bull breeding operations -- "line breeding," also known as interbreeding (breeding mother to son, father to daughter or sibling to sibling, just like all historical and modern pit bull fighting bloodlines are built and maintained).
The two female dogs and one male were all related; none were spayed or neutered. Warburton explained that one of the females was pregnant and the other may have been in heat. That combination of factors could have led to a pack mentality among the dogs...
Warburton said the oldest female is believed to be the mother of the younger female and the male dog involved in the attack.
"I don't have confirmation, but with an intact adult male and a female that is able to come into heat, more than likely that was interbreeding that occurred there," Warburton said. - Mark Eichmann, Newsworks, May 8, 2014
The suggestion that "interbreeding" or lack of spay and neuter were the root causes of this fatal attack or is unusual in pit bull breeding homes (or kennels) is false. Warburton is correct that these factors likely exacerbated and already "off the chart" dangerous scenario for a child visiting the home of a dog owner with three pit bulls, where potential pack mentality is already a given independent of these factors. Note also the many mays, coulds and "I don't have confirmation."1
05/08/14: Three Pit Bulls Kill Child
Felton, DE - Delaware State Police2 say a 4-year old Camden boy was killed by three pit bulls on Wednesday. Police spokesman Master Cpl. Gary Fournier said the attack occurred while the child and his 24-year old mother were "visiting" a friend on Edwardsville Road in Felton. The mother, who is several months pregnant, and her friend were inside the home while her son was outside playing near her friend's three pit bulls. He had been around the dogs numerous times in the past.
The mother at some point looked out the window and saw her son being attacked by the dogs, according to Cpl. Fournier. She rushed outside to save her son and suffered numerous bite injuries to both arms while intervening. Two HVAC repairmen working at the house also tried to save the boy by beating off the animals with PVC piping and helping the mother defend herself against the attacking dogs. Responding EMS began first aid, but he was soon pronounced dead.
Authorities confiscated all three pit bulls; the young boy's name has not yet been released.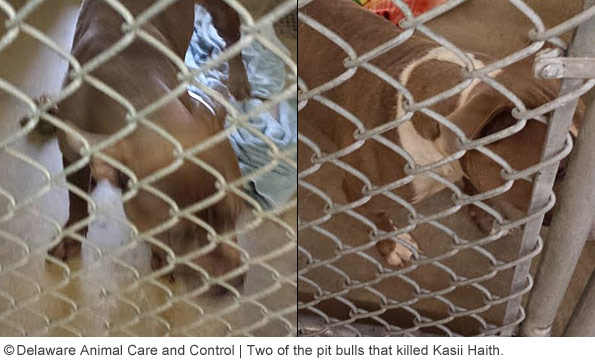 1
The maze of denial is being laid, despite the fact that the boy knew the dogs ("had been around the dogs many times before," according to police) and had been with them for hours that day already.
2
Delaware has had one recorded fatal dog attack since 2005, the 2012 death of letter carrier Robert Rochester.
Related articles:
02/19/14: 2014 Dog Bite Fatality: Texas Toddler Killed by Pit Bull Being 'Watched' by Her Family
03/10/13: 2013 Dog Bite Fatality: 7-Year Old 'Visiting' Galesburg Boy Killed by Pit Bull
11/30/12: 2012 Dog Bite Fatality: Postal Worker Dies Days After Vicious Dog Attack