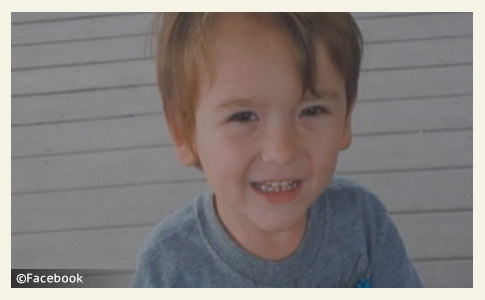 Logan Sheppard, 4-years old, was mauled to death by his uncle's two pit bulls.
No Criminal Charges
UPDATE 07/30/14: Authorities will not pursue charges -- see memo from State Attorney Mark Ober. New information reveals that the adults were sharing "half a joint" in a back room when Logan Sheppard slipped outside and was mauled to death by two pit bulls. The dogs tore off his entire scalp and inflicted bites to his neck, according to police records. The adults left Logan with his 15-year old cousin, who was wearing headphones and watching a movie on a computer.
Arriving deputies smelled the marijuana, but no drugs or paraphernalia was located or confiscated by police. Ober called Logan's death a "tragic event" in his memo to the Hillsborough County Sheriff's Office. Ober also explained some of the charges his office had considered, including child neglect and aggravated manslaughter. Ober did not believe any of the charges would hold up in court. Recall that criminal prosecution requires proving a case "beyond a reasonable doubt."
"The evidence does not indicate that anyone responsible for caring for the child neglected the child knowingly, intentionally and purposely. Instead, the evidence indicates that the death of the child was a tragic event brought on by a mistaken belief that the dogs had been secured in a pen in the yard. The fact that the dogs were able to escape the dog pen was unknown at the time of the tragic event." - State Attorney Mark Ober, July 28, 2014 Memo
While some media sources continue to report, "Billy let the dogs out" after Logan and his mother arrived, it is clear that this allegation remains unverified by police. At least now, instead of blaming the boy for unlatching the pen, how the dogs escaped is simply "unknown." After the attack, the owners of the dogs, Delores and Billy Fredericks Sr., surrendered their two adult female pit bulls for destruction. The dogs had no prior history of aggression, according to animal control.
07/21/14: Father Blames Uncle
Not unexpectedly, family members are casting blame after the violent pit bull mauling death of 4-year old Logan Sheppard on Saturday evening. The boy's father, Michael Sheppard, and the child's grandmother, Norma Jean Bridges, blame Billy Fredericks Sr., for the child's death. Michael was not at home when his son was attacked. Michael and Norma believe that Fredericks was careless and negligent. Both also support a theory first presented by commenter Ted Teger.
The neighbor also said she doubts Delores and Billy Fredericks started locking up the dogs on Saturday when Logan was mauled to death.
---snip---

Investigators say the attack happened when Logan and his mother walked to the Fredericks' home nearby. Detectives say Billy told them he crated the animals so the mother and child could come inside. But family members say Billy didn't leave the animals inside the kennel during their visit but, instead, wanted them be out so they could roam "to protect his property." -10 News, wtsp.com
Notably, none of the people interviewed showed their faces because they are likely afraid of Billy Fredericks. Despite the father and grandmother's accusations, the Hillsborough County Sheriff's Office is not convinced. At least for now, no criminal charges will be filed. The Fredericks' also have a home in Las Vegas. According to 10 News, the two may be packing up and heading out of town. Michael Sheppard said the family is setting up a fund to help pay for funeral expenses.
In a 10:43 pm update from the Tampa Bay Times, the blame game grows even more ethereal. The boy's father, Michael Sheppard, told the newspaper that Logan loved to play with his three family dogs -- also pit bulls -- Sheppard said. "He grew up with those dogs and never had problems with them," his father said. With pit bull owners now blaming other pit bulls owners, it is understandable why the Hillsborough County Sheriff's Office is not convinced of the father's recent accusations.
07/20/14: Blame Casting Begins
Billy Fredericks Sr., the uncle and owner of the two pit bulls that killed his 4-year old nephew while visiting his home on Saturday evening gave consent to have his dogs put down; both have been euthanized. Now blame is being cast upon the boy's mother for being in the next room talking to adults while her child sat in the living room eating a bowl of ice cream. Speculation is also being cast upon the young child for unlatching the two kennels while holding a bowl of ice cream.
Many things are possible at this early stage, including what commenter Ted Teger speculated:
Missing from this story must be that the owner not only carted the dogs before they arrives but UNCRATED them after they were all indoors1....and then they left a 4 year old unattended in the living room knowing there were dangerous dogs on the other side of the door. No parent is perfect and oversights happen all the time, and most parents are fortunate enough that their little mistakes do not end in tragedy.

I hear pit bull owners tell how friendly and loving their dogs are....  but I never trust them, nor do I trust any dog completely as much as I love dogs and have 3 myself....but I would never want a dog that can kill so easily with those powerful jaws. -Ted Teger, The Tampa Bay Times
It is important to recall the recent thoughts of Quadirah Banks, whose child was nearly mauled to death by two pit bulls after the babysitter let the dogs into the house because it was raining. "Does it matter if it is the fault of the owner of the dog? Does it matter if it is the fault of the dog, when pit bulls themselves are disproportionately responsible for serious and fatal attacks?" What we know does matter is that if pit bull owners fail to maintain the "zero margin of error" rule tragedies occur.
View Related video
07/20/14: Visiting Child Killed by Pit Bulls
Riverview, FL - In a developing story, a 4-year old boy was killed by two pit bulls while visiting his aunt and uncle's home in Riverview. On Saturday, Logan Sheppard and his mother, Stephanie Groulx,2 walked to the home of Groulx's sister, Delores Fredericks, and her husband at 12509 Rhodine Road. Just before they arrived, Fredericks' husband placed their two pit bulls in a crate. Logan was given ice cream and left alone while the adults went into the master bedroom to talk.
When the adults heard the child scream, they ran out and discovered that Logan was gone. At the same time, two deputies from the Hillsborough County Sheriff's Office, who were conducting an unrelated traffic stop nearby, also heard the child's screams. The deputies raced to the home and found Logan Sheppard on the front lawn of the house with the two pit bulls standing over him. The little boy was pronounced dead at the scene around 10:30 pm. The investigation continues.
Q: How safe are crated pit bulls around children visiting the dog owner's home? A: Not very safe.
View the DogsBite.org Google Map:
Florida Fatal Pit Bull Maulings
.
1
While complete speculation, this is most certainly possible with many-a-die-hard pit bull owners.
2
The mother's Facebook page shows that she is a considerable pit bull enthusiast. Given that "Proud Pitty Parent" was uploaded twice to her album, it is safe to assume that she currently or in the recent past has owned pit bulls.
Related articles:
07/15/14: New Brunswick Pit Bull Attack: Babysitting, the Zero Margin of Error Rule and...
05/08/14: 2014 Dog Bite Fatality: 'Visiting' Child Killed by Pit Bulls Owned by Friends...
01/20/14: 2013 U.S. Dog Bite Fatality Statistics - DogsBite.org
09/23/13: Collection of Pit Bull Scalp Attack Victims - DogsBite.org
07/26/13: Beyond the Interview - Essay of a Fatal Pit Bull Mauling
Photo: MyNews13.com