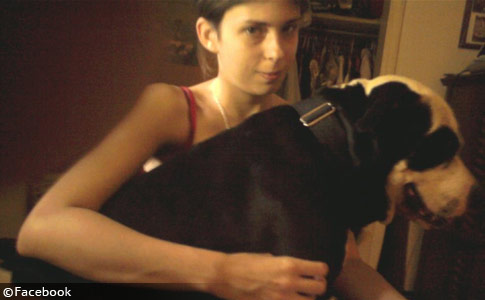 Nicole Cartee with her pit bull named "Spike" (Uploaded to Facebook 2/12/2012)
No Criminal Charges
UPDATE 08/25/15: Lab results for the pit bull that violently attacked its owners, killing one, came back negative for rabies. The male unaltered pit bull named "Spike" had been with the family for over a decade when it "snapped" Saturday killing Nicole Cartee, 25-years old, and seriously injuring her mother. Jamie Nelson, the director of Spartanburg County Environmental Enforcement told WLOS that the vicious attack was "horrific" and "there was a large amount of blood."
Nelson said that Nicole's mother actually owned the dog and that her most recent injuries from Spike did require surgery. Nelson said that no criminal citations would be issued to the mother. The family pit bull had previously attacked the mother requiring hospitalization, but the incident was not reported to authorities, according to Patrick Powell, who had been Nicole's boyfriend for many years. Patrick said the two had recently separated, but were planning on reuniting.
Patrick said that Spike's aggression had been an issue for a long time. He had urged the family to do something about the dog "before it kills somebody." Patrick disagreed with Nicole and her family about the dog. "Nicole loved that dog. Nicole treated that dog as if it was her baby," Patrick said. "Me and Nicole bumped heads with that dog. Me and her family bumped heads with that dog. I said for years that dog is aggressive. That dog has got to be done with," Patrick said.
Despite what Nelson told WLOS about Nicole's mother -- "This is a tragedy, where the mother has lost a daughter and the mother herself has gone through a horrific experience" -- every ounce of this fatal dog attack was preventable. A young woman lost her life to a known aggressive pit bull that had previously attacked her mother and whose boyfriend, and his mother Beverly Powell, had warned her family about for some time. There is no bringing Nicole Cartee back. Death is final.
Evening Update - Previous Attack
Lastly, a new Spartanburg Herald Journal article clarifies the previous attack on Nicole's mother. After checking records, authorities found no evidence of prior attacks by the family pit bull at the victim's home or her prior residences. Patrick, however, said that Spike attacked Nicole's mother a few months ago. Her injuries required stitches, but she never reported to anyone that the injuries came from her own dog. Instead, she told hospital staff it was from an "unknown stray dog."
08/25/15: History of Aggression
New information has been released about a 25-year old woman who was viciously attacked and killed by her pit bull in Spartanburg. The male unaltered pit bull named "Spike" had been with the family for over a decade. The family had raised the dog since it was a puppy. On Saturday, the family pit bull "snapped" and began attacking Nicole's mother. When Nicole tried to rescue her mother, the dog turned on her, killing her. The pit bull tore into her head, neck and body.
"The biggest thing apart from it being a fatality is that it was three victims at one time, and it was a family pet." -Jamie Nelson, August 23, 2015
The pit bull violently attacked three family members, fatally injuring Nicole, seriously injuring her mother, requiring hospitalization and possible surgery, and also attacked Nicole's sister who was treated on scene. Nicole's boyfriend of 10-years, Patrick Powell, said the two had recently separated, but were planning to reunite. The same family pit bull had previously attacked Nicole's mother leaving her hospitalized, but this was never reported to authorities, Patrick said.1
Beverly Powell, Patrick's mother, told the Spartanburg Herald Journal that she warned the family to get rid of the pit bull after it attacked Nicole's mother the first time. This issue is very important to Beverly, as she was once attacked by a different pit bull in her own yard. Beverly managed to escape that pit bull without permanent injuries. "The sadness is that I told Nicole's mother, 'What is it going to take for you to get rid of this dog?' And now it's killed her daughter," Beverly said.
08/22/15: Pit Bull Kills Woman
Spartanburg County, SC - The Spartanburg County Coroner's Office was called to the scene of a dog attack Saturday evening. The animal attacked three people, according to Jamie Nelson, the director of Spartanburg County Environmental Enforcement. Porsche Nicole Cartee, 25-years old, was pronounced dead at the scene by Spartanburg County Coroner Rusty Clevenger. A physical examination will need to be conducted to determine the cause of death, Clevenger said.
Clevenger identified the attacking dog as a pit bull and said the other two people injured in the attack were family members. The fatal dog attack took place at a home on Beverly Hills Drive, a block descriptor was not provided. Nelson told Fox Carolina that the pit bull has already been euthanized and is scheduled for rabies testing Monday. The last South Carolina fatal dog attack occurred in June 2013, the pit bull mauling death of Arianna Merrbach, 5, in Florence County.
Death Statistics - August Update
Porsche Nicole Cartee is the 467th person killed by a pit bull, according to Fatal Pit Bull Attacks - The Archival Record. DogsBite.org launched that website in 2011. Through a multitude of modern news reports, several medical studies and archive collections, including the Library of Congress, we have discovered 467 individuals killed by these dogs since 1833. Cartee is the 275th fatal pit bull attack victim since the CDC stopped collecting a rich data set for these victims in 1998.
Since January 1, 2015, canines have attacked and killed 20 people in this country. Pit bulls contributed to 85% (17) of these deaths. Rottweilers, the second most lethal dog breed in the U.S., contributed to 10% (2). In the fatal dog mauling deaths of Neta Lee Adams, 81-years old (Washington, Georgia) and Gaege Ramirez, 7-years old (Canyon Lake, Texas) no dog breeds were ever identified by authorities, but certainly pit bulls were rumored to be involved in both.
View the DogsBite.org Google Map:
South Carolina Fatal Pit Bull Maulings
.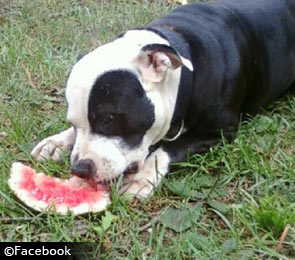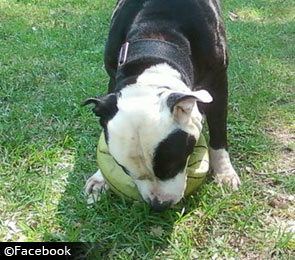 Some of the victim's Facebook Likes below, including Pit Bulls and Parolees (Tia Torres) and Pinups for Pit Bulls. The latter group recently spoke at a June 19 forum -- Asheville Humane Society's "Project Pit Bull" campaign -- and tried to sell to local homeowners, landlords, neighbors and "even the pit bull wary" that BSL does not keep people safe and that pit bulls are wonderful pets. Less than 3-weeks later, a little boy is killed by a pit bull rehomed by Asheville Humane.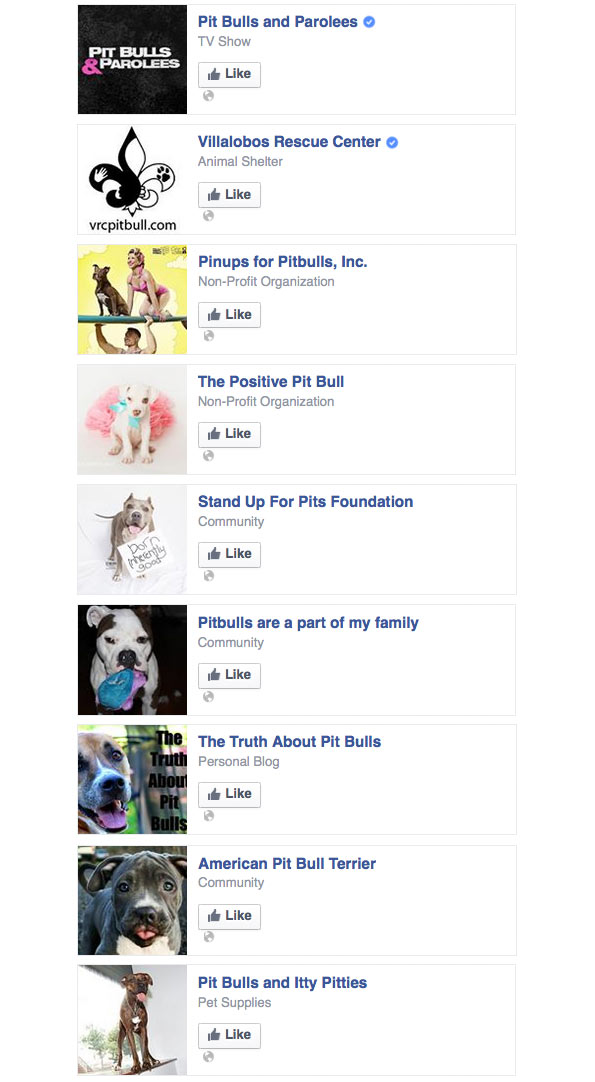 1
Pit bull owners will indeed lie to authorities after being attacked by their own dog. Usually, they make up a story about being attacked by a "stray" or a dog that ran away. Even after a first violent attack by their pit bull, they remain in denial that this "can happen to me" (again) or "can happen to another family member." Tia Torres should devote a whole season to this dangerous, pathological denial. The series should be titled, "Yes, this can happen to me."
Related articles:
08/31/15: Who Can Identify a Pit Bull? A Dog Owner of 'Ordinary Intelligence'...
07/24/14: Nonprofits Urge CDC to Resume Tracking Richer Data Set for Children and Adults...
06/26/13: 2013 Dog Bite Fatality: Chained Pit Bull-Mix Kills 5-Year Old Girl in Effingham
05/21/13: 2013 Dog Bite Fatality: Paralyzed Man Pulled from Wheelchair Dies After Dog Attack
01/21/13: 2013 Dog Bite Fatality: Dog Mauls Grandmother to Death While Babysitting Toddler