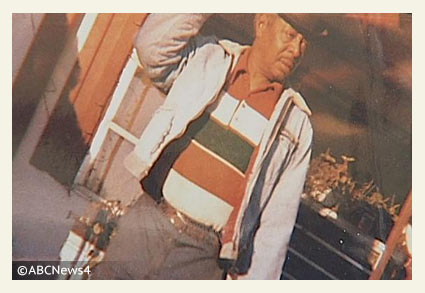 Carlton Freeman, 80-years old, was killed by four dogs in Harleyville.
No Criminal Charges
UPDATE 05/21/13: The Dorchester County Sheriff's announced today that no charges would be filed in the death of Carlton Freeman, a double amputee who died after being mauled by four dogs described as pit bulls. The decision comes after an investigation was carried out by multiple county agencies. Though the dogs were initially thought to belong to a neighbor, authorities later determined the animals did not belong to any one person; the dogs were allegedly feral.
05/14/13: Pit Bulls Identified as Culprits
ABC News 4 reports (within the video only) that family members of Carlton Freeman saw the four dogs pull him from his wheelchair and attempted to drag him into the woods. Family members identified the four dogs as pit bulls. They also said that the terrible attack upon Freeman was especially hard because the owner of the dogs is also family.1 The victim's wife of 35-years, Rita, told reporters, "All he wanted was that they catch those dogs before they hurt somebody else."
Freeman also told authorities before he died that he did not want to press any charges.
05/14/13: Man Dies After Dog Mauling
Harleyville, SC - The Dorchester County Coroner's Office released information today about a dog attack that ended the life of a paralyzed man. According to Coroner Chris Nesbit, Carlton Freeman, 80-years old, was minding his own business while going down the side of the road in his motorized wheelchair when he was attacked by four dogs (breed identification was not provided). The incident happened on May 8 at Spring Branch and Dunnings Road in Harleyville.
Nesbit said the victim was a double amputee at the knees who was "pulled from his wheelchair by his legs as he tried to fight off the dogs." Medical responders transported Freeman to Trident Hospital where he died on Sunday, May 12. In Nesbit's press release, he stated, "He had bites and lacerations from his legs to the top of his head. This is a very sad story, but even worse that Mr. Freeman was basically helpless to the attack, due to being a bi-lateral amputee."
A criminal investigation by the Dorchester County Sheriff's Office is underway. Authorities were able to locate three of the dogs and are still attempting to locate the fourth. According to a report from the sheriff's office, neighbors said the dogs have been "roaming around the neighborhood for months" and told deputies who they suspected the dogs' owner was. Deputies contacted Barbara Goodwin, 61-years old, who said she owns three of the dogs -- a mother and two puppies.
View the DogsBite.org Google Map:
South Carolina Fatal Pit Bull Maulings
.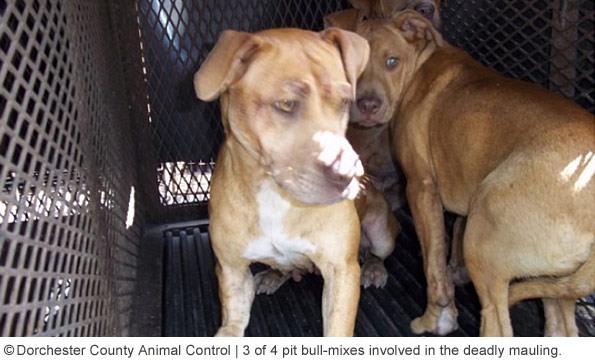 1
This later turned out to mean a close friend within the community, not an actual relative.
Related articles:
01/21/13: 2013 Dog Bite Fatality: Dog Mauls Woman to Death While Babysitting Toddler
05/02/12: 2012 Dog Bite Fatality: 2-Month Old Child Killed by Family Dog
Photo: Live5News.com