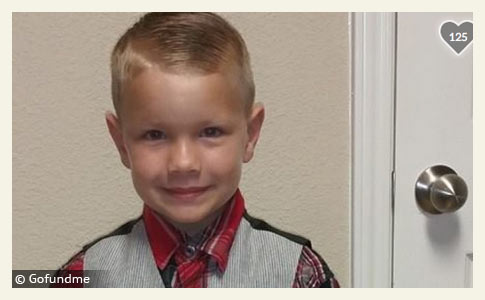 Multiple Dogs Kill Boy
Canyon Lake, TX - For the second time in just over a year, dogs have inflicted a deadly attack in Comal County, Texas. On Saturday evening, 7-year old Gaege Ramirez was fatally attacked by multiple dogs at a home in the Canyon Lake area. The attack occurred at a home on the 2100 block of Rocky Ridge Loop. The boy was airlifted to University Hospital in San Antonio where doctors tried to save the lives of two elderly pit bull mauling victims in 2014, neither survived.
75-year old Betty Clark of Canyon Lake and 83-year old Petra Aguirre of San Antonio both died of their severe mauling injuries while hospitalized.
Gaege was the son of one of the Comal County District Attorney's office investigators. District Attorney Jennifer Tharp said that Gaege was tragically taken from this Earth as a result of a dog attack. "I have had the distinct privilege of knowing Gaege from time he has spent at my office with his mother, Amber Hardcastle, one of my felony investigators," Tharp said. "The Hardcastle and Ramirez family is in our hearts and prayers during this difficult time and tragic loss," Tharp said.
In June of 2014, 6-months after the pit bull mauling death of Betty Clark, a Comal County grand jury indicted the dogs' owners in connection to her death. Rachelle Lucas, 47, and Peter Lucas, 49 both of Canyon Lake, were each charged with a second-degree felony. The last known update of their criminal case was October 2014. The Comal County District Attorney's office prosecuted the couple's case, the first case ever brought in Comal County under the state felony dog attack law.
---
Join Texas Dog Bite Victims' Advocacy - Join our Texas email list to stay informed
Related articles:
04/29/15: 2015 Dog Bite Fatality: Family Pit Bull Kills Baby Boy in Dallas, Texas
12/12/14: 2014 Dog Bite Fatality: San Antonio Woman, 83, Dies After Pit Bull Attack
04/15/14: 2014 Dog Bite Fatality: Comal County Woman, 75, Dies After Pit Bull Attack
03/12/13: Report: Texas Dog Bite Fatalities, January 1, 2005 to February 17, 2013