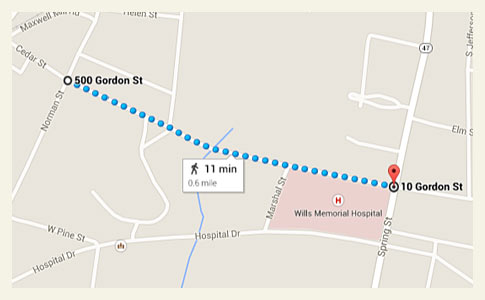 Little New Information
UPDATE 04/16/15: There is little new information about the dog mauling death of Neta Lee Adams. Wilkes County Sheriff's Office continues to answer all calls about loose dogs, but none so far are suspected to be involved in her death. There are no known witnesses of the attack either, which left evidence of a disturbing struggle. "There was evidence of a struggle on the ground, with broken yard furniture and scratches, blood, and clothing on the ground," Sheriff Mark Moore said.
During a recent city council meeting, this aspect was questioned again, the possibility that a criminal act might have occurred before the fatal dog mauling. Councilman Kimberly Rainey asked, "Where is her money? What happened to her beforehand?" The same meeting also discussed the local dog ordinance, which already prohibits dogs from running at large. City officials urged the public to report all dogs running loose to the Sheriff's Office or animal control.
"My issue is not the dogs," said Councilman Kimberly Rainey. "My issue is how did she wind up in the ditch? Where is her money? What happened to her beforehand? So I'm kinda real upset that we're not focused on that issue, because to me that's the real issue. What happened to her money? What happened to her pants? Nobody's addressing that issue. That's being glossed over. Yes the dog may have been the cause of death from what the GBI said, but how did she get in the ditch?" - The News-Reporter, April 16, 2015
04/03/15: Dogs Kill Elderly Woman
Washington, GA - On March 31, an elderly woman was discovered dead in a ditch in Washington, Georgia. Local authorities were alerted at about 8:30 am that morning. Wilkes County Sheriff's Office and investigators from the Georgia Bureau of Investigation (GBI) completed an investigation at the scene and the body was sent to the GBI crime lab. On Friday, the autopsy results of 81-year old Neta Lee Adams were released. The cause of death was traumatic injury from a dog attack.
Though details continue to be sparse, we've gathered some background information below.
Location of Fatal Dog Attack
Thus far, news reports have simply stated "Gordon Street" without a block identifier. One can see that Gordon Street is not very long and that a quarter of it runs by Wills Memorial Hospital. Once pass the hospital, Google Street View shows more rural stretches, but a sidewalk is maintained on one side of the street the whole length. Also, The News-Reporter appears to be the most local newspaper, but news articles about the most recent two weeks are restricted to subscribers.
The Reporter's Facebook page has not been updated since Friday, April 3, when the autopsy results were announced confirming the cause of death was multiple traumatic injuries inflicted by one or more dogs. Sheriff Mark Moore is following up on any reports of loose dogs in the city and states, "There is an ordinance that makes it illegal to allow your dogs to run loose in the city, but it's different now. We've had a senior citizen killed by a dog on the streets of Washington."
Dogfighting Activities Noted
Despite the city of Washington only having a population of 4,042 (2013 data) and a 7.8 mile square radius, dogfighting activities have been in the area. A March 2009 raid on a home, where suspected illegal drug use and illegal dogfighting had been occurring, yielded at least three arrests. Lt. Joseph Nelson with the Washington Police Department said at that time, "This is the worst dogfighting or animal cruelty case that I've investigated or worked here in this community."
In 2012, after hoping they had eradicated the blood sport in their city and county, another incident occurred. A badly injured male pit bull was dumped near the county landfill. Washington-Wilkes Animal Shelter Director Gloria Wheatley said then, "I can't stop dogfighting here all by myself. It's going to take all of us to educate our neighbors, to report suspected dogfighting, and to tell dog fighters to go to another county." The rural animal shelter serves Washington and Wilkes County.
Related articles:
05/23/13: 2013 Dog Bite Fatality: Fulton County Infant Killed by Family Pit Bull
04/17/13: 2013 Dog Bite Fatality: Bryan County Toddler Killed by Family Pit Bulls
09/08/12: 2012 Dog Bite Fatality: Missing Georgia Child Killed by Dog
08/17/12: 2012 Dog Bite Fatality: 23-Year Old 'Dog Rescuer' Mauled to Death by Own Dogs