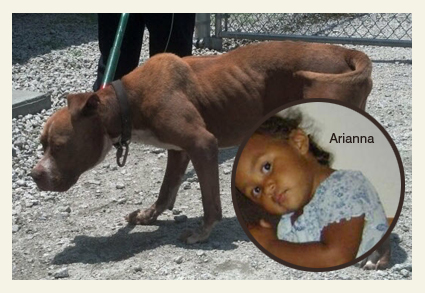 Picture of pet pit bull that killed Arianna Merrbach in Effingham.
Autopsy Results
UPDATE 06/26/13: The coroner released autopsy results about a young girl killed by a chained pit bull. Florence County Coroner Keith Von Lutcken said the cause of death is due to multiple sharp blunt force injuries; the manner of death is an accident. Herbie Christmas with Florence County Environmental Services said there is evidence around the owner's property that shows the dog had been living on a chain for a long time, a violation of the county's tethering ordinance.
Christmas is reviewing charges against the dog's owner for the violation. "You can just look at the area where the dog is," Christmas explained, "I mean, the ground is completely bare. All the grass had been killed, I guess by way of the chain dragging across it. Just indicative marks of an animal being chained indefinitely." Environmental Services is working with the Florence County Sheriff's Office in the investigation. More information about possible charges is expected next week.
06/25/13: Aunt Owned Dog
Herbie Christmas with Florence County Environmental Services confirmed that the dog involved in the girl's death was a pit bull-mix. Christmas added that the animal was full grown and belonged to the aunt of the deceased child; an earlier report said the pit bull belonged to the child's mother. This was the first deadly dog mauling in the county in his 27-years of service, according to Christmas. On average they respond to between 8 and 10 dog attacks or bites per week.
"The animal in question was on a chain," Christmas said, "and we do have a tethering ordinance in Florence County, which prohibits that activity under Florence County's section six." The county passed a tethering ordinance in 2010 that did not ban tethering, but set forth rules, including how a dog could be tethered and for how long, an 8-hour limit per day. The ordinance was created to prevent animal cruelty, not to prevent child mauling injuries and deaths by chained dogs.
"Pit bull type dogs are in my opinion like a loaded gun, you need to treat it like a loaded gun," Christmas said, "you need to make sure that people from the public can't get into that area, and most importantly, you need to make sure that your dog doesn't go to someone else's dog and cause that person injury." That is exactly correct, but leaves out the dangerousness of chained pit bulls and children -- a deadly combination and one overriding theme of this pit bull fatality.
Remarkably, about a year ago, Lulu Waddell, the only neighbor who has thus far spoken to the media, contacted Environmental Services in fear of her neighbor's three pit bulls. The department's solution was to "tie them up in the back," according to Waddell. Now a young child is dead. Ironically, the sheriff's office is "unsure what charges, if any, may be filed" against the owner of the dog. Yet, animal cruelty charges may be filed if the dog was not "properly" tethered!
Lastly, the victim's name is Arianna Jolee Merrbach (with an "M").
06/25/13: Pit Bull Kills 5-Year Old
Effingham, SC - Late Tuesday morning, a 5-year old girl was attacked and killed by a chained pit bull at a relative's home. Florence County Coroner Keith von Lutcken confirmed the death of Arianna Jolee Nerrbach who died on scene. The attack occurred at about 11:15 am at 7208 Fork Road in Effingham. Florence County EMS and Howe Springs Fire Department first responded to the scene. The pit bull was surrendered by its owner and has already been euthanized.
This is the third fatal pit bull attack in South Carolina since January 1, 2013.
Lula Waddell, who lives next door to where the girl was attacked, said that animal control seized 3 dogs from the home, including the one that killed the girl. Waddell said the girl grew up with the dogs and the animals were usually tied up in the backyard. Waddell said the little girl sweet and friendly. The girl's body will be sent to the Medical University of South Carolina for an autopsy. Investigators are questioning relatives. More information is expected to be released soon.
View the DogsBite.org Google Map:
South Carolina Fatal Pit Bull Maulings
.
Related articles:
05/21/13: 2013 Dog Bite Fatality: Paralyzed Man Pulled from Wheelchair Dies After Dog Attack
01/21/13: 2013 Dog Bite Fatality: Dog Mauls Woman to Death While Babysitting Toddler
Photo: WNCT.com