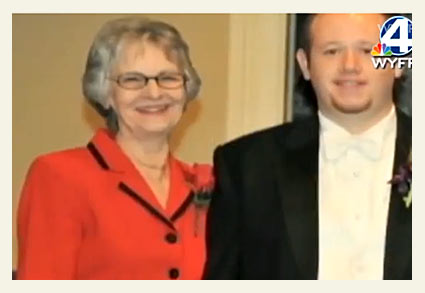 Daughter Recounts Attack
UPDATE 05/01/14: On May 1, 2014, Ruth Todd Halleran, Betty Todd's daughter, provided an account of the vicious attack that killed her mother to DaxtonsFriends.com. Fatal pit bull maulings are horrific and Halleran does not leave anything out. She also describes her wonderful childhood with her mother. Halleran last sees Betty alive on January 6, 2013. Two days later, she would receive a call from her brother, "I'm so sorry Ruthie. My momma is gone. The dog killed her."

Betty Anne Chapman Todd – Killed by the family pit bull while babysitting her grandchildren
By Ruth Todd Halleran
...I missed a call from my baby brother on January 8, 2013, then got a "911 call now" text from him. My initial thoughts were to pray that the children were safe, then I worried about his wife and prayed she was safe. I called him and could tell immediately something was horribly wrong. He yelled out that Mom was dead, his dog had killed Mom. I was very confused (who the heck hears about a dog killing anyone, much less a grown woman). My brothers are very good at practical jokes, and I had JUST seen my mother, there was no way something so unheard of, so appalling, had happened. I scolded my baby brother for using mother for the base of his sick joke. He sobbed into the phone, saying he was so sorry. "I'm so sorry Ruthie. I'm so sorry baby. Momma. Momma is gone. My momma is gone. The dog killed her." I don't recall everything I said to my baby brother. I remember falling to my knees and my son's friend appearing before me. I remember feeling like I needed to time warp to my brother. I had to get to him immediately -- right away...
01/21/13: Dog-Aggressive Pit Bull
Despite claims by the dog owner's brother-in-law, David Todd, that the family pit bull had "never shown any aggression before" and that the family "had the dog four years, and it never ever showed anything like this," it turns out the dog did have a history of dog aggression, and within the household. Further, the family pit bull fatally attacked 65-year old Betty Todd on January 8, just days (or possibly hours) after being neutered in the hopes of reducing the animal's aggression.1
The January 8 attack on 65-year-old Betty Anne Chapman Todd was by a family pet. Initially, authorities believed that the animal had no previous history of violence, but officials say that, through the course of the investigation, they discovered that the pit bull responsible for Todd's death had killed another family pet, a siberian husky, just four months prior to the attack on Todd. Authorities say that, following that incident, the dog's owner had the dog neutered the first week of January to take away its aggression. -Brian King, GwdToday.com, January 17, 2013
01/09/13: Victim Knew Dog Well
Additional details have been released about the death of Betty Todd. Officials say Betty Todd was watching her grandchildren at her son's home when the family pit bull attacked. She was babysitting while her son and his wife went out to dinner. One of the three children called their parents alerting them to the attack and the parents contacted 911. When deputies arrived at the home, they were met with a black and white pit bull that had blood on its mouth, chest and paws.
When EMS was able to reach the victim, they found Todd unresponsive. She had puncture wounds to her head, face and neck. Todd's son told deputies that his mother had been to his home on numerous occasions and around the animal without the dog ever showing aggression toward her, according to officials. The victim's brother-in-law, David Todd, told reporters, "the dog slept in the bed with them," referring to the children. He called Todd's death a "tragic accident."
View Related video2
01/09/13: Woman Killed by Dog
Hodges, SC - In a developing story, Greenwood County deputies say a 65-year old woman was mauled to death by a dog Tuesday while babysitting a toddler at a home in Hodges. Another child in the home called 911 to report the attack and that the other people in the home had gotten out safely. Officers found the pit bull (bit pull) with blood on it in the home and the body of Betty Todd. The dog's owner was able to coral the animal into a room until animal control arrived.
View the DogsBite.org Google Map:
South Carolina Fatal Pit Bull Maulings
.
1
Whether or not neutering a male dog lessens what humans term "aggression" is much debated. Neutering, however, is generally agreed to be very important in reducing sexually related aggression (male dog-on-male dog). Also, if neutering is not done at an early age, less than a year old, there's no surety that even that type of aggression will be lessened. The pit bull in this case was at least 4-years old.
2
Angy Hall of the Greenwood Humane Society said the dog was "protecting his family" which "any dog would do." Yet, the victim was the 65-year old grandmother of these children who had babysat numerous times before. The consistent and painfully false excuses the humane community provides after a fatal pit bull mauling are horrific.
Related articles:
09/05/12: 2012 Dog Bite Fatality: Trotwood Senior Citizen Killed by Own Dogs
05/08/12: 2012 Dog Bite Fatality: Pet Pit Bull Kills 74-Year Old Santa Fe Man
08/23/11: 2011 Dog Bite Fatality: Tucson Man Succumbs to Injuries After Attack by Pet Pit Bull