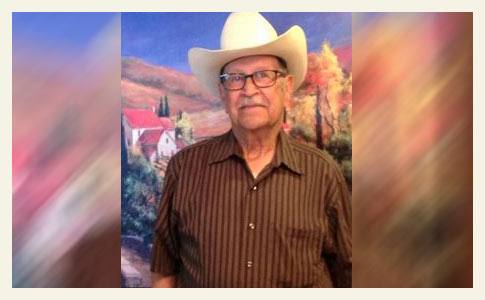 Fatal pit bull attack victim, Norberto Legarda of Pecos, Texas. Image via CBS7.com.
No Criminal Charges
UPDATE 08/19/15: There will be no criminal charges filed against the owner of three pit bulls that horrifically killed an elderly man in early July. Norberto Legarda, 83-years old, had been visiting his daughter's home, feeding her dog, when the neighbor's three pit bulls fatally attacked him. Medical examiners found multiple puncture injuries and soft tissue lacerations, according to the autopsy report. The cause of death was due to excessive loss of blood as a result of the dog mauling.
Pecos Police Chief Clay McKinney said the owner's pen was "very secure" and that it was a "very well built chain link fence" that the dogs escaped from. "It would be hard to prove criminal negligence" for these reasons, he explained. McKinney apparently has no idea what a "very secure" fence means in terms of a pit bull, easily able to scale 6-foot fences and beyond as noted previously in this post and documented in scores of YouTube videos and other online resources.
"Such a tragic event ... but it's just a bad deal." - Police Chief Clay McKinney
Back in July, while reviewing Oscar Rodriguez's Facebook page, the owner of the pit bulls, one of the videos he recently shared on his Timeline depicted a pit bull scaling a wall at least 14 feet high (one of many types of pit bull wall climbing competitions). On June 5, Rodriguez shared WorldStar Uncut's video, which at that time was trending on the Internet. This video post is no longer visible on his Timeline.1 But like good research soldiers, we took a screenshot back then just in case.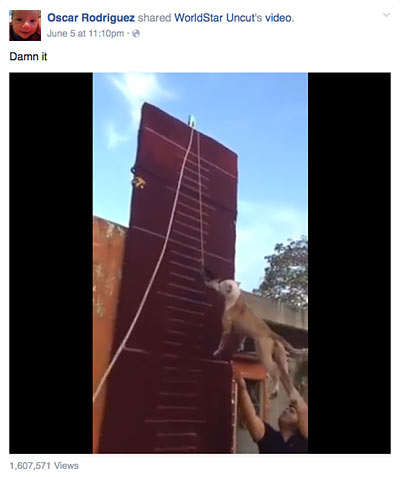 07/02/15: Owner of Pit Bulls Named
NewsWest 9 reported updates and clarifications just after 10:40 pm Thursday. At the time of the deadly attack, 83-year old Norberto Legarda had been looking after his daughter's Labrador while she was on vacation.2 According to investigators, he was feeding the dog at his daughter's home on South Eddy Street, when three pit bulls belonging to a next door neighbor approached them. Pecos Police Chief Clay McKinney believes evidence will show that a dog fight then ensued.
"Mr. Legarda probably tried to break up the fight and then the pit bulls turned on him" - Police Chief Clay McKinney
One witness told NewsWest 9 that all three dogs were involved in the attack. According to Chief McKinney, "at least two" attacked Legarda. Officials are still in the early stages of the investigation, gathering information, McKinney said. The attacked Labrador was located near the residence by animal control. The dog is expected to recover from the injuries inflicted by the pit bulls. The owner of the pit bulls, identified as Oscar Rodriguez, gave consent to have all three of his dogs put down.
Texas Felony Dog Attack Statute
Criminal charges under the Texas felony dog attack statute could be at play in this mauling death, depending upon what the police investigation shows. The main dependencies include if the dogs' owner had knowledge of the dogs' vicious propensities (a previous bite) and/or if the pit bulls had escaped the owner's property before and threatened people. The growing body of case law of the 2007 felony statute, known as Lillian's Law, should provide prosecutors with sufficient answers.
Notably, not only did NewsWest 9 investigate the felony dog attack statute, they actually stated how many Texans have been killed by dogs in 2015, as well how many fatal dog attacks have occurred nationally. So far in 2015, four Texans have been killed by dogs in the following Texas counties: Hopkins, Dallas, Comal and Reeves. Nationally, dogs have struck down 16 Americans this year; 75% of all fatalities (12) involved pit bulls and 3 cases involved "unknown" breeds.
Additional Evening Updates
CBS 7 also updated their earlier report; it too provides new information and clarifications. The written article and video segment shows an interview with David Vajil, the man who discovered Legarda's body and called 911. He said it all began with a sound he will never forget, "I heard a real horrible noise. Real horrible," Vajil said. When he looked to see what it was, he saw three pit bulls in the backyard of his neighbor's home attacking their labrador. He tried to fight off the dogs.
"I looked around and got a stick, and boom, boom I hit them in the head and that didn't do nothing, so I started to poke them..." - David Vajil
When he knew it was time to leave, he turned around and that is when he discovered the victim lying on the ground. "I looked back and saw the man lying face down and I said 'Lord have mercy', then I dialed 911," Vajil said. When police arrived, Legarda was already dead. Information about his injuries was not released. Police are still investigating how the three pit bulls got into the neighbor's backyard. The fence surrounding both homes appeared adequately maintained.
However, as commenter Christee Labarge on the CBS 7 Facebook thread notes, "I'm sorry this happened to this man so sad. But that fence is nothing for a pit to jump. My daughter has a pit. He can take that fence no problem. He's a year old, he pounces once and he's over the fence. And ours is wood and 7ft tall." There are piles of YouTube videos to back up this claim as well. Just type in pit bull jumps or pit bull scales fence or pit bull climbs or our favorite, pit bull climbs tree.
07/02/15: Pit Bulls Kill Elderly Man
Pecos, TX - An elderly man is dead after being attacked by multiple pit bulls. Pecos police responded to a home in the 1500 block of South Eddy Street at 9:45 am Thursday. Several pit bulls were attacking another dog at that location when officers arrived, and a man was lying on the ground in the backyard. Officers were forced to taser and pepper spay the dogs in order to enter the backyard, according to police. EMS arrived on scene and determined the man was dead.
The victim has been identified as 83-year old Norberto Legarda.
Pecos Police Chief Clay McKinney said at the time of the attack, Legarda was at a relative's home, feeding their dog while they were away on vacation. Chief McKinney believes that while he fed the dog, the three pit bulls entered the backyard and began fighting with the animal. When Legarda tried to break up the fight, the pit bulls attacked him. All three pit bulls were captured and euthanized. At this stage, police do not know who owns the pit bulls. The investigation is ongoing.
View the DogsBite.org Google Map:
Texas Fatal Pit Bull Maulings
.
---
Join Texas Dog Bite Victims' Advocacy - Join our Texas email list to stay informed
1
It is hard to know if Rodriguez intentionally removed the video from his Timeline, or if the shared video post went "poof." We could not locate the actual shared video post on either of the "Worldstar Uncut" Facebook pages.
2
The victim's name has been spelled multiple ways in media reports. "Norberto Ramerez Legarda" is being used by the Pecos Funeral Home.
Related articles:
08/31/15: Who Can Identify a Pit Bull? A Dog Owner of 'Ordinary Intelligence'...
12/12/14: 2014 Dog Bite Fatality: San Antonio Woman, 83, Dies After Pit Bull Attack
07/01/14: 2014 Dog Bite Fatality: Woman Dies After Pit Bull Attack in Southeast Houston
04/15/14: 2014 Dog Bite Fatality: Comal County Woman, 75, Dies After Pit Bull Attack 
09/02/13: 2013 Dog Bite Fatality: Pit Bulls Suspected of Killing 96-Year Old Texas Man
03/12/13: Report: Texas Dog Bite Fatalities, January 1, 2005 to February 17, 2013
05/21/11: Texas Doctors Produce Study: Mortality, Mauling and Maiming by Vicious Dogs