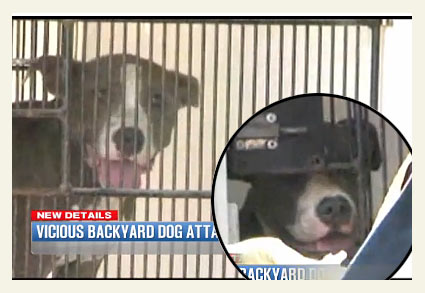 Two on scene pit bulls seized by animal control officials.
Authorities Suspect Dogs
UPDATE 09/02/13: No updates about the death of Juan Campos were made over the long weekend. Campos was discovered dead by Miguel Velasquez, one of his grandson's, in his backyard on Friday. Severe wounds consistent with bite marks covered one of his legs. His pet chihuahua was lying nearby also dead. Velasquez said that three pit bulls were in the yard when he arrived. Two were attacking his next-door neighbor's pet; the other was pacing back and forth.
"Those dogs should have been kept in a better, safer place or tied up," Velasquez said. "They have been aggressive in the past."
Updates to news articles posted late Friday stated that animal control seized at least five dogs in the area. Beall told the Houston Chronicle, "At least one of them has quite a bit of blood on it." So far, deputies have not found anyone who witnessed the pit bulls attacking the elderly man. Velasquez said the dogs, belonging to his rear neighbor, "have been aggressive in the past." Campos' family said they previously tried to work with the neighbor about controlling the dogs.
08/30/13: Elderly Man Found Dead
Katy, Texas - On Friday, an elderly man was found dead, and it appears he was attacked by several dogs of the pit bull variety.1 The victim's grandson, Miguel Velasquez, discovered the body of Juan Campos, 96, in the backyard of his home on Maplewood Drive. Velasquez said that three pit bull-type dogs were near his grandfather's body when he discovered it. The lower part of one of the victim's legs was "missing." The video shows a fresh hole in the fence of an adjacent property.
A pet dog that belongs to the Campos family had also been killed.2
Animal control officials seized at least two dogs. Residents believe at least one of the dogs belonged to a neighbor of the victim. Harris County Sheriff Sgt. Ben Beall said, "There's a wooden fence that surrounds the complainant's yard and there are holes in the fence where the slats have been broken." He added in the video, "We have bite marks and blood in the backyard. We also have a small dog that belongs to the family that was killed and was also lying in the backyard."
An autopsy will be performed to determine the cause of the man's death.
View the DogsBite.org Google Map:
Texas Fatal Pit Bull Maulings
.
---
Join Texas Dog Bite Victims' Advocacy - Join our Texas email list to stay informed
1
The pit bull on the left appears to be a female in breeding mode by watching the video.
2
Pit bull dog aggression ends in human death again.
Related articles: 
05/20/13: Report: Texas Dog Bite Fatalities, January 1, 2005 to February 17, 2013
05/21/11: Texas Doctors Produce Study: Mortality, Mauling and Maiming by Vicious Dogs