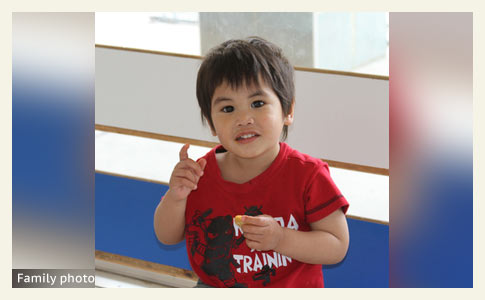 Dog mauling victim, 2-year old Jacob Bisbee, seen in a family photograph.
One Year in County Jail
UPDATE 07/07/14: Nearly four years after the brutal pit bull mauling death of 2-year old Jacob Bisbee, the owner of the dogs, 56-year old Steven Hayashi of Concord, was sentenced to one year in county jail and three years formal probation. Hayashi was convicted of involuntary manslaughter in April and could have been sentenced to 10-years in state prison. On July 22, 2010 Jacob was killed by three of Hayashi's five pit bulls. The dogs had a history of violence.
The trial of Hayashi was held in August 2013 -- Hayashi waved his right to a jury. The Contra Costa Times described his trial as having a "sporadic schedule." In April 2014, Judge John Kennedy of Contra Costa County Superior Court found Hayashi guilty of involuntary manslaughter and two other felonies in connection to Jacob's death. Hayashi remained free until his sentencing in July. On Monday, Judge Kennedy allowed Hayashi to remain free pending an appeal.
08/05/10: Dogs Had Killed Three Pets
In a surreal update concerning Steven Hayashi, whose pit bulls killed his 2-year old step-grandson last month, it was revealed in court this morning that Hayashi's dogs had killed more than one family pet. Prosecutor Mary Knox said that the pit bulls killed two other family pets in the same time period -- a parrot and an Akita, "who had poked its head into a room containing the dogs." The mauling suffered by the Akita was so severe that its head was torn off, Knox said.
Knox told the court that on the morning of the attack, Hayashi left to play tennis with his 13-year old son and did not wake his wife nor ask his 19-year old son to care for the young brothers. He also admitted to police that he failed to secure the two locks on the garage door before leaving. Previously charged with two felonies, Hayashi now faces enhanced charges. The Contra Costa County District Attorney's Office added a death enhancement to the child abuse charge.
07/24/10: Hayashi's Jailhouse Interview
In a jailhouse interview Friday, Hayashi said doesn't believe he is "totally responsible" for the boy's death, but acknowledged that he had ignored warning signs -- including when one of his dogs killed his Chihuahua. Prior to the attack that struck down his step-grandson, Hayashi believed that pit bull owners, and not the dogs themselves, were the problem. He also explains how he ended up with five pit bulls: The first pit bull, adopted from a shelter, was unsterilized and pregnant.
Changed his view

Before the tragedy, Hayashi said he had always believed that pit bull owners -- and not the dogs themselves -- were the problem.

"Well, I used to think that way," he said. "That's what got me into this mess, just thinking that they're just regular dogs. I can understand a dog biting or nipping, but to maul somebody until he's dead? To tear out somebody's face?"1

Not a 'social outcast'

"I personally don't think I should be behind bars because I made a bad decision about keeping the dogs," Hayashi said. "I'm not like (a) social outcast. I just made a bad decision about keeping the dogs."

The dog that killed his Chihuahua, he said, was Kiwi, a male who was about 6 months old at the time.

"It was my responsibility to do the appropriate action when it happened," Hayashi said. But he said he had decided to keep all five dogs "because I didn't have the heart to euthanize them."

Hayashi said he believes Kiwi was primarily responsible for Jacob's mauling. He said he wasn't sure if the two other dogs in the garage, Sadie, a 3-year-old female, and Jake, a 1 1/2-year-old male, took part.

The family's two other pit bulls, Max and C.J., both year-old males, were in the yard at the time. (Henry K. Lee, San Francisco Chronicle)
Sadie should have never been adopted unsterilized. California state law prohibits the adoption of unsterilized pets over the age of 8 weeks old. This law was designed to prevent multiple unwanted litters, which leads to the neglect and euthanasia of countless animals.
07/23/10: Authorities Charge Dogs' Owner
Concord police have arrested the child's step-grandfather, Steven Hayashi, 52, on suspicion of child endangerment and owning a mischievous animal that causes great bodily injury or death -- both felonies. The charges come after his three pit bulls killed Jacob Bisbee this morning. Hayashi wasn't home during the incident, but told police that he owned the three pit bulls involved in the attack as well as two others. All five dogs were euthanized today by animal services.
Police Lt. Jim Lardieri said the dogs attacked the toddler when he walked into the garage. The victim's grandmother and 19-year old uncle were in the house at the time, as was the boy's brother and teenage cousin. The victim's father also lives at the home. Officials spent the day at the home gathering evidence. At one point, they removed a caged ferret and two unloaded shotguns. Ferrets are illegal to own, but no charges in connection with the shotguns are expected.
Rapid fire response Concord and Contra Costa County officials -- Good job!
07/22/10: Pet Pit Bulls Kill 2-Year Old Boy
Concord, CA - In a developing story, another California child is dead after being attacked by his family's pet pit bulls. Police say the child walked into the garage where three of the family's five pet pit bulls were kept. The dogs attacked the child inflicting severe injuries. He was pronounced dead at a hospital shortly thereafter. The three dogs involved in the attack, and two other pit bulls that lived in the yard, were taken into custody by Contra Costa County Animal Services.
View the DogsBite.org Google Map:
California Fatal Pit Bull Maulings
.
Related articles:
05/28/10: 2010 Fatality: 2-Year Old San Bernardino Boy Killed by Family Pit Bull
01/12/10: 2010 Fatality: Pet Pit Bull Kills 3-Year Old Boy in Apple Valley
10/27/09: 2009 Fatality: 19-Month Old Boy Killed by Pit Bull-Mix at Babysitter's Home