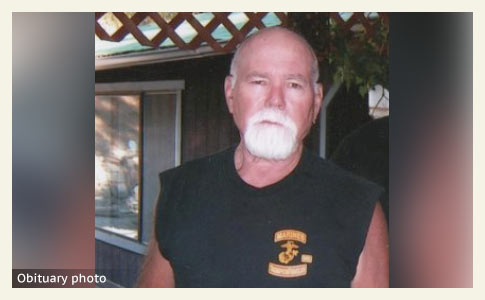 Jerry Yates' seen in his Celebration of Life photograph.
Pleads Not Guilty
UPDATE 09/17/10: Sheryl Sellers pleaded not guilty in a crowded courtroom on Tuesday, despite her dogs involvement in previous acts of aggression. Sellers lawyer, Ken Foley, also filed a motion to dismiss Judge Douglas Mewhinney declaring that he was prejudiced against the defendant. Yates' daughter, Jami Southard, had hoped Sellers would plead guilty and put the incident to rest. "She's not going to take any responsibility for this. I don't know how else to take it," she said.
Foley told the deputy manning the courtroom entrance that he did not want his clients hassled, and Calaveras County Sheriff's Office Deputy Tyson McMahon asked Yates' family members to leave the entryway.

"This was supposed to be over," Southard said. "Now she's got a shyster lawyer."

A man who identified himself only as Sellers' stepfather tried to placate Yates' family members. "She just feels awful," he said.

"You know what?" Southard said. "Nobody is as sorry as my family. We have been financially ruined. That dog tore my dad to death and now she's going to plead not guilty?" - Joel Metzger, Calaveras Enterprise
09/14/10: Sellers Dogs Had History
The Calaveras Enterprise reports that Sheryl Sellers is being arraigned in court today on felony charges in connection to the mauling death of Jerry Yates. His daughter, Jami Southard, now believes that Sellers pit bulls were "an accident waiting to happen." She described the failure of Sellers to confine her dogs as "criminal." Southard added, "She knew how aggressive those dogs were. You could ask anybody. Nobody could go near her truck when those dogs were in it."
Problems with Sellers dogs began in 2005 when she was living with Michael Richard off Swiss Ranch Road. The couple had about 10 dogs, seven or eight being pit bulls. After their dogs threatened neighbors and killed one dog, both were cited for multiple violations; fined over $1,000 and ordered to reduce their number of dogs to three, each being neutered. Sellers left Richard in March and began living on Yate's property with her pit bulls. Five months later, her dogs killed him.
What happened in Calaveras County is a perfect example of who commonly owns dangerous dogs -- grossly irresponsible types that should be subject to Depraved Indifference charges -- and how the county's current policy failed to prevent the death of Yates. Richard's neighbors continue to live in fear of his pit bulls. Arlene Azzarello, who suffers from cancer and congestive heart failure, said that a pair of pit bulls recently terrified her. Between the pit bulls marauding on her property and gunfire coming from Richard's residence in the middle of the night, she's afraid.
08/26/10: Autopsy: Victim Bled to Death
Autopsy results confirm that Jerry Yates bled to death after being mauled by two pit bulls owned by Sheryl Sellers. According to sheriff's Capt. Jim Macedo, the official cause of death was the severing of a brachial artery, the main blood vessel of the upper arm. Macedo said the autopsy also showed that the pit bulls continued biting Yates even after he had died. There were no underlying medical conditions that contributed to his death, according to Macedo.
Calaveras County sheriff's Capt. Jim Macedo said that although Jerry Yates suffered dog bites all over his body, the autopsy determined the official cause of death was the severing of a brachial artery, the main blood vessel of the upper arm.

Macedo said Yates also suffered defensive wounds in his struggle with the dogs. "He was trying to protect himself," Macedo said.

Macedo said the autopsy also showed the dogs continued biting Yates even after he had died, and that there were no underlying medical conditions that contributed to his death. - News 10, August 26, 2010
08/24/10: Family and Friends Grieving
Sheryl Sellers was a friend, employee and tenant of Jerry Yates, a businessman, philanthropist and Vietnam Vet. Yates was killed by Sellers' two pit bulls on Sunday after the dogs escaped their pens. When Yates' son Jered went to look for his missing father, he came face-to-face with the vicious dogs, their muzzles were still bloody. Police said there was a lot of blood on the vehicles the victim was found lying between indicating obvious signs of a physical struggle.
Yates' daughter, Jami Southard, told Recordnet.com, "It was a horrible, horrible freak accident," repeating a distortion voiced by pit bull owners after their animal inflicts serious injury or death. A glance at the California Fatal Pit Bull Mauling map shows how frequent these attacks are. But the 27-year history of dog attacks, compiled by Animal People, is far more damning: Between 1982 and 2009, pit bulls inflicted grave bodily harm to 1,451 persons, maimed 777 and killed 153.
Sellers is now charged with a felony for having an animal that caused human death.
08/23/10: Pit Bulls Kill Mountain Ranch Man
Mountain Ranch, CA - In a developing story, a man was mauled to death by at least one pit bull Sunday afternoon in Calaveras County. Sheriff's Capt. Jim Macedo said Jerry Yates, 69, was found by his son Jered a little after 5 pm after he went looking for him. Macedo said about a half hour earlier, Yates had gone outside to check on a woman who rented a trailer on his Doster Road property. The woman, Sheryl Sellers, 49, kept two pit bulls in a fenced area of the yard.
Sellers was arrested and booked into jail for allowing vicious animals to be at large.
View the DogsBite.org Google Map:
California Fatal Pit Bull Maulings
.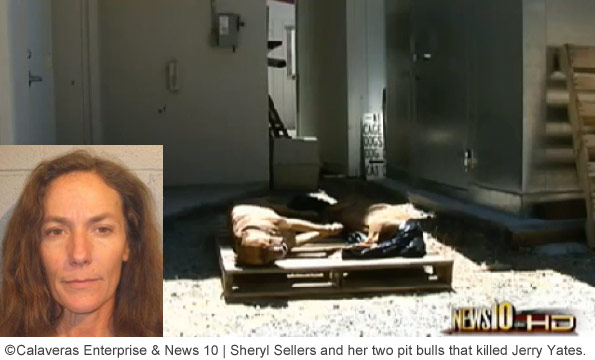 1
Sellers feeling "awful" doesn't pass a simple smell test.
Related articles:
04/04/11: Attorney Comments After Judge Throws Out Felony Charges in Fatal Dog Attack