Front cover and anti-BSL article in Atomic Dogg, Winter 2010, Issue 12.
Parents Adored Pits
UPDATE 05/29/10: It was also reported Friday that the child's parents were pit bull aficionados. According to the Press-Enterprise, though the blinds were drawn at the family's home on Friday, pasted in a front window of the home was a sticker for Atomic Dogg Magazine, a magazine devoted to the "American Bully Breed," which is a pit bull characterized by a stocky body and oversized head, or as Kinneman pit bull kennels states, "built to have the look of a buff athlete."1
The blinds were drawn Friday and no one answered the door at Nathan's house. Jim Keller said the family was with relatives. The driveway, smeared with dried blood where the mauling occurred, painted the grim story. A Red Flyer wagon and Little Tikes tricycle languished a few feet away. Nearby lay a torn, blood-stained T-shirt that said: "You can move a mountain. You can't budge a dog."

Pasted in a front window is a sticker for Atomic Dog, a magazine dedicated to the "bully breed" -- pit bulls. Only one of the dogs attacked Nathan, but city animal control has impounded both for 10-day quarantine before deciding their fates, Robertson said.

At the San Bernardino City Animal Shelter at Chandler Way, the pit bulls, housed in kennel 9, wagged their tails and barked occasionally as visitors peered into their cage. Police said the family owned the attacker for three months -- the 1-year-old black male. The older and bigger dog, a blue female, wasn't involved, Robertson said. -The Press-Enterprise, May 28, 2010
05/28/10: Pit Bull Was New to Home
New information has been released about the death of 2-year old Nathan Aguirre. According to San Bernardino police Sgt. Gary Robertson, the toddler lived with his father, Raul Aguirre Ramirez, mother, Kitziha Navarro, 8-year old brother and the two family pit bulls. The dog that killed the child, a 17-month old2 male pit bull, had only been with the family for three months. The parents got the dog from a person in Muscoy. No other details were provided about the person.
Prior to the attack, the boy had been riding his tricycle in the backyard when his father stepped away briefly. The mom, who was in the house, then came out to check on the child. She found the toddler in the pit bull's mouth. The mother grabbed her son, ran into the house and notified authorities. San Bernardino police called the incident a "tragic accident," just as San Bernardino County Sheriff's officials did after a family pit bull killed 3-year old Omar Martinez in January.
05/28/10: Victim: 2-Year Old Nathan Aguirre
San Bernardino, CA - A 2-year old boy, severely mauled by a family pit bull Thursday, died at 1:18 am this morning according to coroner's officials. Yesterday, the child was rushed to Loma Linda University Medical Center with life-threatening injuries. In an earlier report, an eyewitness said the child was playing in his backyard when the family pit bull "snapped" and attacked the boy. Authorities took two pit bulls from the family home, but only one participated in the attack.
2010 U.S. Dog Bite Fatalities: January 1 to May 28
Thus far in 2010, canines have killed 13 Americans. Of these victims, 8 (62%) were mauled to death by pit bulls and include: Omar Martinez, 3-years old (Apple Valley, CA), Johnny Wilson, 56-years old (Chicago, IL), Anastasia Bingham, 5-years old (Terry, MI), Christine Staab, 37-years old (Philadelphia, PA), Jane Doe, 5-days old (Conyers, GA), Ethel Horton, 65-years old (Lucknow, SC), Thomas Carter Jr., 7-days old (New Port Richey, FL) and 2-year old Nathan Aguirre.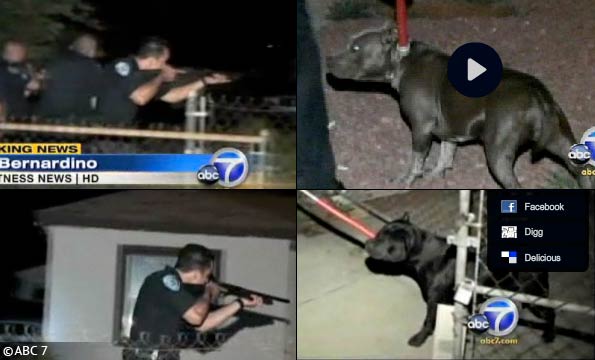 1
According to Kinneman Pit Bull Kennels, the American Bully came on the scene about 10 years ago. The breed is not recognized by the AKC or UKC and is only recognized as an "American pit bull terrier" by the UKC.
2
1.5 to 2-years old is when pit bulls reach maturity and begin to do what they were bred to do: "grab ahold of things and shake it until it's dead." Many serious attacks occur when a pit bull is in this age range.
View the DogsBite.org Google Map:
California Fatal Pit Bull Maulings
.
Related articles:
01/12/10: 2010 Fatality: Pet Pit Bull Kills 3-Year Old Boy in Apple Valley
10/27/09: 2009 Fatality: 19-Month Old Boy Killed by Pit Bull-Mix at Babysitter's Home