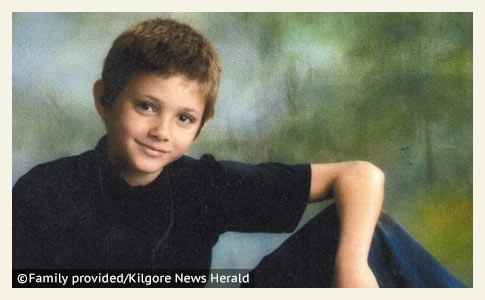 Justin's Law
Tyler, TX - Several days following a $7 million dollar verdict after the dog mauling death of Justin Clinton, his mother, Serenia Clinton, spoke with the News-Journal. She said, "I don't want any parent to go through what we went through." She and her attorney, Cynthia Kent, are working to push Justin's Law, a state law designed to allow the regulation of dangerous dog breeds. Currently, Texas municipalities cannot adopt such laws due to a state-wide anti-BSL measure.
Kent said the civil case was never about the money. "They won't receive any of the money," Kent said. "The Georges had no insurance. This was not about the money at all. This was about justice for Justin, and also about sending a strong message that these types of dangerous dogs -- there's got to be something done to see that if people keep these dangerous dogs they've got to have high fences and strong fences." The Georges now face charges of criminally negligent homicide.
View Related video
SEPTEMBER 18, 2010
FOR IMMEDIATE RELEASE

A jury in Rusk County, Texas has returned a seven million dollar verdict against the owners of two dogs, one Pit bull mix and one American bull dog, that mauled to death a 10 year old boy on June 15, 2009. Following a week long trial in Judge Clay Gossett's courtroom in Henderson, Texas, the jury found that the dog owners were negligent and strictly liable for the actions of their two dangerous animals. Cynthia Stevens Kent and Don Kent, with the law firm of Kent, Good, Anderson and Bush, P.C. of Tyler, argued on behalf of young Justin Clinton and his grieving mother, Serenia Clinton, that these dogs were abnormally dangerous and the pet owners should be strictly liable for the death of Justin.

Witnesses testified that during the summer of 2009, Justin Clinton was a happy and active country boy in Texas. He had taken his skateboard from home to go his friend's house to play, just as he had done many times before. However, on this day the two dogs viciously attacked Justin and mauled him to death behind Ricky and Christy George's house.

Veronica Tatum testified that she saw the dogs attacking the boy from across the street at the local school and literally ran out of her flip flop shoes to come to Justin's rescue. She beat the dogs with Justin's skateboard to get them back into their fenced yard area and administered CPR but was unable to stop the bleeding and save Justin's life.

During the week the jury heard evidence from 46 witnesses and viewed 125 exhibits which documented the vicious attack and conduct of these two animals. Although several defense witnesses testified that they had never seen the dogs act aggressively before and one even referred to the dogs as "lovable little fluff balls," law enforcement officers and other witnesses testified to the dogs' vicious and aggressive nature as compared to other dog breeds. Two law enforcement officers at the scene of the attack became so concerned about the aggressive nature of these two dogs that they pulled their guns to protect themselves and others.

Cynthia Stevens Kent, lead counsel for the estate of Justin Clinton and his mother, Serenia Clinton, told the jury that this case was all about justice for Justin. John Heike, counsel for the dog owners, told the jury that trial would not be necessary if the dogs had not been immediately euthanized by animal control officers following the attack. However, Ms. Kent told the jury that Serenia Clinton brought this case because her son, Justin, a 10 year old boy full of life, love, and the promise of tomorrow was dead because the dog owners knew or should have known that their Pit and American bull dog breeds were abnormally dangerous.

During the dog attack, Ms. Tatum testified that after she got the dogs back into their fenced yard and was trying to save Justin's life, she could hear the dogs ramming the fence over and over again trying to get out. She testified these dogs were so vicious that they wanted to get out of the fence to try to eat Justin. Ms. Tatum begged the officers, when they arrived at the scene to kill the dogs as she feared for her own life.

Cynthia Kent, counsel for Ms. Clinton, said that she doesn't know how many Justin's will have to die before someone, somewhere stands up and says enough is enough. Whether it is the legislature, the governor or the Courts, she urged someone to do something about vicious and dangerous breeds of dogs.

Serenia Clinton, from date of the death of her son, consistently said that all she wanted was justice in this case knowing nothing can ever bring Justin back home. She hopes that by this verdict the jury sent a strong message that pet owners will be held responsible for dangerous dogs and that, hopefully, lawmakers will do something to protect children from the vicious nature of these animals. She was grateful that the jury in Texas finally delivered justice for Justin.
News Release provided by Cynthia Stevens Kent, Attorney At Law
Related articles:
11/10/09: Pit Bull Owners Force the Removal of Justin Clinton's Small Memorial
09/19/10: Dog Attacks, Trends and Dog Law Coverage of Texas
09/17/09: 3-Year Old Girl Airlifted After Backyard Breeder's Pit Bull Attacks
09/05/09: 2009 Fatality: 2 Pit Bulls Kill 10-Year Old Boy in Rusk County, Texas
07/01/09: Justin Clinton's Family Starts Campaign: "Justice for Justin: Outlaw Pit Bulls"
06/23/09: Texans Killed by Pit Bulls in 3.5 Year Period (2006-2009)