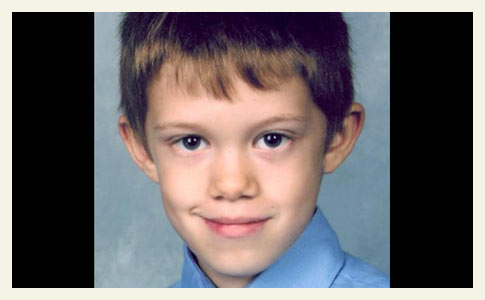 Jason Walters, 7-years old, was killed by a pack of dogs while visiting the Eric Shanklin farm.
Death Due to Dog Bites
UPDATE 08/26/10: An autopsy conducted showed the boy suffered multiple puncture wounds from dog bites. "One of the puncture wounds was in his carotid artery, and one was in his femoral artery," Coroner David Lenz Jr. said. "Death would have resulted in a few seconds from either one of those." The owner of the three pit bulls was a rental tenant of a mobile home on Shanklin's property who had moved in just a few months ago. Shanklin owns the mixed-breed dog.
Four dogs, including three described as pit bulls and one of mixed breeds, were captured at the scene and taken to the Marshall County Veterinary clinic. All four were euthanized Wednesday morning by county veterinarian Allan McCully and then taken to a state lab in Galesburg for rabies testing, Russell said.
An initial news release said the dogs were owned by "other residents of the property," but Russell later clarified that to say that Shanklin owned the mixed-breed dog. The other three were owned by a rental tenant of a mobile home on the property, whom Russell would not immediately identify.
The woman and her dogs had moved in there just a few months ago, said Billie Lindstrom, one of the closest neighbors of the site. Lindstrom and her husband, Dick, and their son and his family live in homes just east of the Shanklin property along a county blacktop called Wenona Road. Gary Smith, Peoria Journal Star, August 25, 2010
08/26/10: Student Killed by Four Dogs
La Salle, IL - Four dogs killed a 7-year old boy Wednesday morning at the Eric Shanklin Farm between Varna and Wenona. According to a report issued by the Marshall County Sheriff's Department, "Jason T. Walter, 7, was outside the rural residence when he was attacked by a number of dogs. Family members found him lying in the driveway outside the residence and called 911." Marshall County Coroner Dave Lenz pronounced Walter dead a short time later.
The initial Sheriff's report stated, "Four dogs, three pit bulls and a mixed breed, owned by other residents on the property were captured and taken to the Marshall County veterinary clinic to be euthanized and taken to Galesburg for further investigation." Sheriff Rob Russell initially said that Shanklin personally owned the mixed breed, but he did not provide any other information on the ownership of the dogs. Walter was a student in the second grade at Northwest School, La Salle.
Related articles:
12/14/09: 1996 Fatality: 4-Year Old Wheeler Boy Killed by Loose Chow-Mix Dogs
01/31/09: 2006 Dog Bite Fatality: Criminal Trial of Boy Mauled to Death by Pack of Dogs
Photo: PJstar.com