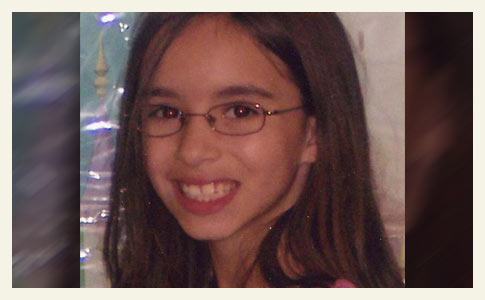 Savannah Gragg, 9-years old, was killed by her family pit bull in Kokomo.
Girl Dies of Severe Injuries
UPDATE 06/03/10: It was reported today that Savannah Gragg died this afternoon due to the severe injuries inflicted by the family pit bull last Saturday. Marion County Deputy Coroner Carrie England ruled her death was caused by lacerations to the trachea that created a lack of oxygen to the brain.1 Savannah had been opening the door to let the pit bull outside when the dog suddenly pounced on her, knocked her to the ground and savagely bit into her neck.
06/01/10: Victim's Condition Still Critical
Kokomo, IN - Over Memorial Day weekend, 9-year old Savannah Gragg was nearly killed by the family pit bull when she opened the door of her home to let the dog outside. The pit bull did not go outside. Instead, it jumped on Savannah, knocking her to the ground, clamped onto her neck and "shook violently," according to the Howard County Sheriff's Department. This type of attack -- knock the victim to the ground then attack the head or neck region -- is intended to kill.2
Savannah Gragg's grandmother witnessed the attack and managed to free the child. When Deputy John Cipriano responded to the scene, he reported the girl was unconscious and unresponsive and had stopped breathing twice before medics arrived. Cipriano performed CPR and restored her breathing. Savannah was rushed to Howard Regional Health System then airlifted to Riley Hospital for Children in Indianapolis. Her condition Monday was still listed as critical.
Cipriano said the family told him, which includes Savannah's mother, Stephanie Gragg, father Nicholas Gragg, and the unnamed grandmother, that the dog had "never shown aggression before" and that it was a "freak accident." Pit bull owners commonly use both phrases after their dog violently attacks, despite the well-known history3 of the breed to attack unpredictably, without provocation or warning signals4, and to inflict such attacks on family members.5
DogsBite.org has added "letting your dog out" to our list of pit bull attack triggers.
1
Doctors pronounced her brain dead shortly after 3:30 pm.
2
This is not a "dog bite" readers, this is an attack of malicious and deadly intent.
3
"The Care of Pit Bulls in the Shelter Environment," by Leslie D. Appel, DVM Director of Shelter Veterinary Outreach ASPCA.
4
Dog Bite Prevention for Law Enforcement and Other First Responders, by Randall Lockwood, PhD, Tawzer Dog Videos, 2004 (View partial transcript).
5
Animal Agency, PSPCA, Distorts History of 25-Year Old Pit Bull Problem, DogsBite.org, May 11, 2009.
Related articles:
05/03/10: Pit Bull Scalp Attack Victim, Brianna Watkins, Recuperating
05/09/09: Alexandra Semyonova: Heritability of Behavior in the Abnormally Aggressive Dog
08/19/08: 2008 Fatality: Isis Krieger, 6-Years Old, Killed by Family Pit Bull