Children Suffer the Most
The U.S. Postal Service heavily promotes National Dog Bite Prevention Week along with a number of health organizations, dog bite prevention groups and media outlets. A bill was reportedly introduced in Congress last month to make this an official national holiday, but the bill was never voted on. As testament to the seriousness of the dog bite epidemic -- about 4.5 million U.S. citizens are bitten by dogs each year -- a national holiday is clearly warranted for this issue.
According to the news release, "Children are the most common victims of dog bites, followed by the elderly1 and USPS employees."
Dr. Cinnamon Dixon, a pediatrician specializing in pediatric emergency medicine, is quoted in the release and points out the severity of the dog bite problem. Dixon said, "There are over three times as many dog bites as traumatic brain injuries each year. Despite these statistics, a major deficiency in dog bite prevention education and research exists." DogsBite.org calls on U.S. policymakers to establish a non-biased institution2 to research this issue and track related data.
Head and Neck Dog Bites in Children
In March 2009, Otolaryngology -- Head and Neck Surgery Journal published a study that documented head and neck injuries to children due to dog bites. The study specifically called out pit bulls: "Among identifiable dog breeds in the study, pit bulls were responsible for a notable proportion of the injuries." On page two of the report, the authors cite the unique difference in the "pressure" and "style" of the pit bull bite and the acute injuries that result from it:
"Dog biting pressures exert considerable force of about 200 to 400 pounds per square inch, and even higher (at 1800 pounds per square inch) among pit bulls. They may bite repeatedly and shake the victim vigorously, causing more trauma or "hole and tear" effect. This explains a significant portion of injuries presenting as complex lacerations and avulsions. Encountered injuries involved mostly complex wound types that involve nonlinear wound patterns and include the deeper tissues such as muscles and fat."
To learn more about this study, please see a related news article published in March by US News and World Report, "Dog Bite Risk for Kids Greatest in Summer: Family pets caused 27% of injuries; Pit bulls most often involved in attacks, study finds." The first page of this study can be found at the DogsBite.org Scrib web page. To purchase a copy of the full study, please visit the Otolaryngology -- Head and Neck Surgery Journal website. The cost of this study is $31.50.
Get Dog Smart with Diggity the Dog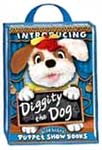 There are a variety of dog bite safety websites. DogsBite.org has chosen to highlight "Get Dog Smart with Diggity the Dog," created by artist, Lisa Leleu. On October 26, 2003, Lisa's 9-year old son Benjamin, was attacked by a "friendly neighborhood" pit bull-mix that had been temporarily tied to a fence. The dog owner had told Ben's father that it was okay to leave the boy alone with the dog. In short order, Ben suffered a violent attack to the face by the dog requiring over 300 stitches.
View: Ben's Story | View: Ben's Injury Photos (graphic)
Diggity the Dog is a puppet show book that tells the story of Ben's tragic attack by Diggity the Dog. The book offers 17 vital safety tips for parents and children. There is an online slide show demonstration of the book, as well as a video. DogsBite.org urges parents and dog owners to "Get Dog Smart" by reviewing these demonstrations, as well as by purchasing Diggity the Dog (designed for ages 3 and up) for yourself or as a gift to a fellow parent or dog owner.

DogsBite.org recently received a note from Lisa about Ben's current status, 6 years after the attack: "Ben is doing great today -- we are so lucky! He still has permanent scars that remind me everyday of what happened and the need for better laws."
1
A 2003 article published by the American Partisan and written by Carol Wade targets why senior citizen organizations have failed to respond to the dog bite problem, which disproportionately affects elderly persons: "The Pet Food Industry has convinced the ever-growing AARP to promote dogs. There have been reports that the "overblown" AARP's Legislative Committee members have taken bribes from the Pet Food Industry."
2
The Centers for Disease Control and Prevention is not a non-biased institution. Likely due to pressures from animal groups -- such as the American Veterinary Medical Association (AVMA) -- the CDC has stopped tracking fatal dog attacks by breed. Evidence that the AVMA, a national organization that opposes pit bull laws specifically designed to prevent horrific pit bull maulings, has influenced the CDC can be seen directly on the CDC's dog bite prevention page.