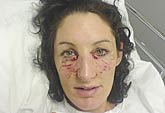 Dog Attacks on the Rise in Australia
Victoria, AU - Nobody knows exactly how many people in Victoria are bitten, mauled or traumatized by dogs each year. A recent survey in Victoria found there were 3300 reported dog attacks in one year -- that's about 63 incidents a week, or nine attacks a day. Victoria is the second most populous Australian state, with an estimated population of 5 million.
According to government figures, there are 635,535 dogs registered in Victoria. But it is believed there are about 260,000 unregistered dogs as well. Hugh Wirth, president of the RSPCA in Victoria, says dog attacks are continuing to occur because of a mismatch between choice of dog and owner lifestyle.
"Dogs were bred for a particular purpose such as hunting and working. Genetically, that's how they are still programmed. But many people today...don't understand dogs and they choose an animal because of its looks."
His group, the Royal Society for the Prevention of Cruelty to Animals, believes the old system of registering dogs should be abandoned in favor of registering people to own dogs. He states, "Owning a dog is not a right, it's a privilege, and I would like to see the Government license people as competent to own dogs."
He is not the only one that feels this way. Basil Stafford, a lawyer at Elliott Stafford and Associates, has prosecuted a number of dog attack cases and has seen a range of injuries.
"At the moment," he says. "Any idiot can have a dog such as a rottweiler. It would be better if nobody could have a rottweiler unless they could show why they should have one."
Mr. Stafford recommends a tiered system in which anyone could own breeds that are usually harmless: pugs or spaniels, for example. But that permits would be required for ownership of dogs such as rottweilers, dobermans or ridgebacks.