Tuesday, February 20, 2018
After the Dogs Killed Her, They Consumed Part of Her Remains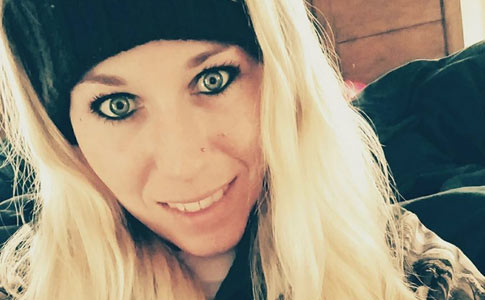 Bethany Lynn Stephens, 22, was brutally attacked and killed by her own pit bulls.
Investigation Complete
UPDATE 02/20/18:
Today the Goochland County Sheriff's Office released a summary report of the death investigation of 22-year old Bethany Stephens. On December 13, 2017 Stephens left her father's home at about 3:45 pm to take her two male pit bulls, Tonka and Pacman, for a walk. She never returned. Stephens was mauled to death then partially eaten by her two pit bulls. Authorities did not discover her grisly, horrific remains until the following evening, over 24 hours later.
Much of the information in the report is already known. We knew on December 15 that her death was "not a homicide," according to statements by the medical examiner. Three days later, the Goochland County Sheriff's Office gave another press conference, providing even more details about her death. The summary report contains more facts about her pit bulls and lab test results, which certainly were impacted by the 30 hours of exposure until deputies discovered her body.
"The medical examiner's report substantiated what we observed. I hope that the family can get some peace now."

- Goochland County Sheriff James Agnew
The cause of death was "multiple sharp and blunt force trauma due to mauling by animal(s)." The manner of death was an accident. Human DNA was detected on swabs taken from Tonka. Blood was detected on the collars of both dogs. "The probability of randomly selecting an unrelated individual with a DNA profile matching that developed from the samples collected from the collar is 1 in greater than 7.2 billion (which is approximately the world population)," states the report.
---
12/18/17: Press Conference Two
Goochland County Sheriff James Agnew gave a follow up press conference today after a 22-year old woman was mauled to death by her two pit bulls late last week near 2204 Manakin Road. The news conference was largely in response to the high volume of misinformation that was being disseminated by pit bull advocates on social media after the grisly attack. These deceptions were then bolstered by irresponsible media outlets who spread the rumor-mongering even further.
After securing permission from Bethany Stephens' family, Sheriff Agnew provided more details about her gruesome mauling death, including the observation that the dogs were "eating the ribcage on the body." Bethany's two pit bulls, both male and one neutered, were euthanized on Saturday, December 16 at 11:30 am. The dogs' bodies have been preserved as evidence and investigators are following up with veterinarians and laboratories for potential forensic analysis.
Goochland County Sheriff James Agnew
Let me cut right to the chase. The most important detail that we did not release because we were worried about the well being of the family, is that in the course of our trying to capture those dogs, early Friday morning, while we were talking about strategies to catch the dogs, we turned and looked, the dogs had gone back over to the body. I observed, as well as four other deputy sheriffs observed, the

dogs eating the ribcage on the body.


We were able to shoo them away. At that time, we had to decide whether or not we were going to take care of the dogs then and there by shooting them or whether we would continue to try to capture them. About that same time, a friend of Bethany's came and said he could capture the dogs, and after about 10 minutes he was able to do that, but it was not an easy task.
As you might suspect it was very dark. We could not tell the state of the dogs at that point. But we were able to get them confined and away from the public. It was only then that we were able to see the body and start collecting evidence. As I had said earlier, this was an absolutely gruesome scene. Mrs. Stephens was terribly, terribly injured, but it was

very apparent to us that she had been dead for quite some time.

- Goochland County Sheriff James Agnew
When asked about the severity of her injuries, Agnew responded: "Her injuries were very severe. Let me see if I can put this in the proper way. When we witnessed the autopsy, the medical examiner made clear that there were wounds to her hands that were not obvious to us that night because her other wounds were so severe. She had incredibly traumatic wounds to her arms, both of them, to her chest area and to her face. They were extremely gruesome," Sheriff Agnew said.
Despite the medical examiner already ruling out homicide, one of the reporters asked if Bethany could have been murdered and if her dogs were only protecting her body? "We certainly do not think so," he said. "We had a number of witnesses who came forward. We were able to put a time frame together and put peoples movements together and they do not fit with that particular narrative," he said. We will add that "narrative" is a kind word; "conspiracy theory" is more suitable.
"From what we found on the scene, from the evidence that we observed, the evidence that we collected, that narrative does not fit."

- Sheriff Agnew
When asked by a reporter, "And there was in fact blood on those dogs?" Sheriff Agnew replied that one of the dogs had a significant amount of blood on it. "On at least one of the dogs there was blood in a significant amount around the collar and neck. I can't speak to the other dog, I'm sure it did too because both dogs were around the body," Agnew said. In response to whether she was attacked by a bear Agnew replied there was no evidence of any larger animals at the scene.
"There was no evidence of any larger animals," he said. "The medical examiner, in his preliminary talk with our deputies, made it pretty clear that it was not a large animal because the bite wounds on her head did not penetrate her skull; they just left marks. His recitation of that is that if it where a large animal, they would have at least punctured part way into the skull. There were also scratch marks that were consistent with a smaller animal than something like a bear," Agnew said.
"The bite marks were conducive to a canine. They were not conducive to a bear or a larger animal."

- Investigator Shawn Whitlock
Investigator Shawn Whitlock spoke to dispel another conspiracy theory, which claimed she was dead before her dogs started eating her. "No, that is not correct based on the injuries. Some of them were before she was dead, while her heart was still beating based on the bruising. When it is post, there's a yellow discoloration on the body," he said. "She does have bruises and she does have the yellowing of the skin after death. There is pre and there is post," Whitlock explained.
After a reporter asked, "So all of those injuries are consistent with bite marks, not a beating?" Whitlock replied, "You are correct. They did a CAT scan x-ray of her body before they even did the autopsy. There was nothing that said domestic violence, nothing that said she was stabbed or shot. No bones broken. No injuries to the throat area," he said. "No petechial bleeding inside the esophagus, which would have been conducive with choking her out. None of that," he said.
Misinformation Hurting Investigation
Sheriff Agnew also responded to the misinformation and rumor-mongering that is harming the investigation. "It's been difficult," he said. "There's been such a high volume of misinformation going about on social media that it has complicated our investigation. It's complicated everything we have tried to do in this case. It's been difficult and I am afraid that even after releasing these additional facts as we have tonight,
it's not going to nullify some of these people,"
Agnew said.
Agnew also addressed the pit bull issue. After a reporter asked, "What do you think happened?" He said: "I have no idea. I can tell you that since this happened; I've spent a significant amount of time researching attacks by dogs of this sort. While it is not an every day occurrence, it's not rare, and it happens with some frequency in this country. I don't want to disparage any particular breed, but if you do the research, you'll find that many of those are perpetrated by pit bulls," he said.
Police Often Struggle After Maulings
Sgt. Michael Blackwood spoke to the difficulty of conducting an investigation of a horrific pit bull mauling and how police departments from across the country have reached out to them. "Some of the police departments around the country have contacted us and have basically been somewhat empathetic because they have experienced the same kind of traumatic injuries and death from some of these animals who have been adopted and had been brought into the home," he said.
In June, a Virginia Beach woman was brutally killed by a pit bull her daughter had acquired from a rescue group hours earlier that day.
Blackwood also talked about the dogs. Bethany had recently been keeping the dogs at her father's home in outdoor kennels; the pit bulls had previously lived indoors. The dogs "were a little bit neglected towards the end of this," he said. "I'm just trying to create a little background of what might have occurred when they became a little bit distant from their owner towards the end." Yet, 99% of all other dog breeds
would not respond to this by ripping out their owner's throat.
As the press conference came to a close, a journalist asked Sheriff Agnew, "Why did you feel it was necessary that we as journalists see with our own eyes some of the horrible things that you saw that night?" Agnew replied, "The primary reason is to give to credible news organizations facts that can be looked at and viewed in the proper way." There has been such misinformation, especially on social media. "All based on information that is absolutely untrue," Agnew said.
---
Editorial note: As the language in the last paragraph suggests, we presumed Sheriff Agnew showed journalists photographs of the scene. WTVR confirmed this. The sheriff "took the media into a room off camera. They showed us some of Bethany Stephens' graphic, graphic images of what happened to her that night. How her clothes were strewn all around her body and the only thing left on her was one of her boots."
---
12/15/17: Press Conference One
Goochland County, VA - On Friday, Goochland County Sheriff James Agnew gave a press conference about a 22-year old woman who was mauled to death by her own pit bulls. Deputies
discovered Bethany Lynn Stephens Thursday night
near the 2200 block of Manakin Road. Agnew is shaken during the conference and states: "It was an absolutely grisly mauling. In my 40 years of law enforcement, I've never seen anything quite like it. Hope I never see anything like it again."
Goochland County Sheriff James Agnew
About 8:18 pm last night, a father called the office saying that he believed his daughter had been located in the woods and had suffered some kind of trauma and was very concerned about her, but not sure of her condition at the time and asked us to come. Dispatched deputies arrived about 10 to 12 minutes later and discovered the body of a white female in the woods off of the 2200 block of Manakin Road. The female had suffered severe trauma and was being, for the lack of a better term, guarded by two very large brindle color pit bull dogs, who were very reluctant to be caught.
Deputies spent about an hour, hour-in-a-half, along with Goochland Animal Control, in attempt to catch these dogs. Meanwhile, as we were attempting to capture them, we were able to survey the scene and what we observed was, to put it quite frankly, grisly. There were various articles of clothing, underclothing scattered about the area, not far from the body and torn into small pieces. There were patches of blood. It was very clear that the woman in the woods had suffered very severe injuries consistent with being mauled by these dogs.
We called Henrico Animal Control for assistance, as they had tranquilizer guns, but we were able to catch the dogs before Henrico arrived. Once the dogs were under control, we called Goochland Fire and Rescue who came and put up lights for us because it was a very dark, remote area. It was very difficult to see. They brought crash trucks, set up lights. We collected about 60 pieces of evidence. Took numerous photographs and after about eight hours, about 5:00 am this morning, we were able to end and have the body transported to the medical examiner.

- Goochland County Sheriff James Agnew
During the press conference, Sheriff Agnew also read the preliminary autopsy results from the medical examiner. The results show a classic pit bull attack resulting in death: 1.)
Pit bulls execute the killing bite
, "the first traumatic injury to her was to her throat," Agnew stated. 2.) Pit bulls take the victim to the ground, "she was taken to the ground," Agnew stated and 3.) Pit bulls complete the kill, "then mauled her to death." The medical examiner added, "this was not a homicide."
It appears the attack was a violent attack initiated by the victim's dogs while the victim was out for a walk with the dogs. The victim had defensive wounds on her hands and arms trying to keep the dogs away from her, which would be consistent with being attacked while she was still alive. It appears that the first traumatic injury to her was to her throat and face area. It appears she was taken to the ground, lost consciousness and the dogs then mauled her to death. There were no strangulation marks. The victim had puncture wounds in the skull and this was not a homicide.

- Medical examiner
Sheriff Agnew also answered questions during the press conference. "It was a very unpleasant night for all of us. Having told you that, I would be glad to answer any questions," Agnew said. The first question was, "Are these her dogs?" Sheriff Agnew responded, "These were her dogs. And I don't have a history of the dogs, I don't know their backgrounds, but they would be dogs you'd suspect would be bred for fighting, just in looking at them. They were big, strong, powerful dogs."
We learned from comments that Tonka and Pacman were the names of Bethany's pit bulls. Commenter Brookland Lloyd states the dogs were
littermates and grew up together
. "These two dogs were her life, and she would have given hers to protect them," Lloyd wrote. "It's a tragedy and a hard loss. Bethany was a great person, and worked hard to advocate for pit bulls," she wrote. Lloyd states this after learning of Bethany's "grisly mauling" death by these same pit bulls.
---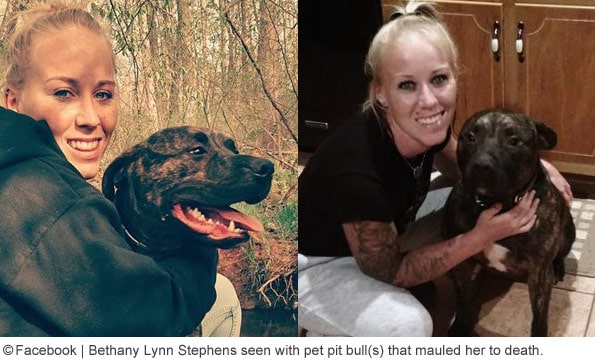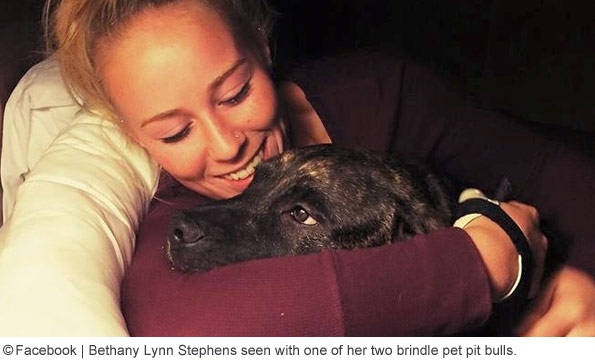 ---
Some of Bethany's
Facebook Likes
include, Tia Torres' Villalobos Rescue Center -- a nonprofit that brings in over $4 million dollars annually and has not filed their federally required 990 tax forms for
three consecutive years
-- Pit Bulls and Parolees, Stop Pit Bull Bans (Ban the Deed Not the Breed), American Bully World and at least two XXL "extreme" designer pit bull breeders, Reaper Bulls XL, XXL & Extreme Bully Style Pit Bulls and Phantom Rolls XXL Bully Pits.
---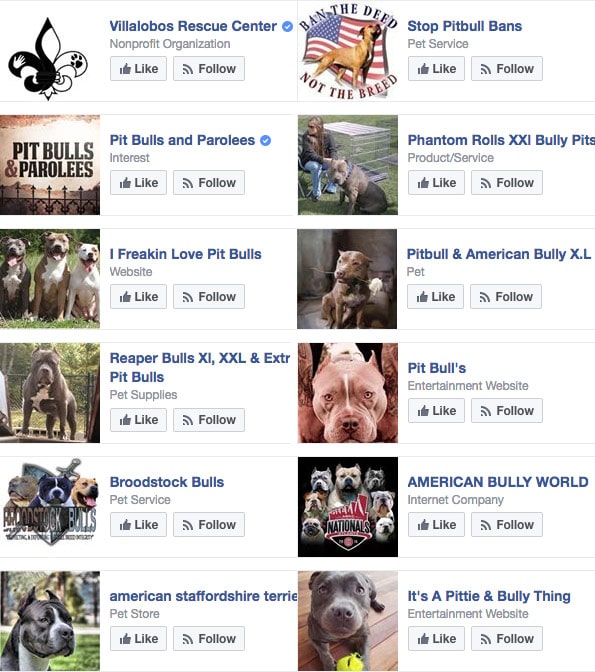 ---
Rumor-Mongering Follows Press Conference
Shortly after Sheriff Agnew gave the press conference, some of the victim's friends -- who are pit bull advocates -- began publicly stating that Sheriff Agnew and the medical examiner's office are lying about her death. This type of bullheaded denial and rumor-mongering is characteristic after a pit bull advocate like Bethany Stephens is killed in an "absolutely grisly mauling" by her own pit bulls. Notably, homicide was ruled out right away; toxicology remains the only unknown factor.
After pit bull advocate Darla Napora and her unborn child were horrifically killed by her pet pit bull in 2011, rumors claimed "she fell from a ladder."
One of these friends is
Barbara Norris
, who blindly
told media outlets
, "I wasn't able to see the body, so I can't tell you if it was a blunt force or if it was a mauling." This legal role is for experts: investigators and forensic pathologists at a medical examiner's office who perform medical autopsies. Norris will likely never see her body either. Fatal attacks inflicted by pit bulls nearly always result in a closed casket due to the gruesome facial, head and neck injuries they inflict.
Another denier who spoke to the media is
Dr. Amy Learn
, a local veterinarian. Despite knowing the medical examiner's findings, including "this is not a homicide," Learn asks, "Was there somebody else there? Were they being attacked by somebody, were they trying to defend themselves and their owner from somebody else, from a wild animal?" Dogs kill an American about every 11 days. They kill more people annually in the U.S. than bears, sharks, cougars and coyotes combined.
Since November 4, pit bulls alone have killed five people in savage maulings:
David Baber
, 65 (Hamlet, NC),
Tracy Cornelius
, 46 (Guntersville, AL),
Emily Colvin
, 24 (Section, AL) and
Dorothy Ford
, 77 (Alsip, IL). The fatal pit bull mauling of Ford occurred just three days before Bethany's death. "If I go through the rest of my career without seeing something like this, that would be a good thing," Deputy Chief Shawn Schuldt of the Alsip Police Department said after Ford's attack.
"In my 40 years of law enforcement, I've never seen anything quite like it. Hope I never see anything like it again."

- Goochland County Sheriff James Agnew
This is partly why
jurisdictions in over 40 countries
have enacted
breed-specific laws
. Appellate courts across the U.S. have been weighing in on the unique
"savageness and unpredictability"
of pit bull attacks since the 1980s, along with their selection for gameness, a "continuing tenacity and tendency to attack repeatedly for the purpose of killing." The macabre injuries pit bulls inflict are shocking, but not surprising. These injuries are a
well-documented attribute
of the breed.
"pit bull dogs are unique in their

"savageness and unpredictability"

(Hearn v. City of Overland 1989) "Pit bulls also possess the quality of gameness ... which can be described as the propensity to catch and maul an attacked victim unrelentingly until death occurs, or as the continuing tenacity and tendency to attack repeatedly for the purpose of killing. It is clear that the unquantifiable,

unpredictable aggressiveness and gameness

of Pit Bulls make them uniquely dangerous ... Pit bulls will have these instincts and phenotypical characteristics; most significantly, such characteristics

can be latent and may appear without warning or provocation"

(Vanater v. Village of South Point 1989) "The physical characteristics of pit bulls, the historic use of the dogs as fighters, and the increasing number of

unprovoked and unexplained attacks

on people has caused the pit bull to be perceived as presenting a threat of danger, warranting a legislative response" (State of Ohio v. Robinson 1989) "the American Pit Bull Terrier breed possesses inherent characteristics of aggression, strength,

viciousness and unpredictability

not found in any other breeds of dog ... A pit bull in the grip of such a fighting frenzy will not respond to attempts to deter its attack. Such frenzies

can occur at any time and for no apparent reason"

(Garcia v. Village of Tijeras 1988) "the pit bull bites to kill without signal" (Starkey v. Township of Chester 1986)
Finally, Animal behaviorist Alexandra Semyonova
explains the disproportionate response
(high arousal and aggressivitiy in a safe environment) in breeds selected for killing. "It's also not realistic to pretend that impulsive aggression is not pathological. The environments (the fighting pit, the baited bull, the escaping slave) for which these behaviors were selected as an adaptive response are so extreme that in fact there is no appropriate context for these behaviors in normal life."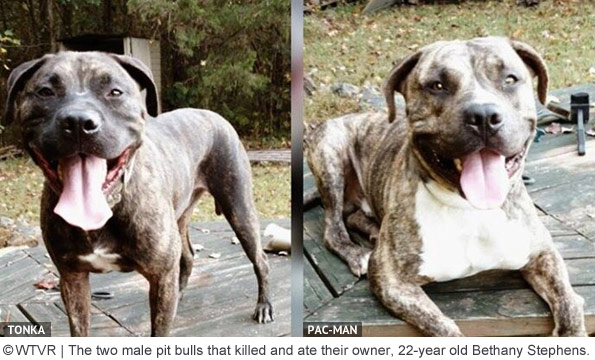 View the DogsBite.org Google Map:
Virginia Fatal Pit Bull Maulings
.
Related articles:
01/31/18:
Photographs of the Year: Young, Self-Appointed Canine 'Experts' in the Wake...
11/17/17:
2017 Dog Bite Fatality: Adopted Out Pit Bull Kills Elderly Woman in Virginia Beach
03/14/17:
Persistent 'Wild Animal' Theory Finally Derailed, Elderly Man Killed by Dogs...
02/21/17:
2016 U.S. Dog Bite Fatality Statistics and Discussion Notes - DogsBite.org
05/05/09:
Alexandra Semyonova: Heritability of Behavior in the Abnormally Aggressive Dog
---
Baseline reporting requirements:
Law enforcement departments across the United States should release consistent "baseline" information to the media and the public after each fatal dog mauling,
including these items
.
Labels: 2017 Dog Bite Fatality, Conspiracy Theory, Fatal Pit Bull Attack, Pit Bull Kills Owner, Post-Mortem Predation, Virginia, Wild Animal Theory

Please donate to support our work
DogsBite.org is a 501(c)(3) tax-exempt public charity organization. Learn more »
posted by
|
permalink
|
66 comments
|

email
|

blog rss
|

comment rss

66 comments:

Ka D | 12/15/2017 6:13 PM | Flag
If you're stupid enough to own one you're the only person who should be mauled by it.

Ka D | 12/15/2017 6:27 PM | Flag
And why did the fools spend over an hour trying to catch these dogs? They should have been shot dead on the spot.

Colleen Lynn | 12/15/2017 7:25 PM | Flag
They preserved the dogs because they are probably going to have to show they were culpable. However, they really should put them down to test their stomach contents, which would then be undeniable evidence.

Deborah D. | 12/15/2017 8:53 PM | Flag
Will pit bulls ever be banned from the US? How many more people must die from viscious bites?

LibertarianThinker | 12/15/2017 10:22 PM | Flag
The pit bull defender comments on some of the news sites are beyond belief. Pit bull defenders are seriously advocating that she was murdered, and the police are covering it up by blaming her pit bulls. More evidence that the most vocal pit bull defenders are not playing with a full deck. I am glad this woman's evil pit bulls did not kill an innocent bystander.I'm sure this woman had heard stories of owners being killed by their pit bulls, and she made excuses for the pit bulls, just as people are now making excuses for her murderous pit bulls.

K-Hart | 12/15/2017 10:37 PM | Flag
"I hope the truth comes out in time to save them..." WTF?!? Is this guy serious?! I'd bet both beasts were wagging their little pittie tails the entire time they were ripping her to death. Save them? Do nutters even hear how psychotic and irrational they are? This young woman's blood and clothing are strewn about the woods, and this jackwad is already talking about saving them.
Here....let me get the "reasons why the sweet dogs murdered a human" ball rolling for the nutters : She was experiencing her monthly menses and the dogs were triggered by the hormonal changes. No, wait... a squirrel jumped on her and the dogs accidentally ripped her throat out while snapping at the squirrel. No, wait...some rogue coyotes killed her while the dogs were up ahead and the dogs came back to find their beloved owner dead. No, wait... the dogs were both rabid or suffering from some neurological defect. No, wait...she must have beaten them and starved them because it's all in how you raise them. We all know it couldn't POSSIBLY be...wait for it....genetics!
I feel terrible for the first responders who had to deal with the aftermath of another horrific attack.



BeKind StopbreedingBullyDogs | 12/15/2017 10:56 PM | Flag
Pit bulls are so misunderstood...by anyone who thinks that bullies are normal dogs.

BeKind StopbreedingBullyDogs | 12/15/2017 11:02 PM | Flag
I think the average pit bull isn't in shape and becomes tired, otherwise they would still be mauling hours later.
"Guarding her body?" They are guarding "their kill".
Resting, to maul again later.
They cannot help themselves. Killing is their default behavior.

It's cruel to support dog fighters breeding of their game insane dogs.

Colleen Lynn | 12/15/2017 11:55 PM | Flag
Here's a "vet" that will stay on our radar!
----
"Although Dr. Amy Learn, a veterinarian at Cary St Veterinary Hospital, did not know Stephens or her dogs, she believes many questions still need to be answered."
----
http://wtvr.com/2017/12/15/bethany-stephens-dead-mauled-to-death-by-pit-bull-dogs-goochland-county/

Your Quiet Neighbor | 12/16/2017 8:41 AM | Flag
Those dogs were her life. Remember that, people.

Dayna Hamilton | 12/16/2017 11:31 AM | Flag
I was reading the comments last night after this article and the numbers of people who didn't believe it was her pits or were making excuses was astounding. Everyone seemed to have their own idea of what had happened, none of them believed it could have been pits just doing what pits were bred to do.

Christy D | 12/16/2017 3:01 PM | Flag
Wow there is alot of crazy in the comments section of the news sites. Here is a sampling of my favorites:
1. The are not pit bulls. They look like cane corse because of their size.
2. She should have got them as puppies.
3. They came across another dog or prey that attacked all three of them.
4. a coparison of shooting to the dogs to police shooting black people
5. Her exhusband did this.

MKB | 12/16/2017 4:59 PM | Flag
Just to satisfy all those claiming, "The dogs didn't do it, wild coyotes did it," couldn't they do DNA analysis to prove it?

Colleen Lynn | 12/16/2017 8:58 PM | Flag
Christy D, this mauling death has reached epic proportions (think Darla Napora). We have since filled out this post with many more details.

Colleen Lynn | 12/16/2017 9:12 PM | Flag
MKB, to prove to who? The victim's friends? DNA evidence is used to charge people for felony crimes. When no evidence of a homicide or any crime is apparent, there is no need for law enforcement to run DNA. That said, if the family wanted to -- in order to claim a wild animal was responsible -- they could pay for these tests themselves.

JeremyR | 12/17/2017 11:34 AM | Flag
In the photos in the article linked by Colleen, the one with the dog leaning on her shoulder is telling. She has the dog muzzled!
It bothered me that the sheriff in his statement said He suspected that the dogs had been bred for fighting. Now the advocates will be all over that as the reason she is dead. Nope, she is dead because she didn't understand the breed. People who do don't own them, and avoid them.

Ka D | 12/17/2017 11:42 AM | Flag
Coyotes attacked her and the pit bulls- what? Stood there and did nothing? LMAO!

BeKind StopbreedingBullyDogs | 12/17/2017 4:43 PM | Flag
Essentially all pit bulls are bred for FIGHTING.

I cannot find any pit bull BULLY dog breeder that says "we breed for normal dog social behaviors".

"We never breed dog aggressive dogs. All our dogs have excellent dog social skills. Our dogs will not fight. Our dogs are not game. Our dogs are curs."

When a pit website states "No Dogs Sold For Illegal Purposes" that means the dogs ARE bred to mature to suddenly become deadly game insane killers.

Non bully dog breeders don't have to include that phrase because their dogs aren't bred to be psychopaths.

BeKind StopbreedingBullyDogs | 12/17/2017 4:44 PM | Flag
I know why these dogs attacked. They've dreamed of being ENT doctors or dentists and wanted to understand human anatomy!

EyesOpened | 12/17/2017 5:32 PM | Flag
https://www.facebook.com/victoria.l.trent/posts/10215235670392985

Has everyone seen this? More insanity from pit advocates...

Animal Uncontrol | 12/17/2017 6:42 PM | Flag
Interesting choice of words: "grisly mauling by... pit bulls". Is there anything OTHER than a "Grisly" mauling by a pit bull? What is the percentage of grisly vs. non-grisly mauling?

I'd say, the grislyness is baked in the cake.

Colleen Lynn | 12/17/2017 8:10 PM | Flag
You better believe it is baked in. Notice the sheriff's terminology, used "carcass" to describe body. Also, "We spent a lot of time there at the scene and made some observations that, out of respect for the family, we're not releasing," Agnew said.

Unknown | 12/17/2017 9:59 PM | Flag
I'm hearing that the Sheriff's Department confirmed dogs have been put down. Good. There won't some ridiculous lawsuit to try to rehome to some delusional liontamer with kids and other pets in the home.

Colleen Lynn | 12/17/2017 11:14 PM | Flag
Unknown, we have been seeing these comments too. Let's hope there is a confirm tomorrow

Alice Moncla | 12/18/2017 5:39 AM | Flag
I read in a comment, that the police report mentioned the dogs were throwing up patches of her hair and bits of her clothing...I wish I had screenshots. Who would get to read the report? Relatives? Press?

Munimula | 12/18/2017 7:31 AM | Flag
Without end, Pit advocates state: "They must have been raised wrong." What exactly does this mean? Clearly they are trying to say that if you raise a Pit lovingly from puppyhood they will grow up to be a great dog. But this woman did raise them from puppyhood lovingly. Acknowledge in this statement is that they can be "raised wrong". But when a Golden Retriever is raised wrong it may run off or jump on you. Not kill you. Breeding and training are two separate things, which can enhance or worsen inherent traits. Breed traits and breeding gives you a Pointer that points instinctively, a Shepherd that herds instinctively. And a Pit that grabs on and mauls. With training, you can teach a dog to sit, stay, fetch, and also hone the traits they were bred for. A shepherd does not buy a Beagle for herding. What we have now everywhere are Pits, bred for attack and maul, being sold into your everyday American home. They're so cute as puppies. But look what they grow up to do.

K-Hart | 12/18/2017 7:49 AM | Flag
I hope the family doesn't go full Greg Napora and decide to bury the maulers with their victim. How touching that would be.

Ka D | 12/18/2017 7:58 AM | Flag
There's a 'GoFundMe' page to save the dogs too. WTH?

Munimula | 12/18/2017 7:59 AM | Flag
The press is including misleading hearsay from the victim's "friend", who stated, "When we looked at the kennels, they looked like they had been broken open and went to go help her." Trying to say that someone or something else killed the victim and that the dogs tried to help. She goes on to make this ridiculous statement, "The wounds on her hands, face and throat were probably from them protecting her." Because we all know dogs protect you by lethal bites.

Colleen Lynn | 12/18/2017 9:08 AM | Flag
Yes, the media is complicit in bolstering an unsupported narrative based on hearsay (of a 20-year old). This is becoming a Pit Bull Hack (perpetuating a "fake" controversy) of a different nature than what we usually see. Meanwhile, the sheriff's office has been open and honest since day one and gave a powerful press conference too. That is why that remains the top link on this post. Our update in the next few days may not have a top link if this continues.

Sue Myles | 12/18/2017 9:12 AM | Flag
I wonder if these two fine examples of 'pets' had earned the prestigious Canine Good Citizen? After all, doesn't a CGC insure that its recipient is a safe and loving doggie before the usual 'Emotional Support Dog' vest is attached to these grand pets?

devotiontodog | 12/18/2017 10:15 AM | Flag
I am a fan of Dogbite.org. And I've always appreciated the reporting you do. But this time.... something is puzzling me about the scenario. I did a little bit of Googling and found this -
http://wric.com/2015/11/06/goochland-residents-concerned-over-multiple-bear-sightings/


devotiontodog | 12/18/2017 10:17 AM | Flag
ooops - I hit send to soon. Anyway, would love your thoughts on the possibility of bear attack. Bears really are getting close to cities these days -- they've been spotted near my friend's home here in Raleigh. I've been to her place many times for book club. Amazing to think bears are coming this far in!

Colleen Lynn | 12/18/2017 11:06 AM | Flag
Dogs kill more people annually in the U.S. than bears, sharks, cougars and coyotes combined by a wide margin. If a wild animal was "remotely" suspected by authorities, the Virginia Department of Game and Inland Fisheries would have been involved immediately. As noted by the sheriff, "We spent a lot of time there at the scene and made some observations that, out of respect for the family, we're not releasing." Injuries inflicted by bears and cougars are distinct as are the scenes of these maulings. The sheriff and medical examiner have been very generous with the information they supplied during the press conference. The media is perpetuating a false narrative by a 20-year old female who has no knowledge of forensic pathology, law enforcement or fatal dog mauling scenes or investigations. For that matter, the vet has no experience in any of these areas either. Her comment, "Dogs don't attack out of the blue" is so naïve it is unbearable. The name of first ever memorial for fatal dog attack victims is called Out of the Blue. Don't forget back in March, a family pit bull of 8-years attacked and killed a baby 'out of the blue.'  It continued attacking until it was shot and killed by arriving deputies. You might read the autopsy report of Carmen Reigada, where the main aggressor was a family American bulldog-mix. Then imagine what the sheriff and deputies observed in this case, which involved two large pit bulls.

Colleen Lynn | 12/18/2017 11:24 AM | Flag
This is fascinating. Google News is saying this piece from 1999 is the "most referenced" about this mauling death (Scared of Pit Bulls? You'd Better Be!). If you have been following the pit bull issue for a number of years, you would have run into the piece as well. Remember, it's 18 years old and continues to be a reference point.

Christy D | 12/18/2017 1:33 PM | Flag
That bear sighting link that one of the posters found is two years old....

K-Hart | 12/18/2017 2:15 PM | Flag
My state has one of the highest black bear populations in the lower 48 states, and the last fatal bear attack was in 1936 by a CAPTIVE bear. Human and bear interactions are fairly frequent, particularly in the spring when the bear are hungry and looking for food after hibernating all winter, and never result in fatal attacks.
Bear also HATE dogs. They avoid humans and dogs whenever possible, usually fleeing to escape them.
The idea that two large dogs from a breed that has been used to KILL BEAR, somehow were unable to save their owner from an attack is absurd. Unless the bear were a roving massive male Kodiak bear that somehow got to the east coast without being spotted, bear attack is beyond reaching. Even Jack Russells can run off a bear.
Pits gotta pit, and these ones did. Why is it so hard for the nutters to process that fact? We're not shocked when a Border Collie herds, or a Springer Spaniel flushes fowl. Why is anyone shocked when a mauler mauls? How stupid would it sound if someone said "my Lab just started retrieving stuff out of the blue. He never showed any signs of retrieving before! It must be because he has rabies or a brain tumor!"
Frigging nutters. They should be classified as domestic terrorists.

Brianne K | 12/18/2017 4:02 PM | Flag
It's tragic when it takes until the last moments of a pit bull owner's life for them to learn the truth.

Ka D | 12/18/2017 5:53 PM | Flag
Two pit bulls didn't sit by idly while a BEAR killed her. Use your head. Anyways, the perps got their dirtnap. http://www.wdbj7.com/content/news/Dogs-responsible-for-killing-Goochland-woman-have-been-euthanized-465044343.html

Ka D | 12/18/2017 6:42 PM | Flag
The dogs were eating her body at the scene: http://heavy.com/news/2017/12/bethany-stephens-goochland-virginia-pit-bulls-pets/

Unknown | 12/18/2017 7:43 PM | Flag
Per the press conference earlier today, the sheriff said he and several other law enforcement officers saw the dogs eating the victim's ribcage. No wonder a seasoned LE person was so disturbed by the gruesome scene of the attack.

Unknown | 12/18/2017 11:26 PM | Flag
Pit pull fanatics have translated "guarded" to mean "protected."
A little late.

LeeAnn Links | 12/18/2017 11:35 PM | Flag
I read somewhere that it was the photos of what went down in Vietnam that changed public opinion and began turning things around to end that war.
I wish fervently that the pit bull pushers could be confronted with these photographs.
The owners of pits seem to be a victim of false advertising as much as of their own dimwittedness.
We can't underestimate the power of advertising which is akin to brainwashing.
I have many pictures of pit bull victims that I try to not be publish too often, but maybe a graphic page could be started and the pushers be connected to it somehow?

LibertarianThinker | 12/19/2017 3:22 AM | Flag
It seems pretty clear to me that pit-bull advocates are a dangerous cult. These people blindly repeat the same talking points, word for word, and oftentimes their talking points don't even address the comment they are responding to. Pretty much any controversial topic on the internet, people on both sides will produce arguments and evidence, and try to provide counterpoints to arguments/evidence produced by their opponents. Not so with pit-bullers, they just say nonsense like "Pit bulls would never attack their owners." "Pit bulls are the sweetest dogs ever." "Chihuahua's are the meanest dogs, I can't stand to be around them." Pit-bullers feel personally threatened by even the most gentle suggestion that there could be anything negative about any pit-bull ever. They can not even concede that maybe 1 pit-bull went psycho, instead they will come up with elaborate fantasies about assassin attacks or police cover-ups. They will not even read any evidence against their cult of pit-bulls, they just shout that all the evidence is "lies" and never even attempt to produce any evidence to prove their point. They ignore all evidence of aggressive behavior in their pit-bulls. Unlike most cults which only harm the person involved with them by monopolizing their time and money, the pit-bull cult is a clear danger to other people. They refuse to even take basic safety precautions to protect their neighbors, because they believe their "pibble" is not capable of harm. 1) We need stringent laws that hold pit-bulls owners accountable for at least man-slaughter, if not 2nd degree murder, for deaths caused by their pit-bulls. 2) We need pit-bullers to have minimum insurance policies to cover harm to their victims, just as all states require people to carry a minimum level of auto insurance. These 2 things are the barest minimum, and pretty much any normal pet owner would agree with these. The fact that pit-bullers loudly protest against these 2 minimums is evidence of how much they are needed.

Animal Uncontrol | 12/19/2017 10:21 AM | Flag
Anyway, would love your thoughts on the possibility of bear attack.

About the same possibility of me being chosen by NASA to be the first man on Neptune.


Dayna Hamilton | 12/19/2017 2:20 PM | Flag
"a journalist asked Sheriff Agnew, "Why did you feel it was necessary that we as journalists see with our own eyes some of the horrible things that you saw that night?" "

Why in the hell would a journalist even think of asking that question? So much for reporting the facts eh?!

Dayna Hamilton | 12/19/2017 2:35 PM | Flag
My next question, where did she buy these pits?

Colleen Lynn | 12/19/2017 2:56 PM | Flag
No one has talked about where her dogs came from -- just that they both came from the same litter. Wonder how the other littermates are doing?

Christy D | 12/19/2017 5:19 PM | Flag
Colleen, do some digging. I found an article but I can't find it now, in which one of her friends who worked with Bethany in a professional dog related business capacity was talking about the Bethany knowing the dogs since birth. Also, there was something in the article about her working with dog training and behavior - as a job.

Colleen Lynn | 12/19/2017 6:40 PM | Flag
For some period she worked at K-9 Adventures (owned by Tori Trent), but it is unclear when. Trent said she would bring her pit bulls in and they interacted with people just fine. Trent did not train the dogs. This quote was never attributed to anyone, "A man who used to work with Stephens at a dog training facility told CBS 6 that Stephens was very experienced working with animals, and loved her dogs."

Christy D | 12/19/2017 8:09 PM | Flag
Thanks for clarifying that. I looked at every single photo on K-9 Adventures website and there is not a single photo of either of her dogs and there are a lot of photos. Somehow, I really doubt Tonka and Pacman were safe to other dogs.


https://www.facebook.com/TorisK9Adventures/photos/a.307750852619459.71862.111380732256473/887129268014945/?type=3&theater

K-Hart | 12/19/2017 8:39 PM | Flag
LT - everything you said is spot on. Especially the constant regurgitation of the same sad, inaccurate, absurd, and irrational "talking points" that every pit freak uses. And their lack of basic grammar skills makes reading their comments nearly impossible. I've seen directions translated from a foreign language that are more coherent than a standard pit nutter's attempts at defending their crap breed of choice. Trying to talk rationally and with facts with nutters is like shoveling sand - you can do it all day long, but it will never produce results.

I'm very curious about why Ms. Stephens had started to keep her dogs at her father's house, and kenneled outdoors, where they had previously been kept indoors with her. The sheriff mentioned her "neglecting" the dogs and the dogs becoming "distant" from her. Has anyone mentioned why this was? Was she living with her father? Or was it something more along the lines of the dogs were beginning to exhibit signs of aggression with her and she decided it was safer to kennel them at her father's? Did she no longer trust the dogs alone with her? I doubt she would have told anyone that the dogs were beginning to show their true breed colors because that would be admitting that pit bulls are predisposed to unprovoked aggression, and that breeding and "raising them right" is immaterial when dealing with pit bulls.

Maybe those journalists will get the idea after seeing the death scene photos. I can't even imagine. I have much respect for the sheriff in this case. Sounds like he doesn't stand for any bullsh*t being bandied about.

Colleen Lynn | 12/19/2017 10:21 PM | Flag
With so much misinformation, and her own friends being a primary source of it, one has to assume some issues with the dogs existed. Instead of the media asking "relevant" questions during the second press conference, they asked questions pertaining to the "unsubstantiated" rumors and conspiracy theories fueled by Bethany's friends and social media. No media asked the pertinent questions of 1.) How long had the dogs been in the new isolated environment? Two weeks, two months, or more? And, 2.) Why were they in this new environment and not in Bethany's own home? Anyone can be in rough spot, between living environments or in a break up with a partner temporarily. That is life and the human condition. But these are extremely relevant questions in this case. If the sheriff's office is going to talk "isolation," and that potentially being a cause of this fatal attack, then we need to have an understanding of how long.

Christy D | 12/20/2017 7:38 AM | Flag
Well, the latest hair-brained alternative cause of death her friends have come up with is that she was killed by pit bulls from the local dog fighting group who were giving her death threats in the week before because she was going to expose them and they made this appear like her dogs did this.

I find this version particularly complex but it also goes against their mantras that pit bulls don't attack humans and dogs in dog fighting are loving pets that would never hurt a fly and need to be rescued.

Ka D | 12/20/2017 8:04 AM | Flag
That look on the pits face in the kitchen, just saw that look yesterday on some FAKE ass blind persons FAKE as pit bull guide dog. This lardass loudmouthed older woman was talking loudly to everyone about her dog barking and growling at people (she must have had something on her that smelled funny), was CARRYING a white stick (with no red tip like a REAL blind person would have), and had the dog on a leash not a harness like a blind person would likely have. She LOOKED at everyone she spoke to.

Ornot | 12/20/2017 3:46 PM | Flag
These things. Ripping people apart alive. Nobody would make a horror movie about pitbulls because it would be beyond horrific. I lived in the States when I was a kid and I feel glad that these ghoulish human dismemberment dogs weren't about then. And that I'm not there now - it's frightening. From afar, America seems to have a very high tolerance of lives being absolutely monstered by some chump's choice of "pets." I don't remember Americans being like that, it's sad. This girl lived her one life probably 60 years too short, for what? Her parents gave her everything and her vile dogs took everything away.

A Glass Artist | 12/20/2017 5:04 PM | Flag
What I would give to know what Bethany was thinking, and what message she would have wanted to tell the world, in the time between when the attack started, and when she lost consciousness forever.

Ka D | 12/20/2017 5:48 PM | Flag
Great read about the stupidity and denial surrounding this case: https://heavy.com/news/2017/12/bethany-stephens-goochland-virginia-pit-bulls-pets/

EyesOpened | 12/22/2017 7:17 PM | Flag
K-Hart, you summed it up perfectly! None of the nutters can spell or punctuate properly, and their poor writing skills reflect their poor logic and lack of rational thinking.

Ka D, that heavy.com article was good, but a person could lose brain cells reading some of the comments. I think one repeated just about every single pit bull myth--in one single comment. There ought to be some sort of prize for that feat...

Holly S | 12/25/2017 5:05 AM | Flag
This comment has been removed by the author.

Christy D | 12/26/2017 9:01 AM | Flag
Colleen, have you seen this? Pacman was apparently a return.

http://abc7chicago.com/police-pit-bull-that-fatally-mauled-owner-had-history-of-aggression/2811852/

Bailey Boo | 12/27/2017 9:03 PM | Flag
It's sad that even when the pit nutters themselves are mauled by their beasts, it still isn't enough to open peoples' eyes. If I had a pit and heard this story, I'd be taking it to the nearest vet to be put down immediately. There's no way I'd want to risk something like that happening to me or anyone close to me. The pit cult is so deep in denial that at this point, it seems like nothing will make them see the truth.

LibertarianThinker | 12/30/2017 5:37 AM | Flag
<>

It's because pit nutters are a cult. It's like the parents who refuse to give their child insulin because they believe in "faith healing". Then when their child dies, instead of blaming the cult for lying to them, or blaming themselves for believing the cult, they blame themselves for not having enough "faith." Another poster had mentioned wondering what was going through Bethany's mind when she died, quite possibly she was blaming herself for not having raised the pits "right", because in her indoctrination, it could never be the pits fault, or the fault of the pit-obsessive cult that lied to her.

EyesOpened | 2/21/2018 5:10 PM | Flag
Did you see this article? http://wtvr.com/2018/02/20/report-concludes-bethany-stephens-died-from-violent-attack-by-dogs-3/

Insane! What the trainer said is crazy as well. She claims that dogs don't see a dead body and think of the person they loved. There are so many stories of dogs who wouldn't leave a person's body. Look at Greyfriar's Bobby! The unbelievable lengths people go to in order to defend pit bulls is astounding. And her conclusion that pit bulls are great family dogs... I'm speechless.

Christy D | 2/22/2018 4:31 PM | Flag
Interesting that they are very clear that Tonka had her DNA swabbed from him. This is interesting because this is the dog she raised from a puppy, while the other one was passed around 5 times by the time he was 1.5 yrs old.

Kara Kara | 5/18/2018 3:24 AM | Flag
You can guarantee that the moment those dogs turned on her, she had a rapid realization of how wrong she was to defend and support pit bulls. How many people have to be mauled and die before people get it through their heads that pit bulls are dangerous? Pit supporters love to site that chihuahuas are the number one biters. When was the last time a chihuahua brought someone to the ground and ripped their throat out? Only pits do that. No one should have to die this way.