Saturday, July 23, 2016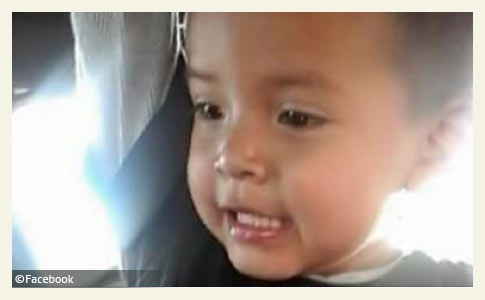 On July 14, Kayden Begay, was killed by a pack of pit bulls in Seba Dalkai.
Navajo Leaders Respond
UPDATE 07/23/16:
A week after 3-year old Kayden Begay was killed by a pack of dogs in Seba Dalkai, a report from the Navajo Nation Animal Control Program obtained by the Associated Press confirmed the boy was killed by dogs in the area. The report does not specify the breeds of dogs involved or whether the dogs had owners -- which is standard practice for fatal dog attacks that occur on reservations in our experience. The report also states that only five dogs were involved.
This might indicate that at least six pit bulls or their mixes were removed (vacated) from the scene before Navajo Nation authorities arrived.
Citing the report, Navajo President Russell Begaye said that five dogs mauled the boy before officials arrived. Two dogs were shot on scene and three were taken into custody and euthanized at an animal shelter in Fort Defiance, Arizona, according to the report. All five dogs tested negative for rabies. Cecil Hubbell Sr., president of the
Navajo Nation's Wide Ruins Chapter
, said people told him they had reported these dogs before, but officials took no actions until the boy was killed.
The Navajo Nation is about 27,000 square miles -- larger than West Virginia -- with very limited resources. The
Navajo Nation Animal Control (NNAC)
web page states they only have five officers for the entire reservation.
1
In a
public message plea for more funding
, NNAC states they currently lack the ability to provide services in key areas including: aggressive enforcement of laws, livestock damage investigations, animal-bite investigations, quarantines and much more.
07/18/16: Pit Bulls Kill Boy
Window Rock, AZ - A 3-year old boy was killed by a pack of dogs in Seba Dalkai Thursday. The rural community is located on the
Navajo Nation Reservation
northeast of Flagstaff. The boy's mother, Kimasha Shorty of Gallup, told the
Navajo Times
that Kayden Colter Begay was visiting her paternal grandparents in Seba Dalkai at the time. Kayden had followed his aunt outside to get the cattle when a pack of 12 pit bulls owned by the family's neighbor attacked and killed him.
The pack of loose pit bulls belonged to neighbor Marlinda Begay, a relative on Kayden's father's side, according to the boy's mother.
Shorty was told his aunt was unaware that Kayden had followed her. "She turned around and saw the dogs gathered around something. She went to see what they were doing, and that's when she found my son," Shorty told the
Navajo Times
. The pit bulls attacked Kayden's face, ripping off the left side, and gnawed his thigh to the bone. People in the area had long complained to the Navajo Nation Rangers about the dogs attacking livestock, Shorty said, but nothing was ever done.
After learning about her son's death, Shorty drove to Seba Dalkai from Gallup. By the time she arrived, authorities had destroyed some of the dogs. However, Shorty did not believe they had gotten them all. The Navajo Nation Criminal Investigations Office in Dilkon confirmed that a unit is investigating the boy's mauling death. No charges have been filed so far. Shorty described her son as "the happy kid who ran around shaking everyone's hand." A
fund has been set up
for the boy.
Mauling Deaths on Reservations
Kayden is the third person killed on the Navajo Nation Reservation since 2010. In 2012,
Tomas Jay Henio
, 8-years old, was mauled to death by up to nine dogs a day after Christmas in Pine Hill. In December 2010,
Larry Armstrong
, 56-years old, was killed by a pack of dogs near Gallup. Since 2010, there have been at least seven fatal dog attacks on reservations nationwide, including the deaths of
Julia Whirlwind
, 49,
Jayla Rodriguez
, 8,
Deanne Coando
, 40 and baby
Justin Lopez
.

View the DogsBite.org Google Map:
Fatal Dog Attacks on American Indian Reservations
.
---
Learn about breed-specific laws on Indian reservations in our State-by-State section
.
1
In a July 21, 2016 article by the Navajo Times, Wide Ruins Chapter President Cecil Hubbell Sr. said there are only four animal control officers across Navajoland. The article also states the mother's last name is Shorty, not Begay.
Related articles:
03/17/15:
2015 Dog Bite Fatality: Woman Killed by Dogs on Rosebud Indian Reservation
11/22/14:
2014 Dog Bite Fatality: Pack of Dogs Kills 8-Year Old Girl on Pine Ridge...
11/17/14:
2014 Dog Bite Fatality: Woman Killed by Pack of Dogs on Wind River Indian...
12/31/12:
2012 Dog Bite Fatality: Pack of Dogs Kills Boy in Cibola County, New Mexico
03/30/11:
2011 Dog Bite Fatality: 55-Year Old Man Killed by Pack of Dogs Near Gallup
03/11/10:
2010 Dog Bite Fatality: Rottweilers at Home One Day Kill Baby on Iowa Tribal Land
Labels: 2016 Dog Bite Fatality, Fatal Pit Bull Attack, Indian Reservation, Navajo Nations

Please donate to support our work
DogsBite.org is a 501(c)(3) tax-exempt public charity organization. Learn more »
posted by
|
permalink
|
6 comments
|

email
|

blog rss
|

comment rss

6 comments:

Keeping Dogs Safe | 7/18/2016 10:21 PM | Flag
An atrocity, one of many.

Bailey | 7/18/2016 11:15 PM | Flag
Why in the name of hell does someone have 12 pits? Unless you're a pit breeder or a dog fighter, there's no need to have that many living weapons under one roof next door to innocent neighbors.

truthbirdtoo | 7/19/2016 9:52 AM | Flag
My goodness, there are nearly 1,500 comments now! They mainly appear to be from the community as well, not outsiders.
-----
JS Arykah Navajo Nation lacks in so many areas and sadly our children are the ones who are greatly affected by this nonsense. This could have been prevented, growing up elders always made sure that an aggressive dog would not continue to kill livestock. Ownership and collection of pit bulls have never been part of our ways and dogs were used only as protection. My condolences and prayers go out to the family.
Like · Reply · 7 · 18 hrs · Edited
-----
Krunch Munch Part of the issue is that the "enforcement" departments do not lend a hand to Animal Control. Which is pathetic as the rangers, Animal Control, and the Veterinary program all fall under the division of wildlife. Call the rangers or police about an issue, and they tell you to call Animal Control.
There are only 5 ACO's for the whole reservation. Completely underfunded and short staffed.
Like · Reply · 6 · 18 hrs · Edited
-----
Robert Kitto When that happened on my reservation years ago, the tribal police officer's and DNR shot and killed all the dogs running loose. Serves the dogs and owners right!
Like · Reply · 3 · 18 hrs
-----
Amanda Joe I thought pitbull were already banned on the navajo nation land!! Isnt there a law against those kind of Dogs? Here in shiprock PITBULL DOGS R BANNED OFF. YOU GET A FEE OF $250.00 FOR EACH DOG U HAVE IS THAT KIND OF BREED
Like · Reply · 8 hrs
-----
Adolph Whiteplume Why do people need dogs like that. It seems they kill alot of people especially children. We have enough to worry about when it comes to our small children & grandchildren. I'd sooner trust a grizzly bear or wolf before i'd trust a pitbull
Unlike · Reply · 1 · 15 hrs
-----
Velvann Howard NN needs to get rid of all pit bulls, n rottweilers.
Like · Reply · 1 · 14 hrs

joelande | 7/19/2016 12:33 PM | Flag
I don't know about this reservation, but some reservation residents have been oppressed by a leadership system that caters to the pit bull breeding and dog fighting going on

Also, in at least one case, the pit bull breeder/dog fighter was renting land from a reservation.



I want a cute purse | 7/19/2016 12:36 PM | Flag
I'm struggling thinking of this family and that sweet boy! It makes me think of my own children and how fragile they are. Pitbulls are the sorriest excuse for a dog... You can't even trust them!
RIP Angel Kayden

Ka D | 7/19/2016 6:00 PM | Flag
Using a pit bull for protection is as stupid as using a lion, if not more. The entire point of a guarding BREED dog is to be large, intimidating, but use force as a LAST resort. The entire point of a fighting BREED dog is explosive, unprovoked, disproportionate aggression used as a FIRST resort, and to not stop until they or their victims is dead. These sets of traits are mutually EX-clusive.