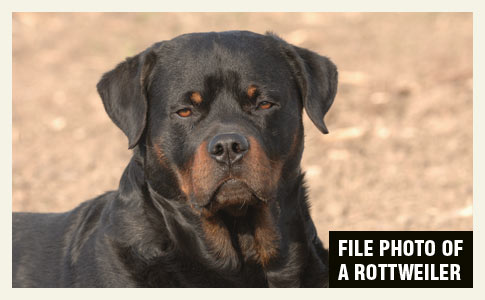 Justin Lopez, 9-months old, was killed by two rottweilers near Perkins.
Two Rottweilers
UPDATE 03/11/10: The Journal confirms the breed of dog that killed a 9-month old child: Two adult rottweilers. A source close to the family said the dogs had been brought into the home Sunday night, reports The Journal. Just hours later, the little boy crawled out of his crib and was killed by the animals. The child's mother, Stephanie Easley, was at work at the time of the incident. Easley was taken to Stillwater Medical Center to be treated for emotional distress and shock.

The incident was reported to Iowa Tribal Police at 11: 11 a.m. Monday, March 8. Officers were dispatched to a home at 750801 S. 3380 Road to find the baby boy had been mauled by two adult Rottweiler dogs.

A source close to the family said the dogs had been brought into the home Sunday night. The attack apparently occurred Monday morning in a hallway outside a bedroom where the baby and his two year-old brother had been sleeping with their father, Juan Lopez. It is not known how the nine-month-old got out of his crib ...
The source said the two dogs, a male and a female, were killed and taken to Oklahoma State University Veterinary Teaching Hospital for necropsy. - Cindy Sheets, The Journal, March 11, 2010
03/10/10: Fatality Victim Identified
The name of an infant who was fatally attacked by a dog south of Perkins, Oklahoma has been released by the state Medical Examiner's office. Justin Lopez, 8-months old, died of blunt force trauma to the head, medical examiner's spokeswoman Cherokee Ballard said. Firefighters responded to a call that a child had been attacked by a dog at about 11 am Monday. The incident occurred on Iowa tribal land in Payne County. The tribe continues to have no comment.
03/08/10: Dog at Home One Day
Perkins, OK - In a developing story, an infant was killed Monday morning at a rural residence, south of Perkins, after being attacked by a dog. The attack happened in Payne County, on Iowa Tribal land. Iowa Tribe Police Chief confirmed the fatal attack, but would not release any details adding, "We have no comment at this time." A cousin of the victim, Stephen Wood, said the dog that killed the infant was a rottweiler the family had brought home on Sunday.
An infant, new to the household, plus a new pit bull or rottweiler is a ruinous and possibly deadly combination, as demonstrated by this horrific incident, which will soon become "yet another fatal dog attack statistic." The risk associated to this combination rises wholly off the charts. One should not expose an innocent and defenseless infant to any breed of dog, but to expose such a child to the top two killing dog breeds is as reprehensible as it is tragic.
View the DogsBite.org Google Map:
Fatal Dog Attacks on American Indian Reservations
.
---
Learn about breed-specific laws on Indian reservations in our State-by-State section
.

Related articles:
12/31/12:
2012 Dog Bite Fatality: Pack of Dogs Kills Boy in Cibola County, New Mexico
03/30/11:
2010 Dog Bite Fatality: 55-Year Old Man Killed by Pack of Dogs Near Gallup