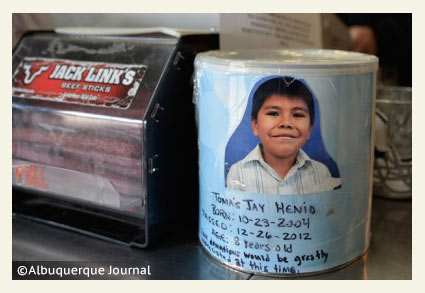 A donation can at the Pinehill market for Tomas Jay Henio.
Persistent Problem
UPDATE 12/31/12: The Albuquerque Journal spoke to family members of the young boy who died the day after Christmas after being mauled to death by up to nine dogs. Neither the boy's mother or stepfather heard screams or barks, which could have alerted them to the attack, they told the Journal. Tomas Jay Henio had spent the evening alone sledding down a snowy hill near his mother's home. The boy was already dead when his family members discovered him.
"We just don't want to be around the house, with all the memories we have there," said the boy's stepfather, Keith Comosona.
Nine dogs, including one that weighed about 100 pounds, were quickly seized and euthanized by authorities. The dogs had been under the care of the child's great-uncle, a "dog lover," according to the Journal who had become a "collector over the years" taking care of dogs abandoned at the roadside near the base of the hill. Earlier this month, the same pack killed four goats. Other news reports say authorities will gather DNA samples to determine which of the dogs attacked.
The tone of the Journal article is one of despair and the persistency of the number of roaming dogs -- un-collared, unchecked, abandoned, stray, feral or otherwise -- within Navajo Nation. DogsBite.org grieves for the young boy's family and the whole Pinehill community.
12/29/31: Insights from Behaviorist
In response to the "wild dogs" or "feral dogs" confusion brought to light by the death of 8-year old Tomas Jay Henio in Cibola County, New Mexico1 DogsBite.org reaches out to animal behaviorist Alexandra Semyonova for a better understanding. As suspected, even the term "feral dogs" cannot be used as loosely as the Cibola Beacon did, and there is a significant difference between "feral" and "stray" dogs, the former having never been kept or owned by a human.2
Alexandra Semyonova

When ethologists go out to watch free-ranging dogs, they generally define in each published article what they'll mean by 'feral', 'stray', 'free-ranging'. 'Stray' usually means owned dogs that are either roaming or have been abandoned. These are dogs that were born of dogs kept by humans, in a home or on some kind of yard or farm terrain. They've had some kind of contact with humans in a living situation, were kept and fed until they roamed, got lost, or got dumped somewhere. 'Feral' usually means domestic dogs born to these roaming dogs outside of any human care or contact. A 'feral dog can be first generation, second, etc -- but in any case a feral dog was never kept or owned by a human. You can't tell by looking at a dog whether it ever lived in a human home, so many ethologists just talk about 'free-ranging' dogs. This means any dog that's travelling and/or living without human supervision, regardless of its origins or past.

'Wild' and 'feral' do not mean the same thing. A wild animal is an individual of a species that has never been domesticated. A feral animal is one of a domesticated species that was somehow born outside of human care and is living a life as best it can in a niche without human help. Its offspring are also 'feral' -- not wild, but a domesticated species born and living in non-domestic circumstances.

When we talk about the domestic dog, the distinction between 'stray' and 'feral' is relevant. A free-ranging stray won't behave the same as a free-ranging feral dog. A stray will more easily make contact with a human, in a good or bad way depending on its experience with humans. A feral dog will be extremely shy of humans, as dogs tend to be of anything they weren't exposed to in the first six months of their lives. Then there are the dogs that occupy a middle ground -- third world village dogs, dump dogs, the dogs that roam the streets of cities in places like Greece and Turkey. Even if they weren't born under human care, they grow up in close proximity to humans (human city dwellers, human dump dwellers). Generally the relationship is peaceful unless a dog is cornered and feels it has to fight for its life. Domestic dogs have lived with humans this way for at least ten millennia without often harming our children, our cattle or us.

This is changing in places where the weapon dog fashion has come into sway. The Coppingers describe a trash dump in Tijuana Mexico, where there were roaming Rottweilers and clear pit bull type dogs. They say that these dogs often wore collars, were clearly owned or had been owned -- and that these dogs behaved differently from other free-ranging or dump dogs. They were more aggressive. Rather than shyly avoiding humans, these Rott / pit types were willing to pursue humans in a threatening way. For the first time in all their travels, the Coppingers felt a bit afraid of 'free-ranging' dogs. [Dogs: A Startling New Understanding of Canine Origin, Behavior & Evolution, 2001, pages 322 - 323.] This is a new problem in many third world countries, where affluent people are getting fashion weapon dogs, but then letting them roam as if they were indigenous free-ranging dogs. This has led to vicious and/or fatal attacks by 'free-ranging' dogs becoming much more common than they have been in 12,000 years.

It will be interesting to see whether police release photographs of these 'wild' or perhaps only 'feral' dogs, one of which was clearly neither wild nor feral, but a roaming owned dog. If they don't, then there is good reason to suspect that they are covering up a different issue that's becoming urgent all over the world as the weapon dog proliferates among us. Up to now, the pit bull lobby has mostly maligned first world owned breeds in their attempts to protect the pit bull. Golden Retrievers bite the most, Chihuahuas are more aggressive, and so on. This is sad. But it would be even sadder if the feral domestic dog, which lives and survives under mostly sad circumstances but has nevertheless rarely hurt us, becomes the next target in the attempt to deflect blame from the real culprit -- the weapon dog. This farce has already led to efforts to eradicate peaceful ordinary free-ranging dogs in places like India and Greece. If anyone reading this really loves dogs, they will want to see photographs of the dogs that attacked this child. They will want to be sure that the indigenous Navajo dogs aren't being blamed for something a load of imported, roaming weapon dogs did.
Alexandra Semyonova is an internationally acclaimed animal behaviorist and author of The 100 Silliest Things People Say About Dogs. Academically educated in behavioral science and specialized in animal behavior, she provided a major breakthrough for the field in her paper, The Social Organization of the Domestic Dog. She has worked with dogs and their owners on a daily basis for more than 30 years. Visit her website at Nonlinear Dogs. View additional DogsBite.org posts that Semyonova has provided commentary for in the past.
---
12/28/12: Child Killed by Dogs
Cibola County, NM - In a developing story, an 8-year old boy was mauled to death by a pack of dogs Wednesday in the Pinehill area of Cibola County. Ramah Navajo Police Department Sgt. Delvin Maria, who verified that the attack occurred, said that one of the nine dogs that attacked the boy belonged to the owners of the home the boy was from. Few other details have been released. The case is still under investigation and the Gallup FBI office has taken over the case.
It is important to point out that "wild dogs" or "feral dogs," as alleged by the Cibola Beacon news group, are more commonly roaming dogs with owners or dogs that have been abandoned by their owners and left to fend for themselves. As Sgt. Delvin Maria verified, at least one of the attacking dogs belonged to the home the boy was from. A true wild dog is categorized as a separate species than the domesticated dog, such as the African painted dog3 and Indian wild dog.4
View the DogsBite.org Google Map:
Fatal Dog Attacks on American Indian Reservations
.
---
Learn about breed-specific laws on Indian reservations in our Breed Safety Laws section.
1In 2010, in the adjacent county of McKinley, 55-year old
Larry Armstrong
was killed by an alleged pack of "wild dogs" that turned out to be roaming dogs with an owner.
2The Atlanta Journal-Constitution adopted the term "mongrel dogs" after the double canine homicide of
Lothar and Sherry Shweder
in 2009, despite the fact that some
purebred dogs were among the pack
.
3In November, a young child fell from a viewing platform at the Pittsburgh zoo into an African painted dog exhibit. He was immediately killed by the dogs. The observation platform is set to be removed, according to officials.
4Feral dogs are a problem in U.S. jurisdictions. But again, this is often the result of owner abandonment; this type of dog should not be confused with a "wild dog" species. Fatal dog attacks by "feral" dogs are rare in the U.S.
Related articles: 
03/30/11: 2011 Dog Bite Fatality: 55-Year Old Man Killed by Pack of Dogs Near Gallup
08/19/09: 2009 Fatality: Senior Couple Killed by Pack of Dogs in Oglethorpe County
08/15/09: 2009 Fatality: Winterhaven Man Killed by Pack of Dogs
Photo: ABQJournal.com