Sunday, May 17, 2009
Children Suffer the Most
The U.S. Postal Service heavily promotes National Dog Bite Prevention Week along with a number of health organizations, dog bite prevention groups and media outlets. A bill was reportedly introduced in Congress last month to make this an official national holiday, but the bill was never voted on. As testament to the seriousness of the dog bite epidemic -- about 4.5 million U.S. citizens are bitten by dogs each year -- a national holiday is clearly warranted for this issue.
According to the news release, "Children are the most common victims of dog bites, followed by the elderly

1

and USPS employees."
Dr. Cinnamon Dixon, a pediatrician specializing in pediatric emergency medicine, is quoted in the release and points out the severity of the dog bite problem. Dixon said, "There are over three times as many dog bites as traumatic brain injuries each year.
Despite these statistics
, a major deficiency in dog bite prevention education and research exists." DogsBite.org calls on U.S. policymakers to establish a
non-biased institution
2
to research this issue and track related data.
Head and Neck Dog Bites in Children
In March 2009,
Otolaryngology -- Head and Neck Surgery Journal
published a study that documented head and neck injuries to children due to dog bites. The study specifically called out pit bulls: "Among identifiable dog breeds in the study,
pit bulls
were responsible for a notable proportion of the injuries." On page two of the report, the authors cite the unique difference in the "pressure" and "style" of the pit bull bite and the acute injuries that result from it:
"Dog biting pressures exert considerable force of about 200 to 400 pounds per square inch, and even higher (at 1800 pounds per square inch) among pit bulls. They may bite repeatedly and shake the victim vigorously, causing more trauma or "hole and tear" effect. This explains a significant portion of injuries presenting as complex lacerations and avulsions. Encountered injuries involved mostly complex wound types that involve nonlinear wound patterns and include the deeper tissues such as muscles and fat."
To learn more about this study, please see a related news article published in March by US News and World Report, "
Dog Bite Risk for Kids Greatest in Summer: Family pets caused 27% of injuries; Pit bulls most often involved in attacks, study finds.
" The
first page of this study
can be found at the DogsBite.org Scrib web page. To purchase a copy of the full study, please visit the Otolaryngology -- Head and Neck Surgery Journal website. The cost of this study is $31.50.
Get Dog Smart with Diggity the Dog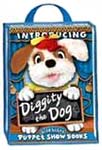 There are a variety of dog bite safety websites. DogsBite.org has chosen to highlight "
Get Dog Smart with Diggity the Dog
," created by artist, Lisa Leleu. On October 26, 2003, Lisa's 9-year old son Benjamin, was attacked by a "friendly neighborhood" pit bull-mix that had been temporarily tied to a fence. The dog owner had told Ben's father that it was okay to leave the boy alone with the dog. In short order, Ben suffered a violent attack to the face by the dog requiring over 300 stitches.
View:
Ben's Story
| View:
Ben's Injury Photos
(graphic)
Diggity the Dog is a puppet show book that tells the story of Ben's tragic attack by Diggity the Dog. The book offers 17 vital safety tips for parents and children. There is an online slide show demonstration of the book, as well as a video. DogsBite.org urges parents and dog owners to "Get Dog Smart" by reviewing these demonstrations, as well as by purchasing
Diggity the Dog
(designed for ages 3 and up) for yourself or as a gift to a fellow parent or dog owner.

DogsBite.org recently received a note from Lisa about Ben's current status, 6 years after the attack: "Ben is doing great today -- we are so lucky! He still has permanent scars that remind me everyday of what happened and the need for better laws."
1
A 2003 article published by the American Partisan and written by Carol Wade targets why senior citizen organizations have failed to respond to the dog bite problem, which disproportionately affects elderly persons: "The Pet Food Industry has convinced the ever-growing AARP to promote dogs. There have been reports that the "overblown" AARP's Legislative Committee members have taken bribes from the Pet Food Industry."
2
The Centers for Disease Control and Prevention is not a non-biased institution. Likely due to pressures from animal groups -- such as the American Veterinary Medical Association (AVMA) -- the CDC has stopped tracking fatal dog attacks by breed. Evidence that the AVMA, a national organization that opposes pit bull laws specifically designed to prevent horrific pit bull maulings, has influenced the CDC can be seen directly on the CDC's dog bite prevention page.
Labels: Dog Bite Statistics, Dog Bite Study, National Dog Bite Prevention Week

Please donate to support our work
DogsBite.org is a 501(c)(3) tax-exempt public charity organization. Learn more »
posted by
|
permalink
|
12 comments
|

email
|

blog rss
|

comment rss

12 comments:

Anonymous | 5/17/2009 11:54 PM | Flag
What worries me are some vets and others who are saying that children are being badly hurt because they haven't been "educated to deal with an attack" or cope when it is happening

Dog bite prevention techniques and coping mechanisms work fine with MOST kinds of dogs.

NOT with pit bulls however.
Because of the high prey drive (among other things) once a pit has decided to attack, it is kill or be killed. The usual tactics (like curling up in the fetal position) do NOT deter a pit. Only a gunshot or some kind of weapon from a good samaritan will stop a pit bull attack.

Pit bulls attack UNPROVOKED. Nothing that any child is doing is inviting pit bull attacks for the most part. Pit bulls attack children because they see them as prey. Prey to KILL, not just bite.

And their body structure has been carefully bred by humans to maximize injury and strength to be most effective during attacks.

We have instances of children waiting for a school bus, standing still, getting hunted down from a pit bull down the street. And many more like this!

NO AMOUNT OF EDUCATION WILL PREVENT OR STOP A PIT BULL ATTACK. Only locked fences that the pit bull cannot scale or dig under, muzzles, and strict regulations for pit bulls will prevent pit bull attacks.

FoolMeOnce | 5/18/2009 11:10 AM | Flag
I agree with you 100%. It does frighten me that so many veterinarians will claim that NO DOG ATTACKS UNPROVOKED. That all dogs give warning signs. That pits are just like any other dogs. I even read a vet quoted as saying, "The only difference between breeds of dogs is the way they look." When I hear/read veterinarians spouting that crap, I suspect that they are drinking the Koolaid.

Trigger | 5/18/2009 1:51 PM | Flag
The AVMA is the central "maker" of the koolaid. Don't forget the "Dos and Don'ts" published by the AVMA Professional Liability Insurance Trust in 1993. Here's just some of what they wrote about pit bulls:
-----
"Uniquely, pit bulls do not show any threatening signs of aggression. Studies on aggression in dogs lead one to conclude that chaining a dog makes the animal more aggressive toward people."

"...Some people reinforce oral commands by clapping their hands. This will get the dog's attention, but it may excite the animal. It may be risky to clap the hands when approached by a pit bull."

"...In Newport News, Virginia, one pit bull was killed by a police officer and another was shot in the shoulder. The dogs had first attacked and bit a boy who was pushing a lawn mower. The remaining injured dog then went after a woman who was riding a bicycle with her husband. An observer watering his lawn clapped his hands to attract the dog's attention. He was attacked."

"Pit bull bites are associated with much greater damage to underlying vessels, nerves, muscles and other tissues. Emergency personnel were held at for at least 25 minutes in Dayton, Ohio, by two pit bulls before the owner arrived. The victim died after he was transported to the hospital."

"Pit bull bites should be considered to be more serious than other dog bites since these animals inflict damage to underlying vessels, nerves and other tissues."

"...In one veterinarian hospital, a pit bull attacked another dog in the waiting room and the owner of the attacked dog had a heart attack."

"Pit bulls, wolves and wolf-hybrids are very capable in opening kennel doors. There are double latches or locks that help prevent dogs from jumping against such devices and opening them. These animals are also able to climb cyclone fencing and scale other enclosures."

"...Pit bulls, however, may not display obvious threatening behavior toward other animals or people. A large vicious dog, pit bull or wolf may be extremely dangerous and it would be difficult to justify such a risk in court. Two veterinarians were sued when a pit bull attacked a 16-year old student who was working as a kennel man. The lawsuit asked $15 million in compensatory damages and $32 million for punitive and other damages."

See excerpts of document:
-------
http://www.scribd.com/doc/13625481/Excerpts-Dos-and-Donts-Concerning-Vicious-Dogs-by-Donald-Clifford

See full document:
-------
http://www.scribd.com/doc/13616704/Dos-and-Donts-Concerning-Vicious-Dogs-by-Donald-H-Clifford

Anonymous | 5/18/2009 4:29 PM | Flag
The AVMA long ago lost any credibility they may have had. They are in bed with every major animal industry lobby, including invasive animal testers and factory farms. They are neither interested in protecting the public interest or animal welfare. All they care about is how to line their own pockets by selling out to the highest bidder and hiding behind the cloak of education.

koolaidking | 5/18/2009 6:57 PM | Flag
The AVMA is also against all spay neuter laws (for all breeds). They have a vested interest in keeping the animal population as high as possible (more animals to treat and to euthanize).

"The AVMA policy on "Dog and Cat Population Control" has been revised to express the Association's nonsupport for regulations or laws mandating spay/neuter of privately owned, nonshelter dogs and cats."

http://www.avma.org/onlnews/javma/may09/090515j.asp

Anonymous | 5/18/2009 8:15 PM | Flag
AVMA supports puppy mills and breeders

They work hand in hand with the AKC, which makes its primary income from puppy mill registrations

Google akc puppy mills

This is why the AVMA supports puppy mills and abuse.

It's all about the money! BLOOD money

Anonymous | 5/19/2009 5:38 AM | Flag
It's becoming clear that the Petcare industry is behaving like the Tobacco and Asbestos industries back in the 50's and
60's.

They do not want regulation nor liabilty! They should be putting pressure on the Pit Bull community to breed safer dogs! Scoundrels!!

FoolMeOnce | 5/19/2009 6:38 AM | Flag
I became ill looking at little Ben's "wounds." I checked out the article on dog bite week, and it has this statement:

"If bitten, request proof of rabies vaccination from the dog's owner, get the owner's name and contact information, and contact the dog's veterinarian to check vaccination records. Then immediately consult your doctor. Clean bite wound(s) with soap and water as soon as possible."

It needs an addendum: "In the event of a pit bull mauling, use a tourniquet to prevent any loss of limbs, find any missing body parts and put them on ice, and call a life-flight helicopter!"

FoolMeOnce | 5/19/2009 6:45 AM | Flag
I was very happy to see a comment from a veterinarian that agrees pit bulls are the problem, not just bad owners. Check out the last comment:

http://www.straight.com/article-215012/pit-bull-stereotypes-rooted-fact

There are also comments from Katie Ernst, who was once co-director of Hugabull. Prepare to have your head explode if you read her comments. Note how quickly she turns to insulting and inflammatory language.

Anonymous | 5/20/2009 1:41 PM | Flag
Too bad the USPS still pushes "responsible" ownership instead of preventative laws designed to protect their workers from serious pit bull maulings.

Mail carrier attacked by pit bull suing
----
http://www.morningjournal.com/articles/2009/05/20/news/mj1068827.txt

MAY 20, 2009 - "Bridgett Burke filed suit against Bridget C. Dorsey, Tina G. Dorsey, Clifford W. Dorsey, Richard T. Phillips and Carole Anne Phillips on Monday in Lorain County Common Pleas Court. Burke alleges she was attacked on the Phillips' 106 California Ave., Lorain, property, where the Dorseys resided, while delivering mail. The pit bull caused Burke injuries, including a permanent scar, the suit stated. She is requesting more than $1 million in punitive damages and $25,000 in compensation for medical expenses."

Anonymous | 5/21/2009 1:00 PM | Flag
"Responsible" is just an empty lobbying word for the AKC. It is meaningless, and that's why they use it. To create fuzziness and vagueness so they can keep doing what they are doing

AKC makes most of its money from puppy mill registrations. If AKC cared about "responsibility" then they would not be anywhere near the puppy mill business.

AKC supports chaining dogs outdoors 24/7. Sound responsible?

AKC supports breeders being able to kill their own stock any way they want, without requiring veterinarian administered euthanasia.

Most AKC breeders also don't report or pay taxes on their breeding income, which they are supposed to do by IRS and state laws. Not too responsible!

What AKC means by responsible is "no laws" so they can keep being irresponsible.

Anonymous | 5/23/2009 4:48 AM | Flag
The other thing the AKC wants is a tax payer funded multi-billion dollar Aniaml Control infrastructure used to clean up their "product".