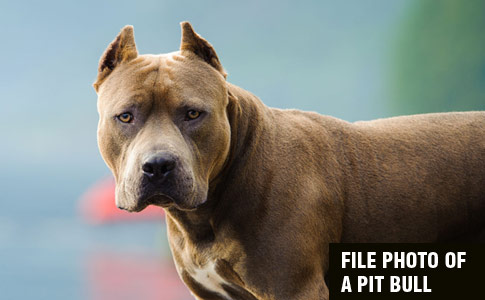 A pit bull killed a 46-year old man during a loud argument in Joliet, Illinois.
Pit Bull Kills Man
Joliet, IL - A 46-year old man is dead after being attacked by a pit bull in Joliet, marking the sixth fatal dog mauling in Illinois this year. The vicious attack occurred in the 1200 block of Arthur Avenue. A Joliet Fire ambulance crew was called to the home at 6:27 pm Thursday for a dog bite incident, according to fire chief Greg Blaskey. The man was found on the floor with no pulse. He was not breathing, and a Joliet police officer performed CPR on the victim, reports Patch.
"The patient was a victim of a dog mauling, from a single dog, and suffered traumatic cardiac arrest due to the injuries caused by dog bites," Blaskey said. "The victim did not live at this residence, but was there to visit." Joliet police were called to the home just after 6:20 pm. The man, identified as Erick J. Quinn of Joliet, was unresponsive and had sustained "extensive injuries to his body." Quinn was transported to Silver Cross Hospital, where he was pronounced dead.
According to police, two people at the house "were involved in a loud argument. The dog, a 5-year-old pit bull terrier named Kaedo, became agitated by the argument. (Quinn) attempted to intervene to calm the dog, at which time the dog began repeatedly attacking the victim." Other people in the home tried to free Quinn from the pit bull, but were unsuccessful. "The dog eventually let go and the occupants were able to secure the dog prior to calling 911," police said.
The Chicago Tribune reports the dog became agitated when two women in the home Quinn was visiting started arguing over money. When Quinn stepped into calm the dog, which lived at the residence, the canine turned on him, Joliet Police Sgt. Dwayne English said. An autopsy conducted Friday showed that Quinn died of multiple injuries due to a dog attack. Police have not had previous contact at the home on Arthur Avenue for reports about the dog, English said.
Illinois Fatal Dog Maulings
Quinn's death marks the fourth fatal pit bull mauling in a 40-mile area within Will and Cook counties during an 11-month period. In February, a family pit bull attacked four family members, killing one, in Plainfield. That attack also began with an argument. In June, a woman was killed by her son's four pit bull-cane corso mixes in Country Club Hills. In July, 1-year old Marley Wilander was killed by a pit bull in the middle of the night during a Fourth of July party, also in Joliet.
Between May and August, canines killed two other individuals in Illinois. In May, 52-year old Lisa Urso was killed by her "Shorty bull," named "Blue Bear" that had a history of violence in Ingleside. In August, 61-year old Stephen Pemberton was killed by his stepson's two pit bulls in Belleville. Of all six Illinois victims, 83% were 25-years and older. 83% of these deaths involved pit bulls and 63% were carried out by family pit bulls. No criminal charges were brought after any death.
View the DogsBite.org Google Map:
Illinois Fatal Pit Bull Maulings
.
Related articles:
02/11/20: 2020 Dog Bite Fatality: Pit Bull Attacks Four Family Members, Killing One, in Illinois
06/05/20: 2020 Dog Bite Fatality: 70-Year Old Woman Mauled to Death by Dogs in Illinois
07/06/20: 2020 Dog Bite Fatality: Pit Bull Kills Toddler During July 4th Party in Joliet, Illinois
---
Baseline reporting requirements:
Law enforcement departments across the United States should release consistent "baseline" information to the media and the public after each fatal dog mauling,
including these items
.