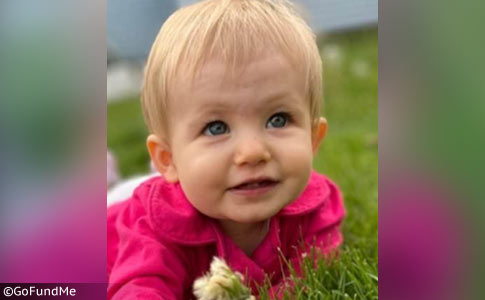 Marley Wilander, 17-months old, was killed by a pit bull during a July 4th party.
Dog Kills Toddler
Joliet, IL - Another baby is dead after being mauled by a pit bull in the middle of the night. Joliet Fire and Rescue was dispatched to a home in the 1800 block of Cumberland Drive about 1:30 am Sunday. When responders arrived, the child's father was holding the 17-month old girl, who had been attacked by a pit bull-mix, Joliet Fire Chief Greg Blaskey said. She was transported by ambulance to AMITA Health Saint Joseph Medical Center in Joliet, where she later died.
The baby was sleeping at the time of the attack, but the dog managed to get into the room and attack the baby, reports WJOL. The toddler's family was visiting the Joliet area home during the July 4th weekend. The child's family lives in Aurora. Earlier this year, 25-year old Devin White was killed by his own pit bull in Plainfield, about 6 miles away. White's pit bull also attacked three other family members, requiring all four victims to be transported by ambulance to local hospitals.
Middle of the Night Attacks
We do not track the time of a fatal attack. Perhaps we should, especially for ages 0-2 years old. In January, Dayton, Ohio police were dispatched to a home "just before midnight" after a family pit bull killed a 4-month old girl. In 2018, a similar attack to Joliet occurred in Florida. Citrus County deputies were dispatched to a home at 12:20 am after a pit bull climbed into a baby's crib and killed a 6-day old infant. At the time of the attack, the infant was visiting her grandparent's home.
There are many adults killed in "middle of the night" attacks by dogs too. In April, roommates of Frederick Shew, 70, awoke to him being attacked by his mastiff at 10:30 pm. In 2019, Dustin Bryan, 21-years old, was found dead at 7:00 am after being mauled by two pit bulls; he had spent the night sleeping on the owner's couch. Homer Utterback, 52-years old, was attacked by his own pit bull at 1:00 am. Homer had been asleep in bed when his girlfriend "heard something fall."
In 2019, a Central Texas pediatric study reported that parental presence was reported in 43.6% of cases involving serious dog bite injury to patients ≤ 18-years old. The study also found that most injuries occurred during the evening hours, 46.8% (from 5:00 pm to 8:59 pm). During the night hours (from 9:00 pm to 4:59 am), only 13.8% of injuries occurred. This may be true in fatal dog maulings too. Recently, however, there seems to be a number of late night fatal dog attacks.
Toddler in Playpen Upstairs
CBS Chicago reports more information. During a July 4th party, two dogs got loose and at least one of the dogs attacked the baby while she was in a playpen. The baby's parents had placed the toddler in a playpen in an upstairs bedroom. Two pit bull-mixes had allegedly been "locked" in the basement, but "somehow got out" during the night.1 About 1:30 am, the homeowner heard noises upstairs and went to investigate. They found one of the dogs attacking the toddler and called 911.
Also, while we were writing this post, Joliet Patch significantly updated their report. The toddler has been identified as Marley Wilander. "At sometime during the night, the dogs got out of the basement," Joliet police said. "The homeowner went upstairs to investigate a noise and located one of the dogs actively biting the toddler. The homeowner was able to separate the dog from the toddler and called 911." The dog involved will be euthanized later today and tested for rabies.
The second dog, also reported to be a pit bull-mix, was not seized by authorities, according to Will County Health Department spokesman Steve Brandy. It is an older dog and there is no reason to believe it was involved in the upstairs bedroom attack, Brandy indicated to Joliet Patch. Marley died around 3:30 am Sunday, according to Joliet police. The Will County Coroner's Office stated Monday afternoon that Marley sustained "multiple injuries due to being wounded by a dog."
7/6/20 @ 2:30pm - The Coroner's Office is reporting the death of Marley Wilander, a 1 year old female resident of Aurora, IL who was pronounced deceased on 7/5/20 at 3:33am at the Amita Health St. Joseph Medical Center ER in Joliet, IL. The Joliet Police Department is investigating the incident. An autopsy has been performed today that showed the decedent sustained multiple injuries due to being wounded by a dog. The final cause and manner of death will be determined at a later date. - Will County Coroner, Patrick K. O'Neil
View the DogsBite.org Google Map:
Illinois Fatal Pit Bull Maulings
.
1
Dogs do not get loose after being "locked" in a room, unless they bust through the door.
Related articles:
02/11/20: 2020 Dog Bite Fatality: Pit Bull Attacks Four Family Members, Killing One, in Plainfield
06/24/19: Central Texas Pediatric Study: Pit Bulls Inflicted the Highest Prevalence and Severity...
11/14/18: 2018 Dog Bite Fatality: Family Pit Bull Fatally Attacks Newborn in Crib in Citrus County
---
Baseline reporting requirements:
Law enforcement departments across the United States should release consistent "baseline" information to the media and the public after each fatal dog mauling,
including these items
.