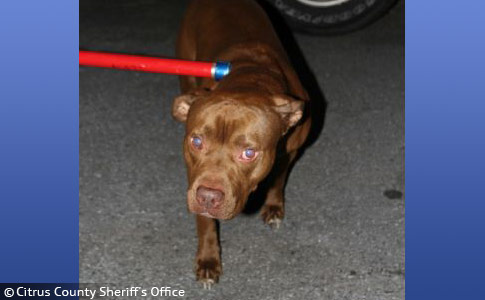 The Citrus County Sheriff's Office released a photo of the fatally attacking pit bull.
Pit Bull Kills Newborn
Dunnellon, FL - A 5-day old infant is dead after a family pit bull attacked the newborn while lying in her crib. The attack happened on West Ranchetta Street in Dunnellon at about 12:20 am Sunday. Citrus County Sheriff's deputies arrived to a family member performing CPR on the newborn. A deputy proceeded to take over by performing chest compressions. The infant at that time was still slightly responsive, according to a report obtained by the Citrus County Chronicle Wednesday.
The newborn was airlifted to Bayfront Health Seven Rivers, where she was pronounced dead about 1:40 am Sunday, according to the report.
A female relative in the residence told deputies the pit bull leapt onto the bed, which was next to the bassinet where the infant was lying, and began attacking the infant while she was in a different room, states the report. Citrus County Sheriff's spokeswoman Lindsay Blair said Wednesday that no criminal charges are expected to be filed in connection to her mauling death. Detectives are still waiting for the medical examiner to determine the official cause and manner of death of the baby.
This newborn's death marks the fourth death of a child due to a dog mauling in Florida this year. 75% of these victims were less than a year old. In May, Liana Valino, 9-months old, was killed by a family pit bull while under the care of her grandmother in Miramar. In July, Jaelah Smith, 6-years old, was killed by a pit bull her family had been dog sitting in Jacksonville. In October, foster baby Khloe Williams, 7-months old, was killed by her babysitter's recently adopted dog in Clearwater.
The last recorded fatal dog mauling in Citrus County occurred in 2014. Christopher Camejo Jr., 2-years old, was killed by his grandfather's rottweilers. The boy was alone when the attack occurred, and was dead when emergency medical responders arrived. The boy was bitten over 200 times by the rottweilers. The boy's family had been staying at the grandfather's home when the dogs attacked. Both parents were later charged with negligence and third-degree murder.
View the DogsBite.org Google Map:
Florida Fatal Pit Bull Maulings
.
Related articles:
10/22/18: 2018 Dog Bite Fatality: Adopted Dog Kills Baby in Foster Care in Clearwater
07/18/18: 2018 Dog Bite Fatality: Child Dies of Injuries from Dog Attack in in Jacksonville
06/07/18: 2018 Dog Bite Fatality: Infant Killed by Family Pit Bull in Miramar, Florida