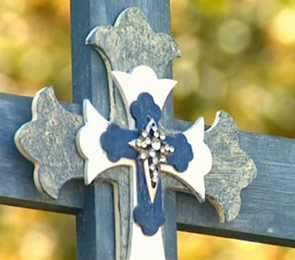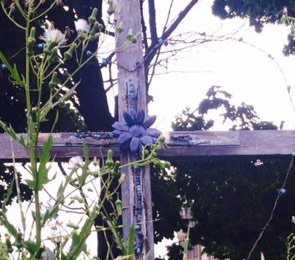 Out of the Blue
Grand Rapids, MI - Artist Joan Marie Kowal created an entry for the Grand Rapids ArtPrize 2014 competition titled, "Out of the Blue." It is the nation's first physical memorial for victims of fatal dog attacks. Nearly 30 differently decorated crosses in multiple shades of blue each represent a person killed by a dog. She titled the entry, Out of the Blue, because that is how fatal dog attacks often occur. Kowal hopes to raise awareness about these victims and to prevent future tragedies.
"Putting faces on it is powerful. It brings up something that people don't always think about." - Christa Beukema, Out of the Blue observer, WZZM13.com
The row of crosses at Calder Plaza represent individuals killed by dogs so far in 2014. As one might expect, the majority of crosses represent people mauled to death by pit bulls. As of September 26, pit bulls are responsible for 72% of the total recorded fatal dog attacks this year. Last year, pit bulls were responsible for 78%. Two fatal dog mauling victims from Michigan, Craig Sytsma (Metamora Township) and Holden Garrison (Davisburg) are represented in the exhibit.
Viewers are encouraged to express their sympathy, respect and support for the victims and their families by leaving teddy bears, flowers or memorial decorations in the designated heart-shaped memorial space. "These people need love," said Kowal. "We cannot keep forgetting about these people." Kowal said that a pastor will be at the memorial on Saturday at 6 pm to lead a prayer for dog attack victims. On Sunday, a trio of misguided pit bull owners plan to protest the memorial.1
There are 1,537 works of art in this year's ArtPrize contest. The event runs from September 24 to October 12. For 19 days, three square miles of downtown Grand Rapids, Michigan is dedicated to the urban exhibit; the event is free and open to the public. Two grand prizes worth $400,000 and eight category awards worth $160,000 are awarded, half determined by public vote and the other half by a jury of art experts. On the opening day, ArtPrize viewers cast nearly 15,000 votes.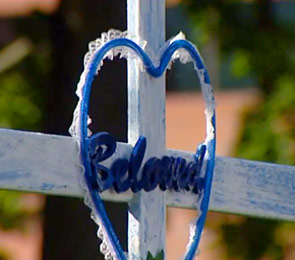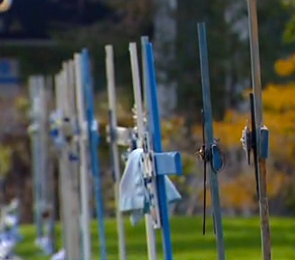 1
The photograph of these women "gloating" with their pit bulls at an exhibit honoring victims killed by dogs, many by pit bulls, is extremely disturbing. From left to right in photo, Kent County Animal Control Officer Rachel Jensen, Emily Sanders and Randi Jayne. However,
narcipitism, is a well-documented characteristic among pit bull owners.
Related articles:
05/30/15: Out of The Blue Fatal Dog Attack Memorial Reemerges in Columbus, Ohio
09/13/14: Criminal Trial: Couple Charged with Second-Degree Murder After Cane Corsos...
08/02/14: 2014 Dog Bite Fatality: Two Cane Corsos Brutally Attack and Kill Jogger in Metamora...
06/11/14: 2014 Dog Bite Fatality: Family Dog Kills Baby in Michigan; Father Had to 'Pry Open'...
05/06/14: Video: Columnist Barbara Kay on How to Know You're a Pit Bull 'Fanatic'
10/24/13: Kaylie's Candlelight Vigil for Victims of Dangerous Dogs Approaches