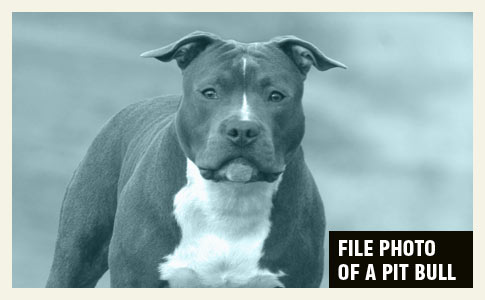 Darius Tillman, 15-days old, was mauled to death by a family pit bull.
Victim Identified
UPDATE 06/03/11: In February, baby John Doe was killed by a pet pit bull in Kalamazoo. Several days later, the story fell silent. The Kalamazoo Gazette recently obtained a copy of the police report under the state Freedom of Information Act. A Kalamazoo Department of Public Safety report shows that detectives sought involuntary manslaughter charges against the child's mother, Mallory Wildig, but the county prosecutor's office declined to pursue.
Darius Tillman was 15-days old at the time of his death.
The document mirrors what was previously reported in the media, but offers new details, such as the 1-year old dog, named Buster, was well fed prior to the incident. According to the report, an autopsy performed on the dog that day showed its stomach "was full of food."1 Wildig, though, states in the report that she discovered her baby "mauled and partially consumed by Buster." The report also confirmed that the door to the child's bedroom did not latch.
There was no mention of the household's other pit bull.
02/21/11: Pet Pit Bull Euthanized
Wood TV reports that the "infant-killing" pit bull has been euthanized. This is not the first infant-killing pit bull in the State of Michigan. Leonard Lovejoy Jr. captured headlines in 2009, as did baby John Doe in 2004 and Brian Lillis in 1987. In the latest variance, the mother placed the infant in a bassinet then laid down in another bedroom. While napping, one of the pit bulls pushed open the baby's bedroom door, dragged him from the crib and mauled him to death.
View Related video
02/21/11: Tragic Accident Cited
In yet another instance of an infant killed by a family pit bull, law enforcement officials are wrongly calling this preventable death a "tragic accident." Kalamazoo Public Safety Chief Jeff Hadley said, "These cases are very difficult, and obviously, it's a very emotional topic. But sometimes ... it's just a tragic, tragic accident." The loss of this baby's life is indeed tragic, but it was no accident.2 (A single mother with an infant, toddler and two pit bulls in a small home?)
02/19/11: 10-Day Old Baby Killed
Kalamazoo, MI - In a developing story, a 10-day old baby boy was killed by the family pit bull at a house on the 400 block of Garfield Avenue. According to a police press release, the newborn suffered extensive trauma and was pronounced dead at the scene. The name of the victim and his family members are still being withheld pending an investigation. The infant's mother, his 2-year old sibling and two pit bulls were at the residence at the time of fatal incident.
View the DogsBite.org Google Map:
Michigan Fatal Pit Bull Maulings
.
Related articles:
03/01/11: Kalamazoo Radio Host Talks with Assistant City Attorney About Recent...
01/31/11: Parent of Mauling Victim Responds to North Carolina Pit Bull Fatality
10/25/10: 2010 Fatality: "Very Loving" Pit Bull Kills Baby in Jacksonville Home
04/15/10: 2010 Fatality: Pit Bull Kills 7-Day Old New Port Richey Boy
02/24/10: 2010 Fatality: 5-Day Old Infant Killed by Family Pit Bull
08/18/09: 2009 Fatality: Infant Killed by Pet Pit Bull in Hardy County