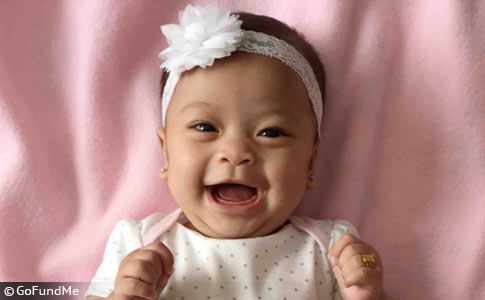 Kamiko Dao Tsuda-Saelee, 6-months old, was killed by her family pit bull in Las Vegas.
Mauling Victim Identified
UPDATE 05/09/17: The Clark County Coroner's Office identified the 6-month old baby as Kamiko Dao Tsuda-Saelee. On Monday, Kamiko had been playing in a baby walker near the family pit bull when it suddenly attacked her. The mother was able to stop the attack, but the baby was already seriously injured. Kamiko's mother rode with her in the ambulance to Centennial Hills Hospital Medical Center, where she was later pronounced dead. No criminal charges are anticipated.
On Tuesday afternoon, the 9-year old male pit bull was euthanized, according to Clark County spokesman Dan Kulin. The owner surrendered the dog and it will not be rehomed. "A dog that has attacked and killed a person would not be allowed to be adopted," Kulin said in a statement.1 The county also released two photographs of the dog. The infant's grandfather, Ryan Tsuda, told the Las Vegas Review-Journal, "We are all heartbroken." Tsuda declined to comment further.
Kamiko is the 513th American killed by a pit bull since we began collecting this data on the Fatal Pit Bull Attacks Archival Record website. Her death also marks the 210th child mauled to death by a pit bull since 1980, when the insidious pit bull problem began to emerge. Like many shelters in the U.S., The Animal Foundation in Las Vegas, which quarantined the dog for Clark County Animal Control, is brimming with unwanted pit bulls. Any takers for Jagger, posted earlier today?
Believing the false myth, "It's all how you raise 'em," kills a dozen children every year and maims over a thousand more. - DogsBite.org
The mother of the baby, Layla Tsuda, is originally from Kaneohe. She spoke to KHON2, which covers Hawaii. The baby's family clarified that the dog, named Mana, is a "purebred pit bull" and had lived with the family for nine years. The family was shocked at the dog's violence -- the dog was considered a good family pet. "I have no words to explain my pain," Layla said. Layla joins 210 other families who have lost a precious child due to unpredictable violent pit bull aggression.
---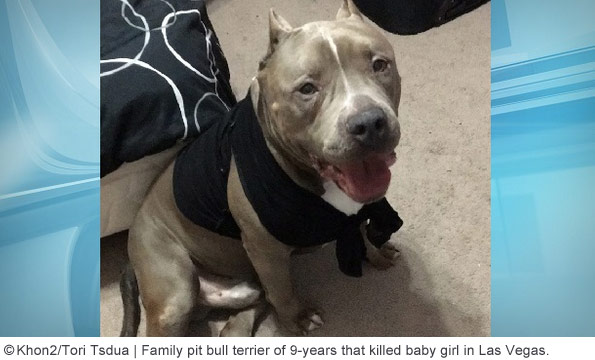 ---
05/08/17: Family Pit Bull Kills Baby
Las Vegas, NV - A family pit bull-mix mauled a baby to death in the northwest Las Vegas Valley, police said. The Metropolitan Police Department was dispatched to a home in the 9100 block of Brilliant Prairie Court, near West Centennial Parkway just after 1 pm, police spokeswoman Laura Meltzer said. The baby was transported in an ambulance to Centennial Hills Hospital, where it was pronounced dead. At the time of the fatal attack, the baby's mother was the only adult home.
"I think it's kind of ridiculous. I mean, how does it happen? How do you leave a dog with a baby? How does it happen?" - Neighbor Ron Tripodi
"It's an absolute, true tragedy," Las Vegas police spokesman Larry Hadfield said. "You have a family that's going to be grieving for today and the rest of their lives." The family dog that killed the baby is a "pit bull terrier-type mix," Hadfield said. Animal control took the dog into custody. As is standard with any young child's death, Metro's abuse and neglect division will investigate potential criminality, he said. The county coroner's office will release the identity of the baby in the future.
An evening update by the Las Vegas Review-Journal included more details. The baby had been playing in a baby walker near the dog when the animal suddenly attacked the child. The baby's mother was able to stop the attack, but not before significant injuries had been inflicted. The newspaper also noted that as of late Monday, The Animal Foundation, which provides sheltering services for Clark County Animal Control, would not allow the pit bull-mix to be photographed.
Clark County Dog Bite Fatalities
This baby's death marks the fifth deadly dog attack in Clark County, Nevada since 2008. All five dog bite fatality victims were children ages 9-years old or younger. Pit bulls and their mixes were responsible for 80% (4) of these child deaths. The victims include: Derion Stevenson, 9-years old (Las Vegas, 2016), Jeremiah Eskew-Shahan, 1-year old (Henderson, 2012), Alexander Adams, 2-years old (Las Vegas, 2008) and Cenedi Kia Carey, 4-months old (North Las Vegas, 2008).
Top Counties in Dog Bite Deaths
The below chart shows the U.S. counties with the highest number of fatal dog attacks recorded by DogsBite.org from January 1, 2005 to May 8, 2017. Our chart does not measure the incidence rate per 100,000 population, but we provided the estimated populations if you would like to do those calculations. There is no doubt that of this grouping of 16 jurisdictions, Dorchester County, South Carolina has the highest rate. American Indian Reservations are excluded from the list.
Leading U.S. Counties in Dog Bite Fatalities (2005 to Present)
Deaths
Jurisdiction
Estimated Population
7
Harris County, TX (Houston)
4.44 million
7
Riverside County, CA
2.32 million
7
Wayne County, MI (Detroit)
1.76 million
6
Maricopa County, AZ (Phoenix)
4.08 million
6
Miami-Dade County, FL
2.66 million
6
San Bernardino County, CA
2.11 million
6
San Diego County, CA
3.26 million
5
Bexar County, TX (San Antonio)
1.85 million
5
Clark County, NV (Las Vegas)
2.07 million
5
Cook County, IL (Chicago)
5.24 million
5
Dallas County, TX
2.51 million
5
Los Angeles County, CA
10.12 million
5
New York City, NY
8.49 million
4
Dorchester County, SC
148,469
4
Fresno County, CA
965,974
4
Montgomery County, OH
533,116
---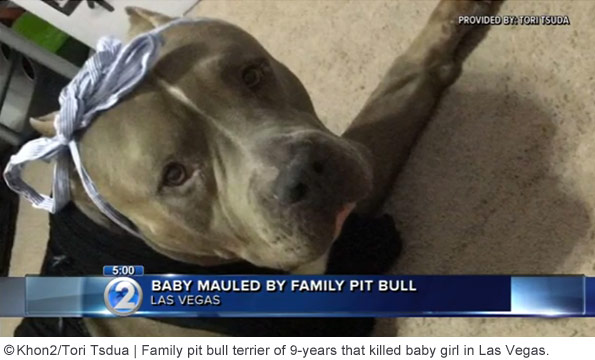 View the DogsBite.org Google State Map:
Nevada Fatal Pit Bull Attacks
.
1
Quite an interesting statement given the fiasco of "Onion" the mastiff-mix, a dog that killed a 1-year old on his Birthday in Clark County in 2012 then after two years of legal wrangling, was shipped to an out-of-state rescue.
Related articles:
03/24/17: 2017 Dog Bite Fatality: 8-Month Old Baby Boy Killed by Family Pit Bull...
08/19/16: 2016 Dog Bite Fatality: Family Pit Bull Kills 'Visiting' Child in Las Vegas
04/29/16: 2016 Dog Bite Fatality: Pit Bull Rehomed by Humane Society Kills Newborn Baby