Interchangeable Breed Labels in Miami-Dade County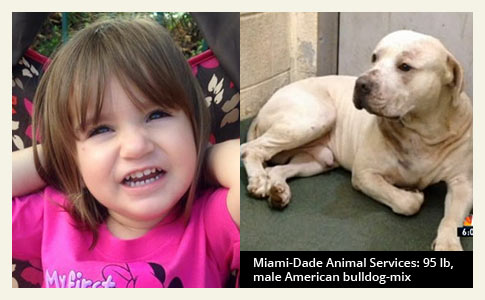 Nyjah Espinosa was killed by a pit bull-type dog while visiting her father's home.
Pit Bull-Mixes Routinely Mislabeled "Bulldog-Mixes"
UPDATE 12/30/15: After a serious or fatal attack, there is rarely a "pit bull-mix" designation in Miami-Dade County, which has banned pit bulls since 1989. The labeling is either a purebred pit bull, where the ordinance must apply, or a mix that excludes pit bulls, such as the following assigned by Miami-Dade Animal Services after 3 recent fatal attacks: American bulldog-lab mix, American bulldog-mix (unspecified), lab-mix (unspecified) and terrier-mix (woefully unspecified).
Three people have been killed by variances of Miami-Dade's "breed labeling game," primarily American bulldog-mixes, since August 2014.
In a jurisdiction that bans pit bulls and pit bull-mixes, Miami-Dade Animal Services (MDAS) assigns these suspicious labels to a dizzying number of dogs available for adoption, many which should be in violation of the county ban ordinance. Also noted are the unrealistic weights of the three adult male alleged American bulldog-mixes, which show a weight common of an adult male pit bull, not an adult male American bulldog, which typically falls between 70 and 130 pounds.
The first dog, Bruce, came into the shelter as an American Staffordshire terrier on Sept. 27, according to social media posts -- explicitly prohibited by the ordinance. By Nov. 30, while still at the MDAS shelter, the dog magically became an "American bulldog-mix." On the second row, the first dog, Jonny, was admitted to MDAS as a "Pit bull terrier-mix" on November 2, according to social media posts -- also prohibited by the ban ordinance. By December 14, it was labeled simply a "Terrier." By December 22, Jonny magically became a "Terrier and bulldog" mix.
---
Reviewing the Ordinance Language
The Miami-Dade County pit bull ban ordinance is quite clear. Pit bull-mixes are indeed included and specifically part (c) states, "Technical deficiencies in the dog's conformance to the standards described in subsection (b) shall not be construed to indicate that the subject dog is not a 'pit bull dog' under this article." MDAS is clearly assigning the pit bull breed designation by essentially using a "dog show conformation requirement," which is not what the ordinance intended.
Furthermore, as noted above, some dogs like Bruce and Jonny were initially designated by MDAS as an American Staffordshire terrier or pit bull-mix, both prohibited by the ordinance, when admitted into the shelter. Then later assigned an American bulldog-mix or terrier-bulldog mix label by MDAS, designations that fall outside of the ordinance and allow the dogs to be adopted out to the public. The interchangeability of these breed labels is often just that: totally interchangeable.
Sec. 5-17.1. - Definition and identification of a pit bull dog.

(a) The term "pit bull dog" as used within this article shall refer to any dog which exhibits those distinguishing characteristics which:

(1) Substantially conform to the standards established by the American Kennel Club for American Staffordshire Terriers or Staffordshire Bull Terriers; or

(2) Substantially conform to the standards established by the United Kennel Club for American Pit Bull Terriers.

(b) The Standards of the American Kennel Club and the United Kennel Club referred to in subsection (a) above, are attached hereto and incorporated herein by reference as "Exhibit A" and shall remain on file with the Animal Services Division of the Public Works Department of Miami-Dade County.

(c) Technical deficiencies in the dog's conformance to the standards described in subsection (b) shall not be construed to indicate that the subject dog is not a "pit bull dog" under this article.

(d) Testimony by a veterinarian, zoologist, animal behaviorist, or animal control officer that a particular dog exhibits distinguishing physical characteristics of a pit bull shall establish a rebuttable presumption that the dog is a pit bull.

(Ord. No. 89-22, § 3, 4-4-89)
Enforcers of the Pit Bull Ban
Section 5-17.5 of the pit bull ban ordinance designates MDAS as the enforcers. "It shall, be the duty and responsibility of all Miami-Dade County Animal Control Officers to enforce the provisions of this article," states the code. The very department that overly indulges in the "breed labeling game" to apply the ban to fewer dogs. This continues to be the case after the longstanding pit bull ban was upheld by the public in a countywide primary vote in 2012 by a 63% to 47% margin.
As pointed out by Sputnik in our comment section, MDAS was formerly part of the Dade County Public Safety Department then shifted to the Animal Care and Control Division under the Public Works Department. In 2001, the Miami-Dade Police Department took over and in October 2005, Animal Services Department (ASD) was created as a stand-alone entity with the core mission of "caring for the animals in its custody." Any mission of public safety was purged 10-years ago.
The "Pit" Bulldog Shared Heritage
What do dogfighters and pit bull experts call their pit bulls? "Bulldogs." What were pit bulls mainly called prior to the 1970s? "Bulldogs." This is because "bulldog" in this context refers to the earliest bull baiters (bulldogs) crossed with terriers, to create the ultimate canine warrior in the dogfighting pit. These dogs became the modern day pit bull terrier. The American bulldog, formerly named the "American pit bulldog" is just another iteration of this early "bulldog" breed that is now extinct.
The terms "bulldog" and "original bulldog" always mean the original baiting bulldog, of which several gripper breeds descended from.
So when we asked expert Alexandra Semyonova for a breed identification of the dog that killed Nyjah Espinosa just 5-days from her second birthday, she said simply, "It's a pit bull-mix." Because technically, all American bulldogs -- particularly the Scott-type, the breed standard -- are at least half pit bull terrier. The AKC does not recognize American bulldogs and the UKC only began to in 1999. But why not hear this from the horse's mouth, the "inventors" of the American bulldog?
The Johnson-Scott Declaration (2005) has been online for many years now. As we state in our BSL FAQ footnotes, the document talks about the breed's former name, the American pit bulldog. Johnson states in no uncertain terms that the pit bull terrier and his "preserved" American bulldog Johnson-type variance is nothing more than the latter being a larger dog. Both dogs possess the "exact" same heritage: shared genetic bloodlines for the purpose of bull-baiting and dogfighting.1
How We Track American Bulldogs
Since we began documenting U.S. fatal dog attacks, American bulldogs have always had their own category. They are tracked separately from pit bulls despite their mirrored heritage because they are formally recognized by the UKC. Since January 1, 2005, American bulldogs and their mixes have contributed to 3% (11) of the total 361 dog bite fatalities, including the two recent deaths in Miami-Dade County, where MDAS routinely over indulges in the "breed labeling game."
In the past, on the occasions when photographs of the dogs have been available, such as after the death of 10-year old Justin Clinton, we resolved conflicting media reports (American bulldog vs. a pit bull-mix) by labeling those dogs pit bull-mixes. In the case of the pit bull-type dog that killed Nyjah on December 20, this male 95-pound dog falls on the side of an American bulldog-mix in our tracking system. The American bulldog and "their mixes" category is never an easy one.2
---
---
12/22/15: Visiting Child Killed by Dog
Miami-Dade, FL - On Sunday, a 2-year old girl was brutally attacked and killed by her father's pit bull-type dog while visiting his Miami-Dade home for the holidays. Nyjah Espinosa would have celebrated her second birthday on Christmas, but a 5-year old male "American bulldog-mix," according to Miami-Dade Animal Services, struck her down in a deadly attack. County officials say the little girl was in the hallway when the dog attacked. Police continue to investigate her death.
On Nyjah's GoFundMe page, her grandmother, Diley Gonzalez, states: "On Sunday, December 20th, 2015, my granddaughter, Nyjah "Nyny" Espinosa, just 5 days shy of her 2nd birthday, was attacked by a pit bull. Doctors at Miami Children's Hospital tried to keep her with us, but were unable to do so. Our little girl was no longer with us." So, as usual in Miami-Dade County, animal services labeled the dog an "American bulldog-mix," but family members believe it is a pit bull.
Photograph Sent to Expert
We have sent the dog photograph to an expert to review. This case is not nearly as outrageous as the "breed labeling game" Miami-Dade Animal Services played after the pit bull mauling death of Javon Dade Jr. in 2014. Miami-Dade County has had a pit bull ban since 1989. In 2012, the public upheld the ban in a county primary vote by a wide margin. The pit bull ban stands. The "enforcers" of this ban, Miami-Dade Animal Services, should be subject to extreme scrutiny at this stage.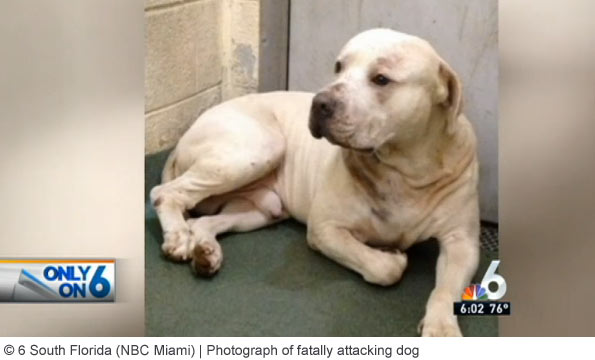 View the DogsBite.org Google State Map:
Florida Fatal Pit Bull Attacks
.
1
In a 1997 interview posted online, Johnson boast about how his dogs are the original bulldog and that the "American Pit Bull Terrier got its gameness in the first place from the American Bulldog." Dogfighters would certainly dispute this! Johnson is simply one of many who want to take credit for "preserving" the "original bulldog."
2
If we had proof of the dog's sire and dam, as we have had in other close call breed determining cases, most recently in West Virginia and Iowa, and in 2014, Louisiana, we might certainly change our mind about this dog.
Related articles:
10/08/15: 2015 Dog Bite Fatality: Family Dogs Savagely Kill Elderly Woman in Miami-Dade
03/02/15: 2014 Dog Bite Fatality: Visiting Child Killed by Family Pit Bulls in Miami-Dade County
08/16/12: Vote in Miami-Dade County to Repeal Pit Bull Ban Fails by Wide Margin
03/12/12: Attempt to Overturn Miami-Dade Pit Bull Ban Advances: 'Don't They Know?'
02/24/10: 2010 Dog Bite Fatality: 3-Year Old Mauled to Death by Pit Bull Type Dog in Ocala