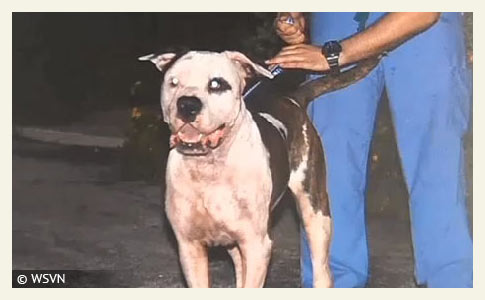 The American bulldog-mix and main aggressor in attack that killed Carmen Reigada.
New Information
UPDATE 03/30/16: Six months after the horrific, gruesome mauling death of a 91-year old woman by three family dogs, new information has been released, including photographs of the dogs. The medical examiner determined the dogs "defleshed" the face and scalp of Carmen Reigada. She died due to dog bites to the head, neck and extremities. Since her death, her great-grandson, Christopher Cifuentes who owns the dogs, has been fighting to have the animals returned to him.
"The skin of the scalp and most of the face is absent." - Medical examiner
The investigative report by WSVN is graphic, showing the bloody aftermath of the attack. The report also shows how truly revolting and dangerous the owners of dangerous dogs are, her great-grandson Cifuentes. Despite dental records showing that all three dogs participated in the lethal attack, Cifuentes still sought to have two of the dogs returned to him. He eventually agreed to surrender the primary attacker, an American bulldog-mix found covered in blood, for euthanasia.
During the Dangerous Dog hearing, Miami-Dade County officials held their ground. "All three dogs that were confiscated from this home were, in fact, part of the attack and involved in creating these marks on Ms. Reigada's body," assistant county attorney Sabrina Levin said. "It just merely would be shocking to allow these animals to go on and risk the possibility that something like this could happen again. It's so severe, it's so graphic." The hearing officer fully agreed with the county.
Christopher Cifuentes, the dangerous owner of these dogs has until mid-April to appeal the ruling.
---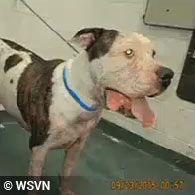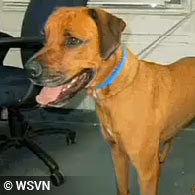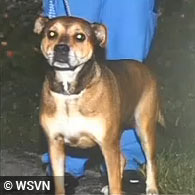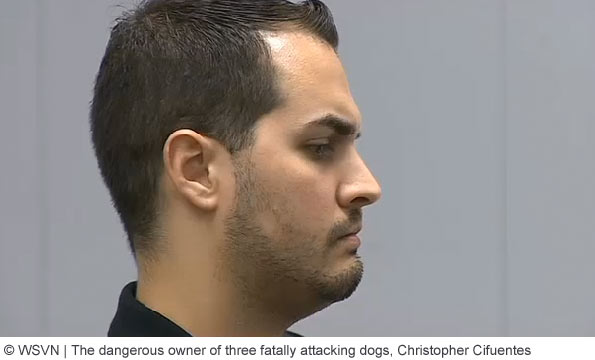 ---
10/08/15: Autopsy: Killed by Dogs
A detailed autopsy report shows that a 91-year old woman was savagely attacked in the face and scalp by up to two family dogs in her home on September 22. The medical examiner found that Carmen Reigada had a defleshed face and scalp, as well as multiple puncture wounds of the neck.1 For unknown reasons, Miami-Dade Animal Services now excludes the Rhodesian ridgeback and only implicates the other two family dogs: an American bulldog-mix and "lab-mix."
Recall the first breed was formerly only called an "American bulldog."
NBC Miami has apparently only gained the autopsy report thus far. Other news organizations will eventually follow, along with hopefully a richer examination of events that occurred on September 22. No images or video footage of the two suspected dogs have surfaced so far. It is a guessing game at this point how many different breed names Miami-Dade Animal Services will use to describe the two dogs that in all likelihood fall within a very convincing pit bull-mix category.
09/23/15: Dogs Belonged to Grandson
Police continue to investigate the mauling death of an elderly woman. Carmen Reigada, 91-years old, was discovered unresponsive inside her home Tuesday with dog bite injuries on her head and face. Miami-Dade Animal Services seized three dogs that resided at the home. It is unknown how many of the canines participated in the attack. Carmen lived in the home with her son and other family members. Neighbors told WSVN that the dogs belonged to the victim's grandson.
News media captured footage of the Rhodesian ridgeback being loaded into the animal control van, but no photos or video footage have emerged about the two other dogs, an American bulldog and "lab-mix." Neighbors were saddened to learn about her death. One, who was unidentified, said, "Very sweet lady. What can I tell you, this is something very bad," she said. "The dogs, you know, know the lady, so I really don't know why that happened." The investigation continues.
09/22/15: Elderly Woman Dies After Dog Attack
Miami-Dade County, FL - A 91-year old woman was mauled to death by up to three family dogs Tuesday afternoon. The fatal dog attack occurred at her home in the 9400 block of Southwest 18th Terrace, according to Miami-Dade police. Carmen Reigada was transported to Kendall Regional Medical Center, where she later died. Miami-Dade Animal Services has so far identified the dogs as an American bulldog, a Rhodesian ridgeback and a "lab-mix." Police continue to investigate.2
Last year, after a little boy was savagely killed by a pit bull and pit bull-mixes, Miami-Dade Animal Services played the breed labeling game. Only the primary culprit was designated a pit bull, the other 5 dogs were labeled in four different ways during the breed labeling game: labrador-pit bull mixes, terrier-boxer mixes, American bulldog-lab mixes and terrier-mixes. Miami-Dade County has banned pit bulls since 1989. In August 2012, voters upheld the ban by a 63% to 37% margin.
View the DogsBite.org Google Map:
Florida Fatal Pit Bull Maulings
.
08/24/15: Collection of Pit Bull Scalp Attack Victims - DogsBite.org
03/02/15: 2014 Dog Bite Fatality: Visiting Child Killed by Family Pit Bulls in Miami-Dade County
08/16/12: Vote in Miami-Dade County to Repeal Pit Bull Ban Fails by Wide Margin
03/12/12: Attempt to Overturn Miami-Dade Pit Bull Ban Advances: 'Don't They Know?'