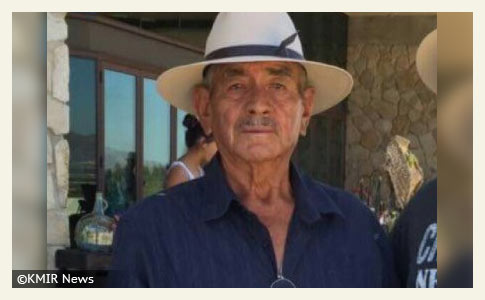 Emilio Rios Sr. was fatally attacked by two pit bulls in North Shore, California.
Attack Reignites Alarm
UPDATE 9/10/15: On Tuesday, Emilio Rios, 65, was savagely killed by two pit bulls in North Shore, an unincorporated community in Riverside County. The dogs also attacked a woman who came to his aid. John Welsh, a spokesman for county animal services, said, "Remember the old days when the pioneers came and had to worry about wolves? We are not in those days anymore. A person should not have to worry about perishing from an attack by an animal," he said.
Not just an "attack by an animal" mind you. A crushing fatal attack by a domesticated dog breed selectively bred to fight to the death in a pit.
Thanks to dogfighters, out-of-control pit bull breeding and out-of-control pit bull "rescuing" and adoptions by out-of-control "humane" groups, a person does have to worry about perishing or being permanently maimed in a violent pit bull attack today. If you have not seen the images of what happened in New York recently, you should. After a man blasted a bullet into a pit bull's head that was latched onto a man's face, it took several minutes for the pit bull to release its jaws.
We point out these disturbing images because this is what a savage pit bull attack scene looks like. In the case of New York, the dog was shot to death. What do you think the scene looked like when sheriff's deputies found Emilio brutalized and dead and the female victim screaming while being actively attacked by the two pit bulls? It was a violent, horrific crime scene in North Shore; the same kind that has accompanied pit bull attacks for over a hundred years in this country.
Legislation Follows Violent Attacks
In addition to using hard-hitting quotes by Welsh, the Press Enterprise provides a brief history of Riverside County and adjacent San Bernardino County, which is the largest county in the U.S. in square miles. In 2010, after four people were killed by pit bulls in a 5-year period, San Bernardino County adopted a mandatory pit bull spay and neuter ordinance affecting all unincorporated areas. Since this time, pit bull admissions and euthanasia of pit bulls has been cut by more than half.
In fiscal year 2009-10, right before the measure was passed, the county reported 2,066 pit bull admissions. Wert said 77 percent of them were put down.

"Since the ordinance went into effect, the admission and euthanasia rates for pit bulls have steadily decreased," he said in an email note. "In fiscal year 2014-15, we had 1,037 pit bull admissions, 31 percent of which had to be euthanized." - David Wert, San Bernardino County spokesman
In 2013, Riverside County adopted a similar law for unincorporated areas. Back when county officials debated the issue, they did so honestly as well. The primary public safety issue with mandatory pit bull sterilization is to drastically decrease roaming pit bulls, which sterilization does reduce, and to lower the overall number of unwanted pit bulls in a community. The two dogs involved in the fatal attack of Emilio were male, one had been neutered, and the other had not.
We've always preached that it (mandatory sterilization) is one step closer to a safer community. But it doesn't solve all problems." - John Welsh
Welsh is exactly right. A mandatory pit bull sterilization law is the very least a municipality can do to help protect its citizens and reign in pit bull-related shelter issues. As pointed out by Riverside County Supervisor John Benoit, both jurisdictions have already done as much as they can legislatively. In California, local governments can regulate "specific breeds" with sterilization laws, but state law bars jurisdictions from declaring a specific breed "potentially dangerous" or "vicious."
09/09/15: Coroner Releases Age
Fatal dog mauling victim Emilio Rios Sr. was 65-years old, according to a coroner's office news release. When deputies arrived to the scene at about 6:15 am Tuesday, Rios was found dead and two dogs described as pit bulls were actively attacking a woman. Officers responded to the woman in their vehicle with lights and sirens on, causing the dogs to flee. The woman was taken to a local hospital. Animal control captured both dogs and photographs have been released to the media.
KMIR reports that family members say that Emilio was watering plants at the home where the dogs fatally attacked him. Luisa Rodriguez, who tried to help him, was walking out of her house when the same dogs attacked her. She is currently hospitalized recovering from serious injuries to her arm. KESQ reports that both dogs were located at a nearby residence. One of the pit bulls was so aggressive toward animal control that it had to be tranquilized, according to sheriff's officials.
Authorities have not released information about the dogs' owner. In the KMIR video, Luisa's daughter said that Emilio is her relative and both dogs belong to her neighbors. "The dogs belong to our neighbors, they coincidentally probably jumped (the fence) or they slipped through when the neighbors left to work," Michelle Rodriguez said. Despite locating the dogs at a "residence" and Michelle's account, county officials are telling the public to be "extra careful with stray dogs."
09/08/15: Dogs Fatally Attack Man
North Shore, CA - A dog attack this morning left one man dead and a woman seriously injured. The attack occurred in the unincorporated community of North Shore near Salton Sea. Deputies were dispatched to a location near Seagull and Dolphin Drives at about 6:15 am, according to Riverside County sheriff's officials. The victims have been identified as Emilio Rios Sr. and Luisa Rodriguez. The woman was transported to a local hospital to receive treatment for her injuries.
The two suspected dogs appear to be pit bulls, according to sheriff's officials. Animal control officers seized both dogs. So far the dogs' owners have not been named or located. John Welsh, a spokesperson for Riverside County animal services, said today's death is the third fatal dog attack he can recall during his 9-year tenure with the department. Since December 19, 2008 (7-years), data from DogsBite.org shows there have been seven fatal dog attacks in Riverside County.
Riverside County Fatal Dog Attacks
2008: Gerald Adelmund, 60-years old (Rubidoux, CA)
Mauled to death by his son's two pit bulls
2009: Hill Andrew Williams, 38-years old (Rancho Mirage, CA)
Mauled to death by his fiancée's two Italian mastiffs
2010: Christina Casey, 53-years old (Moreno Valley, CA)
Mauled to death by her neighbor's two pit bull-mixes
2010: Edward Mitchelle, 67-years old (Murrieta, CA)
Mauled to death by his nephew's pit bull
2013: Elsie Grace, 91-years old (Hemet, CA)
Mauled to death by her son's two pit bulls
2014: Annabell Martin, 89-years old (Corona, CA)
Mauled to death by her grandson's three rottweilers
2015: Emilio Rios Sr., 65-years old (North Shore, CA)
Mauled to death by two pit bull-mixes
View the DogsBite.org Google Map:
California Fatal Pit Bull Maulings
.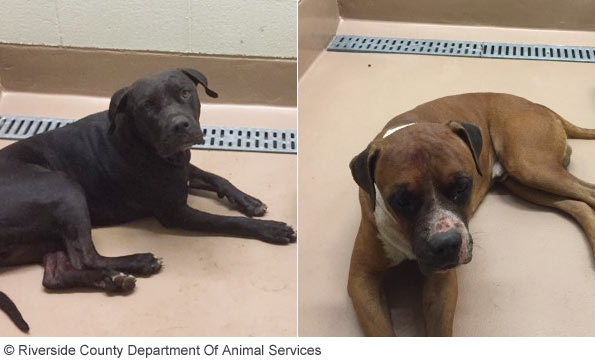 Related articles:
03/25/15: 2013 Dog Bite Fatality: Stockton Woman Mauled to Death by Pit Bull
11/04/14: 2014 Dog Bite Fatality: Pit Bulls Kill Modesto Man, Critically Injure Another
11/03/14: 2013 Dog Bite Fatality: Antelope Valley Woman Mauled to Death by Pit Bulls
09/25/13: 2013 Dog Bite Fatality: 2-Year Old Boy Killed by Relative's Pit Bulls in Colton
06/20/13: 2013 Dog Bite Fatality: Union City Boy, 6, Killed by Uncle's Pet Pit Bull