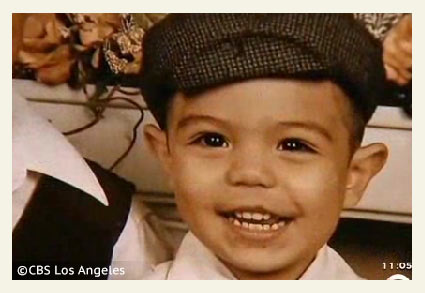 Uncle Pleads Not Guilty
UPDATE 09/25/13: The uncle of a 2-year old boy mauled to death by up to five pit bulls pleaded not guilty Wednesday to a charge of child endangerment. Marco Antonio Zamudio, 23, was charged with one felony count of willful cruelty of a child resulting in the death of Samuel Zamudio. Prosecutors declined to file charges against the boy's grandmother, Eustulia Zamudio, 42, because of insufficient evidence, according to the San Bernardino County district attorney's office.
Samuel's ravaged body was found Monday evening in the backyard of his grandmother's home. The boy was rushed to Arrowhead Regional Medical Center, where he was pronounced dead. The Press-Enterprise blog reports that prosecutors did not charge Eustulia because it appeared she was at work at the time of the attack, according to district attorney's spokesman Christopher Lee. Marco Zamudio was also charged with a parole violation for a 2009 Orange County robbery.
09/24/13: Updates and Clarifications
The Los Angeles Times reports that the grandmother and uncle of 2-year old Samuel Zamudio could eventually be charged with murder. On Tuesday, both were arrested on suspicion of child endangerment resulting in death after Samuel was mauled to death by up to five pit bull-mix dogs in the backyard of his grandmother's home. His uncle, Marco Zamudio, was responsible for taking care of Samuel at the time. His grandmother owns the home and the attacking pit bulls.1
The woman who spoke anonymously in earlier news reports is Erica Vega, who was the future godmother of Samuel and also lives at his grandmother's home. Relatives and neighbors continue to speculate that the boy crawled out of his window or the dogs snatched him from his window. Colton police officials have not verified either scenario. Vega said that family members searched for the boy for about 20 to 30 minutes before finding him severely injured in the backyard.
San Bernardino city animal control officers seized five adult pit bull-mix dogs on Monday and three puppies. According to Vega, there were at least 10 dogs at the home. KTLA.com reported that all five suspected culprits were euthanized on Tuesday and are slated to undergo a necropsy, according to Colton police Detective Raymond Mendez. Eusulia Zamudio2 and Marco Zamudio3 are being held on $100,000 bail. Their arraignment hearing is scheduled for Wednesday.
09/24/13: Relatives Arrested in Boy's Death
Colton, CA – Police reported Monday night that a 2-year old boy was killed by up to five pit bull-mixes in Colton. The attack occurred about 5:30 pm at a home in the 700 block of West Citrus Street. The boy was "suffering from extensive wounds to the upper body," according to a police statement released Monday night. He was taken to Arrowhead Regional Medical Center, where he was pronounced dead at 6:07 pm, according to San Bernardino County Coroner's officials.
A woman who rents a room from the boy's grandmother told abc7.com, "It was ugly. His face was all eaten up. He was eaten from the face. He had no clothes." She said the boy's grandmother and uncle were babysitting the boy, along with his older brother and her two children. A neighbor said he believes the boy "jumped out of the window, I'm guessing to play with the dogs." The woman said she was horrified when she saw the boy lying in the backyard after being attacked.
On Tuesday, police arrested two relatives of 2-year old Samuel Eli Zamudio. Eusulia Zamudio, 42, and Marco Zamudio, 23, the grandmother and uncle of the boy, were booked into West Valley Detention Center on suspicion of assault resulting in the death of a child younger than 8-years old. "It's what we typically use when we have horrific child abuse cases," Colton police Detective Ray Mendez said. The dogs are being quarantined at the San Bernardino city animal shelter.
View the DogsBite.org Google Map:
California Fatal Pit Bull Maulings
.
1
News reports initially stated that the uncle owned the dogs.
2
Her name has also been spelled Eustulia and Eustolia.
3
An NBC Los Angeles video reports that Marco has an extensive criminal past.
Related articles:
06/20/13: 2013 Dog Bite Fatality: Union City Boy, 6, Killed by Uncle's Pet Pit Bull
05/31/13: 2013 Dog Bite Fatality: Antelope Valley Woman Mauled to Death by Pit Bulls
04/13/13: 2013 Dog Bite Fatality: Stockton Woman Killed by a 'Big, Nasty Pit Bull'
Photo: CBS Los Angeles