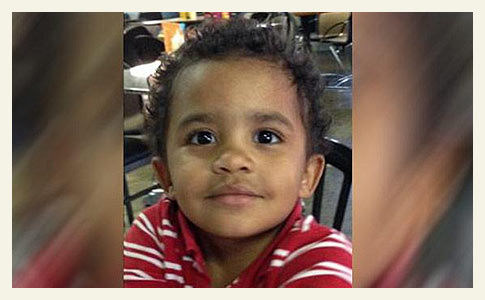 Dog Kills Young Boy
Lawton, OK - In a developing story, a 3-year old boy was mauled to death by a dog Sunday morning. Jordan Charles Collins-Tyson was killed while visiting his great-grandmother's home, according to Pam Ramirez, a family friend. The dog, initially reported as a pit bull by KSWO-TV, latched onto the boy's neck, killing him. The child's body was transported to the state Medical Examiner's Office for an autopsy, Ramirez said. A family friend has started a GoFundMe page.
A later news report by The Lawton Constitution confirmed the attack was carried out by a pit bull. Lawton Police Captain Craig Akard said the attack happened at 9:00 am on the 500 block of Southwest 17th Street. A family friend was babysitting and watching Jordan "out the window" as he played in the backyard. When she looked again, it was too late. When emergency responders arrived at the scene, the pit bull was still being aggressive, Akard said. Police shot the dog.
Afternoon Update
There were two dogs in the backyard with the boy at the time of the fatal attack, according to the KSWO update. Jordan had been around the pit bull that attacked him Sunday -- executing the killing bite -- in the past without any problems. The news video sums up the reported scenario: KSWO was told by a person at the home, "the [pit bull] did not belong to anyone who actually lived at the house, but the child had been around the dog before without any other incidents."1, 2
View the DogsBite.org Google Map:
Oklahoma Fatal Pit Bull Maulings
.
1
This case is horrific. It appears, at this stage, the child was "visiting" the great-grandmother's home and "under the care" of a babysitter at the time of the fatal mauling, and the pit bull was "being watched' by someone at the home who was not present when the boy was attacked -- three extremely high risk scenarios. Said another way, a family member dumped one or both dogs on the great-grandmother at some point and she took them in unable to say no. Add the babysitter on top of that, who was "looking out a window" and watching the boy as he played with one or more pit bulls, and the result is a predictable fatal pit bull mauling. Jordan Collins-Tyson, U.S. pit bull fatality #461.
2
In October 2012, just 8-months after little Jordan was born, his father Charles Anthony Tyson was the victim of a brutal homicide. Tyson was beaten and shot to death with a shotgun on the front porch of his Lawton home. Jose Villanueva was later convicted of first-degree murder in connection to his death and sentenced to life in prison.
Related articles:
05/29/15: 2015 Dog Bite Fatality: 5-Year Old Boy Fatally Attacked by Pit Bull in Chicago
05/14/15: Criminal Trial: Babysitter Jena Wright Found Guilty After Her Pit Bull Brutally Killed...
02/23/15: 2015 Dog Bite Fatality: Visiting Child Killed by Family Pit Bull in Pittsburgh Suburb
09/11/14: 2014 Dog Bite Fatality: Visiting Child Killed by Family Pit Bulls in Miami-Dade County
08/08/14: 2014 Dog Bite Fatality: Visiting Child Killed by Aunt's Pit Bulls in Fanning Springs...
07/29/14: 2014 Dog Bite Fatality: Visiting Child Killed by His Uncle's Two Pit Bulls...
07/22/14: 2014 Dog Bite Fatality: Visiting Child Under Babysitter's Care Killed by Family Pit Bull...
05/08/14: 2014 Dog Bite Fatality: Visiting Child Killed by Pit Bulls Owned by Friends in Felton...
05/05/09: Alexandra Semyonova: Heritability of Behavior in the Abnormally Aggressive Dog