Convicted Two Years After Baby's Dog Mauling Death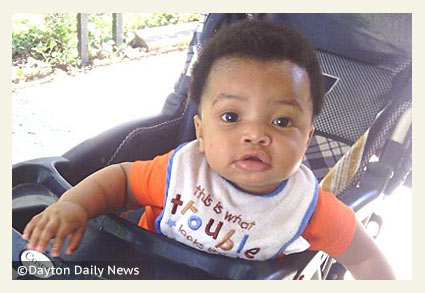 Johnathan Quarles Jr. was killed by his step-grandmother's pit bull in Dayton, Ohio.
Sentenced to 3 Years archived
UPDATE 06/09/16: Today in a Montgomery County court, a judge sentenced Kimiko Hardy to three years in jail in connection to the mauling death of a baby who was under her care on July 20, 2014. In May, a jury found Hardy guilty on six felony counts after her pit bull killed her 7-month old step-grandson, Johnathan Quarles Jr. During opening statements of the criminal trial, prosecutors said that Hardy's pit bull, named Bussa, crushed the baby's skull and removed part of his scalp.
The judge applied sentencing on the lower side; Hardy was facing up to 11 years. A few months before Johnathan's death, Hardy's dog attacked a mail carrier, causing the loss of mail delivery to her home for six months. Just weeks before his death, Hardy's pit bull attacked a beagle that was being walked near her home. Afterward, she was ordered to attend a course on "responsible dog ownership," which she did attend, but still failed to take steps to protect the baby from the dog.
05/6/16: Guilty on All Counts archived
On Friday, a babysitter in Ohio was found guilty on six felony counts after her pit bull fatally attacked her 7-month old step-grandson, Johnathan Quarles Jr., while he was under her care in July of 2014. Kimiko Hardy, 38, of Dayton was found guilty of four counts of felony involuntary manslaughter, one count of endangering a child and one count of failure to confine or restrain a vicious dog. Hardy faces up to 11 years in prison. Hardy will be sentenced on June 9.
The guilty verdict follows a four-day trial in Montgomery County Common Pleas Court. It only took jurors 3.5 hours to reach a verdict; prosecutors had a strong case. Three months before her pit bull killed Johnathan, it charged a letter carrier, causing the worker to miss two weeks of work and the loss of mail delivery to Hardy's home for six months, prosecutors said. Just weeks before his death, her pit bull bolted off property and attacked a pet beagle whose injuries required 11 staples.
After these two aggressive acts, Kimiko was ordered to attend a 150-minute training class at the Montgomery County Animal Resource Center (ARC) on responsible dog ownership, prosecutors said. ARC officials testified the course covered neutering, dog bite prevention, proper training, responsibilities of pet owners, how to confine a dog, laws about failure to control a dog and more. Just a few weeks later, Hardy takes a helpless baby into her home and fails to control the dog.
"Sadly, this defendant had warning that this dog was aggressive, which is why we are here today. This dog's actions on July 20, 2104 were foreseeable." - Karen Groseth, Montgomery County assistant prosecutor
The case centered upon, was it "foreseeable" her pit bull would attack? The answer of course is yes. Hardy had knowledge of her dog's propensity to be vicious. Moreover, while taking care of a baby, she failed to adequately restrain the dog. Though she had two dog crates in her home, she did not use them. The pit bull was simply behind a "baby gate" that it busted through to attack the boy. The dog crushed the baby's skull and removed part of his scalp, according to prosecutors.
We hope Hardy serves at least six years. This baby's death was preventable and foreseeable.
---
07/22/15: Pit Bull Owner Indicted archived
Just over a year after a babysitter's pit bull horrifically mauled a baby to death, a Montgomery County grand jury has indicted the babysitter on six felony counts. Kimiko Hardy, 37, the infant's step-grandmother, had full knowledge that her pit bull was dangerous when it attacked and killed 7-month old Johnathan Quarles Jr. on July 20, 2014 at her home on Riverside Drive. The little boy's family was visiting Dayton from Indianapolis and attending family events at the time.
"This defendant was well aware that her dog was a dangerous, even vicious animal, yet she failed to properly control the animal and it killed a completely helpless infant," Montgomery County Prosecutor Mat Heck Jr.
Prior to killing Johnathan, Hardy's pit bull, named Bussa, charged a letter carrier in April 2014, which caused the worker to miss two weeks of work and the U.S. Postal Service ceased delivering mail to Hardy's home for six months. In the weeks leading up to the deadly attack, Bussa attacked a beagle owned by Isabelle Crickmore as they walked by Hardy's home. After that incident, Hardy attended required classes on "responsible dog ownership," according to the prosecutor's office.
The grand jury indicted Kimiko Hardy on four counts of involuntary manslaughter, one count of endangering children and one count of failure to confine or restrain a vicious dog, according to a news release from the prosecutor's office. Given how much time has passed since Jonathan's mauling death, combined with the horrific injustice of Klonda Richey's death, including by this prosecutor's office, we did not believe any significant charges would ever be filed against Hardy.
07/22/14: Cages Seized; Postal Attack
Several key updates about the baby's death were made over the course of last night. Homicide detectives returned to the babysitter's home and seized two dog cages, a bag full of evidence and a hefty metal chain from the backyard. A family spokesman had earlier said that the babysitter's pit bull had been behind a baby gate; the dog jumped over the gate and attacked the baby. The outlook does not appear bright for Kimiko Hardy, who had the means to crate and secure the dog.
In addition to the June 3 attack involving a pet beagle, records obtained by the Dayton Daily News show that on April 25, animal control officers responded to a complaint from the Northridge Post Office that one of its carriers was attacked by a dog at the Hardy's home. The letter carrier escaped injuries by puting his satchel between his leg and the dog. Hardy was cited for failing to have the dog licensed and was given education. She bought a license for the dog five days later.
07/21/14: Baby Identified, Prelim Ruling
The Montgomery County Coroner's Office has ruled the cause of death of an infant attacked and killed by his babysitter's pit bull an accident. Johnathan Quarles Jr., 7-months old, died of blunt force injuries, according to the coroner's preliminary findings. The final coroner's report of the infant, who was visiting from Indianapolis, Indiana, will not be completed for up to eight weeks. On Sunday, while under the care of his step-grandmother, Johnathan was killed by her pet pit bull.
ABC 22 Now reports that a family spokesman, the Rev. Victor Lee, said the family told him the dog jumped over a gate and attacked the boy. The step-grandmother tried to get the dog off, but could not. The news group also took a closer look at the June 3 incident involving the same pit bull. Isabelle Crickmore of Dayton was walking her beagle, named Riba, in front of 2219 Riverside Drive when the pit bull attacked. Riba received three lacerations and 11 staples, Crickmore said.
There is a criminal misdemeanor complaint against the step-grandmother for the June 3 attack. Court records show that a pre-trial hearing for the complaint was postponed last week. "I don't know if she did not show up or what circumstances allowed for a second continuance," Crickmore said. "When I saw that, it just blew me away." She wishes the legal system was quicker and that it did more on June 3. "It just really irks me because this could have been taken care of," she said.
07/20/14: History of Animal Aggression
Additional information has been released. The babysitter is not biologically related to the baby and is now being called the baby's step-grandmother, according to police. The attacking dog is also being called an American Staffordshire terrier, which is the legal definition of a pit bull. The two dog breeds are the very same breed, which is why a single pit bull can still be cross-registered at the UKC as an American pit bull terrier and at the AKC as an American Staffordshire terrier.
According to the Montgomery County coroner's investigation, the baby is from out of state. The child's name has not been released pending notification to family members. The attacking pit bull has a history of animal aggression. A June 3 Dayton Police report shows that the pit bull attacked a beagle that was on a leash and being walked by its owner in front of the step-grandmother's home. The beagle's owner did not want to press charges, but "wanted the incident documented."
07/20/14: Family Pit Bull Kills Baby
Dayton, OH - In a developing story, homicide detectives where called out to a home on Sunday after a baby was killed by a family pit bull. The attack occurred at a home on the 2200 block of Riverside Drive at about 12:30 pm. At the time of the attack, the child's grandmother was babysitting the child. According to police, the grandmother took her eyes off the child for a "few seconds" when the pit bull attacked. The dog was seized by animal control and taken away.
Dayton Daily News reports additional information. The pit bull belongs to the grandmother who was watching the child for the day. Additionally, the on scene police supervisor said that the baby does not live at the address where the attack occurred. As is so often reported by DogsBite.org in occurrences of fatal attacks, this child was visiting the dog owner's home when the fatal attack occurred, and the child was under the care of a babysitter. More information is expected shortly.
Visiting Child + Babysitter + Pit Bull = Extremely Dangerous.
Separately, this is the second fatal dog attack in the City of Dayton in 2014. In early February, 57-year old Klonda Richey was brutally killed by her neighbor's two pit bull-type dogs after she stepped outside her home. Prior to the attack, Klonda had made at least 16 calls to 911 reporting problems with the dogs; had installed a double tiered security fence and surveillance cameras for protection and had attempted to get a civil stalking protection order against the dogs' owner.
View the DogsBite.org Google Map:
Ohio Fatal Pit Bull Maulings
.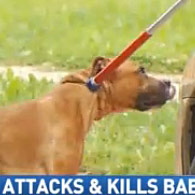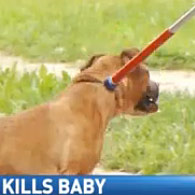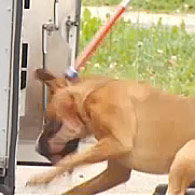 Related articles:
01/13/16: 2016 Dog Bite Fatality: Visiting Child Killed by Babysitters' Pit Bull-Mix in Virginia
07/13/15: Criminal Trial: Babysitter Jena Wright Found Guilty After Her Pit Bull Brutally Killed...
07/15/14: New Brunswick Pit Bull Attack: Babysitting, the Zero Margin of Error Rule and...
09/24/13: 2013 Dog Bite Fatality: Boy Killed by Pit Bull-Mixes at Babysitter's Home in Gilbert
07/26/13: Beyond the Interview - Essay of a Fatal Pit Bull Mauling - DogsBite.org
04/24/13: 2013 Dog Bite Fatality: 4-Year Old Mauled by Pit Bull Dies; Babysitter Arrested
01/21/13: 2013 Dog Bite Fatality: Dog Mauls Woman to Death While Babysitting Toddler